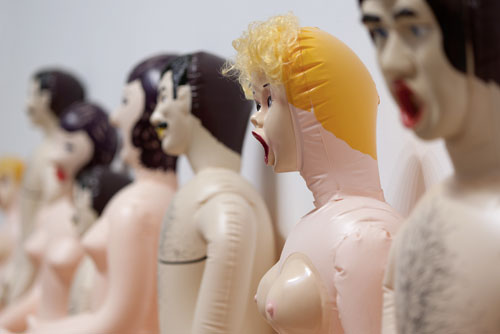 In the 1960s, Elaine Sturtevant began producing copies of works by other living artists. At the time, making such reproductions would not have been extraordinary. After all, artists had always made copies as an exercise to refine their skills and, in the era before printing and photography, as a way to obtain duplicates. The real affront to the conventions of the art system was the way Sturtevant called her copies 'repetitions': classing them as works in their own right and exhibiting them as such. The Postmodern genre of appropriation art can be traced back to her early work; she also exerted an influence on the specifically Postmodern approach of putting criticism in a Trojan horse of affirmation.
This show, entitled Image over Image, brought together Sturtevant's repetition works from four decades in a compact retrospective. She copied Andy Warhol's Flowers from the 1960s (Warhol Flowers, 1990), repeated Jasper Johns's assemblage Target with Plaster Casts from 1955 (Johns Target with Plaster Casts, 1999) and cloned Félix González-Torres's kitschy lightbulb garlands (Gonzalez-Torres Untitled [America], 2004). The exhibition feels like a greatest hits collection of post-war and contemporary art. At first glance, the works could be rated as 'originals' by experts and non-experts alike. There is no categorical difference between a work by Warhol and a Warhol by Sturtevant. The difference is one of context. And this shift is the main point. For Sturtevant, the aura of the art work is based, not on authenticity and authorial vision, but on the work's specific spatial, temporal and discursive setting. With her radical gesture, she makes explicit what was always the case: novelty and repetition – rather than being at odds with each other – are two sides of the same coin. Karl Valentin, a German comedian from the early 20th century, put it in a nutshell: 'Everything's already been said, but not by everyone.'
Sturtevant's emergence in the 1960s scene was a sign of the times. Media society and media theory were booming. The 'new' was seen less in individual art works than in their technical and media contexts, in the way they were staged. Thinkers like Roland Barthes and Michel Foucault criticized the myth of the author as an original creator. Gilles Deleuze's Différence et Répétition (1968; Difference and Repetition, 1994) seems to be dedicated to Sturtevant when Deleuze writes: 'The multiplication of things under an absolutely identical concept has as its consequence the division of the concept into absolutely identical things.' Since Sturtevant's first works were rooted in the conceptual zeitgeist of the 1960s, her more recent ones – which were also on show in Zurich and were inspired by the visual culture of the Internet – appear slightly redundant. The installation Elastic Tango (2010) recalls Nam June Paik's television sculptures of the 1960s and '70s: several unrelated video clips – running on different adjacent screens – mix animated cartoons, commercials, explosions and nature photographs from iStockphoto with excerpts from earlier Sturtevant works like Vertical Monad (2007). The digital splatterfest of the 21st century takes to the dance floor with the media art of the 20th. In Dark Threat of Absence Fragmented and Sliced (2003), Sturtevant references Paul McCarthy's film Painter (1995) by slipping herself into the role of the greedy, grunting, phallocratic painter swine portrayed by McCarthy with caustic satire: we see, among other scenes shown on seven screens, fingers penetrating paint pots and television footage of exuberant pop fans. The basic approach is similar to the one used in Elastic Tango: the trend of borrowing, varying, combining and restaging found elements that is typical of digital culture. In digital networks, every spoof is inevitably followed by a spoof of the spoof, and so Sturtevant satirizes McCarthy's satire on the myth of the artist. A potentially endless continuum is set in motion with McCarthy's work marking, not an end point, but a point of departure.
These examples beg a question: Is contemporary art capable of initiating a discussion about our everyday culture of reproduction and remixing that has not already been initiated by this culture itself? About a culture of self-deconstructing 'memes' and 'mash-ups' that cultivates and caricatures its redundancies and employs distancing effects to expose the constructedness of its products? Today, every 'prosumer' can be as famous as Warhol – or Sturtevant – for fifteen minutes. And YouTube is actually a YouCube. Digital media is doing for the many what Sturtevant did for the few.
Translated by Nicholas Grindell