Ten Works Under $10,000 on Frieze Viewing Room Los Angeles
From a sculpture in ceramic and glitter by Rochelle Goldberg to an iconic reproduction of Time magazine cover by Mungo Thomson
The members of the APAA (Association of Professional Art Advisors) have chosen their favourite works priced under $10,000 from the Los Angeles Edition of Frieze Viewing Room.
Thanks to APAA members Nancy Chaikin, Astrid Oviedo Clark and Cris McCall.  
Clarence Holbrook Carter (Various Small Fires - VSF)
Over and Above Surprise (Serpent), 1967 
Casein on board
7 3/4 x 5 1/2 in19.7 x 14 cm
$10,000 
Clarence Holbrook Carter was born in 1904 in Portsmouth, Ohio, and lived a long and prolific life. An American Surrealist, his early works included landscapes of rural America, as well as architectonic works that gained him a great deal of attention. His paintings evolved into Magical Realism and  Surrealist depictions in the 1950's and 1960's, inspired by a number of subjects including the natural world, the human condition, the connection between humans and animals, and the duality and tension between life and death. He worked for several decades with spherical forms that appear in many iterations throughout his paintings. This particular work of the serpent allows the viewer to come face to face with this seemingly menacing creature, and specifically speaks to Carter's fascination with the relationship between man and animal.  
Louise Giovanelli (Grimm)
Plexus, 2021
Oil on canvas
14 x 8 1/8 inches; 35.5 x 20.4 cm
Under $10,000
London-born Louise Giovanelli studied under Amy Sillman at Städelschule in Frankfurt, which led her to work between the abstract and the representational. Giovanelli's practice involves reinventing existing imagery and giving it a new meaning, often using repetition as a tool.  Her work can appear to be abstracted fragments of larger paintings, but they are not. She builds semi-translucent layers of paint, adding paint flecks and scratches into her canvases to break the illusion of the painted surface, revealing layers beneath; encouraging the viewer to deeply observe the work.  The result is a mysterious, luminous painting. 
Rochelle Goldberg (Miguel Abreu Gallery)
Composite Filth 1, 2020
Ceramic and glitter 
11 x 8 x 6 inches; 27.9 x 20.3 x 15.2 cm
$8,000 
Rochelle Goldberg is a New York City-based sculptor and installation artist.  Goldberg explores the unstable relationship between seeming opposites; decay and renewal, human and animal, mythological and real, using diverse materials.  This challenging and powerful ceramic head is from her well-known series of metamorphosing masks, which appear to be in continuous mutation and transformation. Two primary characteristics of this series are the snakeskin texture and a coiled snakelike construction, evoking the constant motion of Medusa's "hair" of serpents.  Goldberg's fascination with the porous boundary between viewer and object is effectively expressed here, with this work directly engaging the viewer.  She challenges the subject/object relationship and shifts the power to the object being viewed.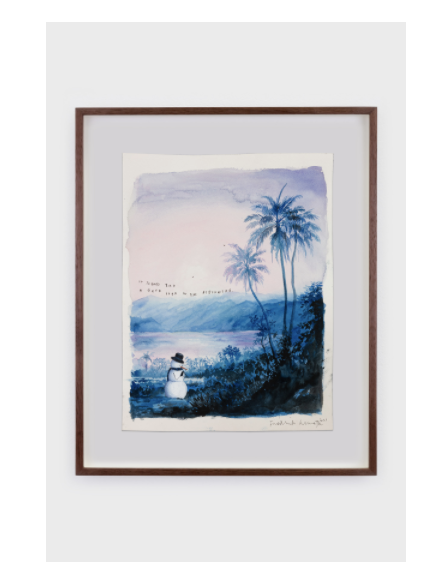 Friedrich Kunath (Blum & Poe Gallery) 
It Seemed Like A Good Idea In The Beginning, 2021
Watercolor, gouache, and archival ink on paper
16 x 12 1/4 inches; 40.6 x 31.1 cm 
Framed: 19 5/8 x 15 3/4 x 1 1/2 inches; 49.8 x 40 x 3.8 cm
$10,000   
Friedrich Kunath's life journey (growing up in East Berlin when the wall came down, and then moving to LA in 2007) plays a key role in his practice. The promise of the West, the promise of the future and what lies beyond are evident in all his work. It is a particularly poignant concept today, with the promise of reaching the other side of this global pandemic sustaining us.  Kunath's German Romantic outlook, coupled with his fascination with Western popular culture, can be seen in his watercolors. They have all the elements one would want in his work: the ocean, an open road, a snowman, palm trees, handwritten melancholy notes…and humor. He follows a long line of German artists and intellectuals that came to Los Angeles in the 20th century, inspired by the city.    
Anthony Olubunmi Akinbola (Night Gallery)
CAMOUFLAGE #076 (Kraft), 2021
Durags and acrylic on wood panel
48 x 48 in (121.9 x 121.9 cm)
$ 8,000.00 
Anthony Olubunmi Akinbola is an American Nigerian artist born in 1991.  Raised between Missouri and Nigeria, his upbringing has informed the subject matter of his artistic practice. Using found materials, mixed media and assemblage to explore his identity as a first-generation American, Akinbola addresses the differences between African and Black American cultural narratives with materials including palm oil, hair brushes, durags and fiber scarves used in the maintenance of Black hair.  Camouflage #076 is reminiscent of Art Povera works by Alberto Burri and the work of contemporary artist Senga Nengudi; the work is from a series fabricated from layers of durags, highlighting color in varying tones of yellow and has a visceral quality similar to layers of skin.
Scott Olson (James Cohan)
Untitled, 2020
Watercolor and gouache on paper
8 1/2 x 6 1/2 in (21.6 x 16.5 cm)
Framed: 20" x  16 1/2 in (50.8 x 41.9 cm)
$4,000
Before the exhibition of his works on paper at Feuilleton Gallery in Los Angeles last March, Scott Olson's oil paintings were his most familiar, with the push and pull of translucence versus opacity, and the unexpected juxtapositions of color charging the surfaces of his canvases. But his watercolors and gouache artworks are precious and revelatory, created from materials that disallow the layering and removal of paint; instead depending wholly upon color and form. Their lyricism and palette bring to mind Sonia Delaunay, and the modest size makes the work a perfect domestic accent.  
R. H. Quaytman (Miguel Abreu Gallery)
Orchard Spreadsheet 2016, 2016
Inkjet print
44 x 25 7/8 inches; 111.8 x 65.7 cm
Framed: 45 x 26 7/8 x 1 7/8 inches; 13.3 x 67.2 x 4.8 cm
Edition of 25 + 7 APs 
$5,000 +frame ($536) 
This is a central, stand-alone edition of New York City-based artist RH Quaytman's output combining her signature use of optical screens with an archival reproduction of the financial history of the iconic artist-run New York City gallery space Orchard, where she and  Andrea Fraser were principal members. The Orchard spreadsheet is a succinct example of Quaytman's unique combination of visual distortion techniques and institutional critique. It succeeds, as the data dissolves into the optical play of the black and white grid, and acts almost like an Agnes Martin landscape. 
Maja Ruznic (Karma)
Mother & Child, 2021 
Ink on paper 
15 × 11 inches; 38.1 × 27.9 cm 
21 × 17 inches; 53.3 × 43.2 cm (framed)
$8,000.00  
Maja Ruznic was born in Bosnia and Herzegovina in 1983.  The subjects in her work draw upon her experiences growing up as a refugee fleeing war.  Her childhood traumas are reflected in her work as she depicts sentimental, blurred images of figures in landscapes.  She refers to her ritualistic method of painting with ink as "the drunken hand," yet her brush strokes are billowy and elegant.  Mother & Child" recalls a Renaissance pietà with the elongated figure of the mother appearing in the center, as if she has a halo and her child by her side.  
SUPERFLEX (Kukje Gallery) 
Copy Right, 2007
C-print, dibond and framed
90 x 120 cm
Edition 10 + 1 AP
€8,000 
SUPERFLEX is a Danish artist collective founded in 1993 by Jakob Fenger, Rasmus Nielsen and Bjørnstjerne Christiansen. Continuing in the tradition of 20th-century art movements ranging from the Bauhaus to Fluxus, SUPERFLEX emphasizes team practice and embraces an ideology that art shouldn't be limited to discreet, unique objects serving no function. This point is exemplified in the COPY RIGHT installation in which commercial versions of  Arne Jacobsen's famous 1953 'Ant Chair' are hand-cut and made 'original' once again.  The issue of originality vs. copy is presented with the idea that the original is reserved for a small and privileged population with access. In an era where the debate over intellectual property, counterfeit objects and (dare we add) NFTs intensifies, SUPERFLEX exerts a forceful artistic effect in "supercopying" and creating "new originals." This C-print documents one of those chairs; and the print further challenges the notion of 'original work.'  
Mungo Thomson (Karma)
December 28, 2008 – January 5, 2009 (Barack Obama), 2016
Acrylic Enamel on Yupo
13 × 10 inches; 33 × 25.4 cm
13 1⁄2 × 10 1⁄2 inches; 34.3 × 26.7 cm (framed)
$10,000.00  
Mungo Thomson was born in Davis, California, in 1969.  He is a Los Angeles-based conceptual artist well known for his reproductions of Time Magazine covers. His exceptionally broad and nimble practice utilizes  performance, sculpture, wall works, and music.  He contributes to the evolution of conceptual art, ever expanding the boundaries of art making. The works are often humorous and buoyant while addressing serious subjects.  In the Time series, Thomson tends to reflect on social and political happenings. He suggests the concept of time both past and present simultaneously.  In Thomson's work on paper titled December 28, 2008 – January 5, 2009 (Barack Obama) he captures a moment in our history using a TIME and subverting it  into a color field painting of red white and blue.  
---
Viewing Room Opening Times
Tuesday Preview, July 27, 8am PST – Invitation only
Wednesday Preview, July 28, 8am PST – Invitation & Frieze members only
Thursday, July 29, 8am PST - Sunday, August 1, midnight PST – Free access to all
Main Image: Anthony Olubunmi Akinbola, CAMOUFLAGE #076 (Kraft), 2021, courtesy of Night Gallery