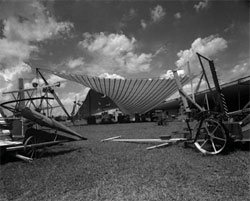 As promised, Towards Open Form takes us towards a definition of Oskar Hansen's radical humanist Utopia – Open Form – but alas, like Hansen, we never really arrive there. The book's original source material, interviews and chronology help us piece together the Polish dissident's theories of flexible and transformable architecture and urban plans, and his encouragement of participation by viewers or residents. But the documentation contained in it squares Hansen's idealistic proposals against the often bleak reality of their application.
Towards Open Form balances this source material with retrospective analyses of Hansen's (mostly unrealized) projects, from his concept for the Polish pavilion in São Paulo in 1959 to the design of his mother's grave. Interviews with Hansen by Joanna Mytkowska and Hans Ulrich Obrist resist any nostalgic reverie for his ideals, consistently questioning their practicality and effectiveness. The book divides Hansen's projects into three colour-coded categories: 'Macro', 'Mezzo' and 'Micro'. The Macro introduces Hansen's Linear Continuous System, an urban plan based on a linear spine, as opp-osed to 'centric' cities, which grow in response to demand (a condition that Hansen likens to gangrene). This section also includes his 'humanization studies' for revamping Polish urban planning, including his proposal for 'humanizing Chocianow', in which he proposed that the defunct machine-tool plant could benefit from better aeration corridors and 'roses instead of walls'.
Among Hansen's 'Mezzo' projects are his two large-scale Polish housing projects realized in the mid-1960s. In our first glimpse of photographic documentation of the Przyczolek Grochowski estate we see an abandoned-looking, sprawling tower block. The image of the 'playground' shows children standing between two giant concrete pillars connected by a single tube. Photographs of his 'open-air theatre' on the Slowacki estate in Lublin look more like a prime spot for teenagers to hang out in drinking beer around an open-pit fire. Hansen's conclusion is that the inhabitants ruined it ('the wire fences and hedgerows of the "private" gardens destroyed the free leisure space') and suggests who should pay to fix it (residents should hire a private security company to prevent vandalism).
Hansen's Micro projects were his most successful. His design for the modern art museum in Skopje anticipated the flexibility that would be necessary to accommodate contemporary art, including spaces that could be folded or unfolded or electronically controlled to 'emerge from underground'. His most famous design, though doomed to failure, was his entry in the 1957 competition for an Auschwitz memorial. The Road proposed leaving the camp in its existing state and leading viewers through the whole camp, without a single stationary monument.
The paradox that emerges throughout the book is the difficulty of designing architecture for a community that still caters to individuals. For Hansen 'the goal is for each user to be able to change what he has been given, in line with the standards.' This kind of prescriptive freedom, working within an unworkable fixed plan, reflects the inherent contradiction of Hansen's Open Form, as well as the system it reacted against. But the book's consistent theme is that these theories were consciously conceived to be asymptotic; the radical ideas of Open Form should be constantly approached, as a point in the future, but never actually touched.