Where the Sun Sets
Personal politics, labelling and the body: an interview with South African artist Mohau Modisakeng to coincide with his first UK solo exhibition
Houghton Kinsman  Let's begin with misunderstandings and misrepresentations. With audiences – especially new ones – these are inevitable. How do they inform or influence the way that you work?
Mohau Modisakeng  It doesn't really influence how I work, but it does influence the process because I am aware of what people have said of my work. As an undergraduate at University of Cape Town's Michaelis School of Fine Art, my supervisor Jane Alexander had this belief that if you don't write well about yourself or explain your work, then someone else will. Her idea has been influential in terms of how I look at myself, and how I align my politics with the current politics in Cape Town.
HK  In terms of personal politics, how important is it that you maintain a certain authority over your work?
MM  I don't think I insist on what my work says or what the intention is. Sometimes, I don't even know the intention. I am just driven by putting an image together. But, it gets complicated when you are making meaning while other people are conversing about it. That's why I have to be aware of my departure point. If I'm not, once you consent to a narrative of your work, then you end up consenting continuously and it is difficult to get back. That said, I'm aware of the conversations that create meaning and try to prescribe me. There is a long tradition of that in South Africa – especially white writers writing about black artists.
HK  Is this disconnect between the studio process and the viewing experience problematic?
MM  There is a lot of power in writing about someone's work and feeding it to people. It is a very powerful position writers have and sometimes it can be very easily abused. However, if you are aware of this and know what you are trying to get at, it makes it easier to see through all that. The process of putting an artwork into public conversation, means it can go any which way, you just have to be ready and be able to refer people back to what you have been thinking about.
HK  I'm glad you brought up writers and power. Let's talk labelling. Does pigeonholing concern you?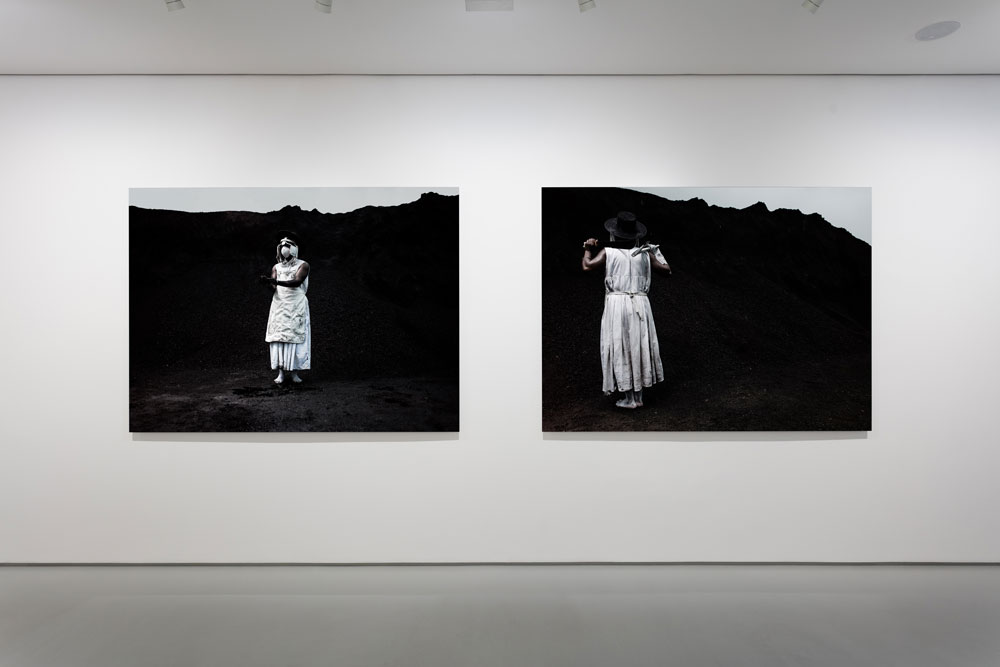 MM  Yes, it does. But, I've been fortunate to offer my opinion in interviews and reflect on my work in a way that doesn't allow it to become one narrative. If I am being boxed in, there are a lot of other people with different perspectives. These labels come from this disconnect between the person making and the person reading. Artists are boxed based on the themes they work with, on the question of identity and if race plays into that then there is a power dynamic.
HK  Do you think we – as cultural practitioners – have a responsibility to reconcile this? Or should it exist in order for us to critique? Or is it a bit of both?
MM  It should exist for us to critique. But, when a writer extends themselves to an artist it should not be to make their opinion concrete. We are not in a time where people fear art critics. It should be a conversation. Especially, when we are dealing with art in a context where not enough history has been written about black artists.
HK  In terms of your engagement with (colonial) history, what sort of role does research play in your creative process?
MM  It is part of the creative process but it is not an instrument of getting to the work. For example, in Endabeni (2016) I responded to the location visually and formally first, but I knew questions would come up about the significance of the location. So, I did research to get pointed information. I found out the history of Ndabeni. Apparently, it was originally set up as an isolation camp for bubonic plague victims. And, in a very short space of time it became the first official, formally planned, segregated settlement; the genesis of the township and apartheid city. I didn't necessarily go into the project thinking about it, but, readings of the work were heightened by this research.
HK  In Endabeni there is a critical balance between fiction and documentation. Theatricality and real personal, cultural situations. How do you deal with this contrasting relationship?
MM  If the artwork itself has evidence of trying to put this balance together, then it has achieved something. As to what extent are the politics in my work, my own? I am reflecting on my personal lived reality and my politics are influenced by those experiences. For instance, there is the use of my own body, specifically to reflect on my experiences of change [in Metamorphosis (2015)] or loss in Inzilo (2013). In this sense the body is one thing that holds together myth and reality.
HK  Would it be safe to say that is what the body means to you in your practice?
MM  It is definitely an instrument. It becomes the focal point of all these discussions. I know more about my body. People know about their bodies. And, then we all know about the history of the body, black bodies in photography etc.
HK  In the final images, the body is entwined in an interesting relationship between sculpture, performance, painting and photography...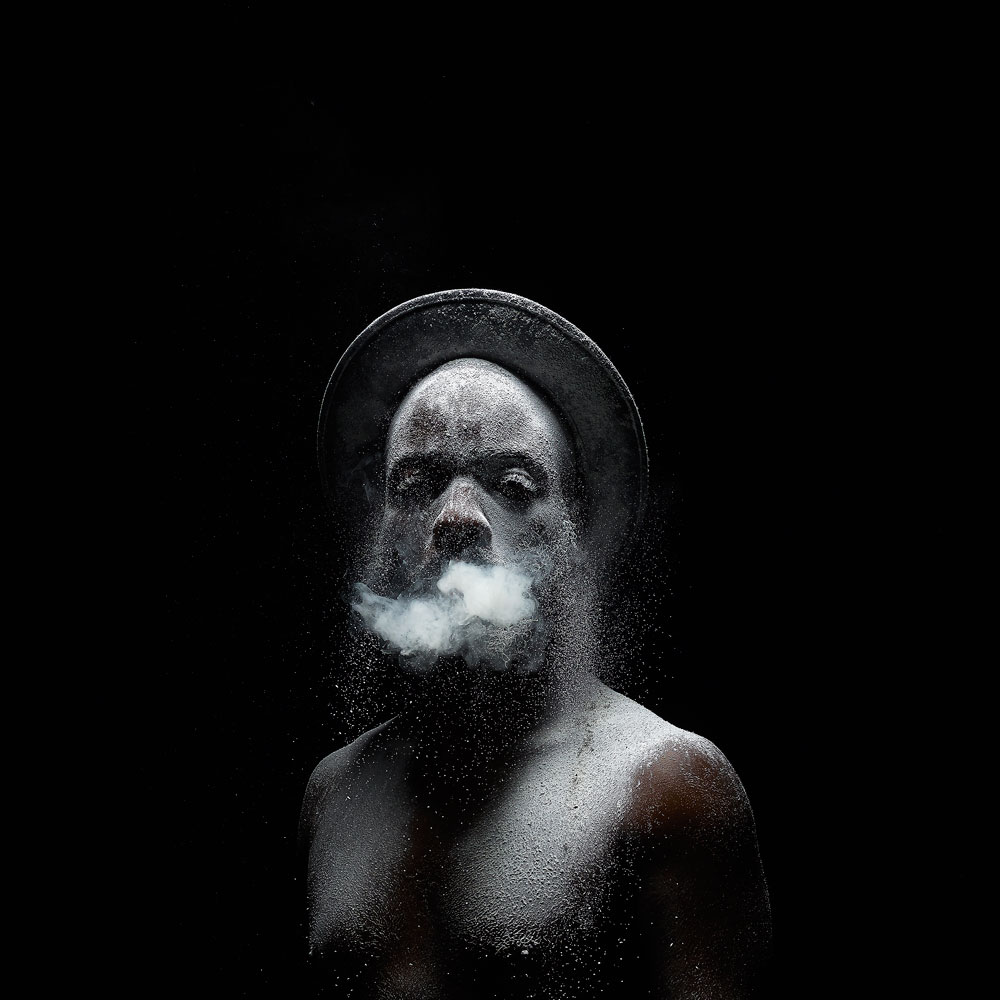 MM  I enjoy that. It is the spaces in-between where something is happening. Endabeni is more sculptural because of the stark contrast between the foreground and the background. But, then Metamorphosis is more painterly. Texture and colour holds the whole image together. With all these ideas it is easy then to jump into film [as in Inzilo].
HK  Is your mind consciously or subconscious switching between these mediums?
MM  It's subconscious. But, I set myself up to work that way. I prefer that way of working. I am able to work out my frustrations with photography, and then move on to sculpture, physically relating to what I am working with. In this way a photo can become a video etc. It is all about how close the audience is. And, whether they are looking at the image after the fact or if they are anticipating the energy.
HK  Lastly, on transformation, how would you view the role of art as a site for transformative social dialogues?
MM  In my life the transformation happened because I went into art through education. It was instilled in me that the only way to escape the cycle of poverty is to go to school. So, the key for me has to do with a basic need: an education system that feeds students as much as they need to make informed choices. Art in the township has always been used for community building. But, it needs to be a more concerted effort.
'Bophirima', which translates as 'West' or 'where the sun sets' in Modisakeng's native tongue Setswana, runs until 17 September at Tyburn Gallery, London, UK. 
Mohau Modisakeng as born in Soweto, Johannesburg, South Africa, in 1986 and lives and works between Johannesburg and Cape Town. He studied at Michaelis School of Fine Art, Cape Town. In 2016 he was awarded the Standard Bank Young Artist Award for Visual Art. Modisakeng's recent shows include Kunstraum Innsbruck, Austria (2015) MoCADA, New York, USA (2015) Museum of Fine Arts, Boston, USA (2014); 21C Museum, Kentucky, USA (2014) IZIKO South African National Gallery, Cape Town (2014) Saatchi Gallery, London (2012) and the Dak'Art Biennale, Dakar, Senegal (2012). He was also included in the South African pavilion at the 56th Venice Biennale (2015). His work is in the collections of the Johannesburg Art Gallery, the Iziko South African National Gallery, Cape Town, the Saatchi Gallery and the Zeitz Museum of Contemporary Art Africa (Zeitz MOCAA).