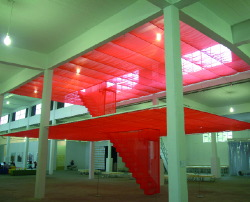 Dan Cameron, senior curator at New York's New Museum of Contemporary Art, conceived the 8th Istanbul Biennial around the idea of 'Poetic Justice', aiming to address what he feels is a split in current practice between poetry/spirituality (art that is 'identified with the viewer's inner life') and justice/politics (art that 'takes as its subject the world and its affairs'). It feels cheap to muse that art which isn't identified with our inner lives in some way is just bad art, and cheaper still to point out how simply Cameron's theme can be mapped on to the greater epidemic of justice that has been infecting shows such as this at the expense of poetry. In fact, Cameron's outing here largely avoided this pitfall, even though only a handful of selections convincingly bridged his delineated rift.
The bulk of the exhibition was located in Antrepo, a converted customs depot, where a marvellously installed Do-Ho Suh sculpture greeted visitors upon entry. Additional works were located nearby in a 15th-century artillery factory, in an underground Roman cistern that was perfect for video, and in Aya Sofya itself. Other projects were dispersed throughout the city. With the exception of Marlene McCarty's sexualized pen drawings of murderous teenage girls, it was tough to figure out what most of the painting or drawing was doing in the show - though Paul Noble and Jockum Nordstrom are always enjoyable. At Aya Sofya only Tony Feher's Nature Is Over (2003), consisting of a water bottle hanging from an iron chandelier hook, and a series of blue tape mosaics on a run of small windows nearby, managed the modesty demanded by that majestic space. (Some miracle evidently prevented Kendell Geers from installing at Aya Sofya what sounded like a disastrously insensitive triumvirate of Buddha, Christ and Muhammad figures.) Among the bad ideas that managed to be realized, Ozawa Tsuyoshi's foolish photos of girls wielding weapons made out of food were a low point, along with Bohr's Atom (2003), the latest of Peter Sarkisian's heavy and pretentious video structures.
The film and video selections, however, included some remarkable works that expanded on Cameron's theme, or that got along fine without it. Notable among them was Stephen Dean's Volta (Bandeira) (2002-3), which created a swirl of intoxicating colour and terrifying nationalistic energy with its Leni Riefenstahl-like footage of flag-besotted football fans. In Antrepo Fiona Tan's double-sided archery film Saint Sebastian (2001) stood out, and Jun Nguyen Hatsushiba's Happy New Year-Memorial Project Vietnam II (2003), featuring a group of divers dancing a Chinese new year parade dragon underwater, was almost unbearably gorgeous. In a perfect mix of humour and oblique critique Milica Tomic's thrice-bootleged version of the movie XXX highlighted the method by which a great many Serbians obtain Holly-wood films. (Compare this with the work of the young American video artist Jon Routson, not included here, who bootlegs blockbusters primarily as an aesthetic prank.)
Mike Nelson hid an amazing public project near the Grand Bazaar, in a decrepit 16th-century workshop. After a confusing search in one of the city's more chaotic neighbourhoods, I was shown into a terrifyingly dark room that appeared to be a makeshift photo lab. Hung all over the walls were pictures that were revealed, once my eyes had adjusted to the light, to be images Nelson had taken of the very neighbourhood through which I had just been wandering. I learned from the work's guardian that very few of the complex's residents and workers knew of the piece's existence, which was just fine -- it is the foreigner's experience of Istanbul that, in a complication of the Orientalist dynamic, becomes the content of Nelson's piece.
On a panel during the opening festivities Ralph Rugoff wondered if the recent polemic trend of these major international shows is a hangover from the Modernist conflation of art and politics, overcompensation for the powerlessness of art and artists over current politics, or the result of a collective guilt we feel from the élite and capitalist nature of our field. Add to this astute assessment the fact that Cameron did most of his work between 11 September 2001 and the Iraq war - acutely aware, surely, of being a representative of American cultural power in a Muslim country - and the degree to which Cameron kept the show mostly free of apologetic drivel was impressive. To his credit, he confined most of the political chatter to his writing around the show, though this came at the expense of his ideas about art. (To anyone familiar with Cameron's great facility as a writer, it was frustrating to be left with texts that gave the impression he was running some kind of NGO or think-tank rather than an art festival.)
It would be remiss not to mention Emily Jacir and Jung Yeondoo, both of whom contributed projects built with stunning grace from the yearnings and dreams of ordinary people. With overlapping slide projectors, Jung's BeWitched (2001-ongoing) created gradually evolving portraits that morphed her subjects into posed shots of them acting out their wildest dreams. For Where We Come From (2002-3), exhibited last spring in New York, Jacir, a Palestinian-born American, asked Palestinians, 'If I could do something for you, anywhere in Palestine, what would it be?' And then, like some kind of angel, she did her best to execute their wishes. In a particularly moving juxtaposition of appeal and documentation, a man's request for Jacir to go on a date with a girl he has only been able to speak to on the phone hangs beside a photo the artist took of the girl on the other side of a café table.
Red Rubber Boots (2000), a devastating documentary by Jasmila Zbanic, followed a Bosnian woman as she tried to locate the bodies of her murdered children after the war. Her frantic journey seems compelled by a subsequent loss - she describes how she is no longer able to see them in her dreams. More plaintively than Jacir and Jung, Zbanic could be saying: whatever opposition may exist between politics and spirituality in artmaking, there is a contingency in the real world between justice and the life of the mind. I suspect this may be, finally, Cameron's point. It is an important and worthy one.