Athena LaTocha's Unrelenting Urge to Salvage
The artist turns her gaze to Tribeca in Downtown Manhattan, for an intimate, meditative show with JDJ New York
Whenever she drives along an interstate highway, Athena LaTocha experiences an overwhelming compulsion to pull over when she spots bits of shredded tyres. About a decade ago, the Alaskan artist (who is Lakota and Ojibwe on her mother's side, from the US's Northern Plains) began using these rubber remnants as improvisational tools – they proved a sturdy, if capricious, means of moving demolition sediment over her colossal, inky drawings. (For this purpose, the artist also wields branches and root balls, and dirt-caked bricks whose sides crumble and erode mid-use, like a paintbrush self-destructing.)
There are already too many tyre remains in the artist's Brooklyn studio, but the urge to salvage more is unrelenting. LaTocha hunts for dark scraps that boast interesting, weathered linework and partial text, or whose wrecked belts are exposed, their steel wires like capillaries. 'There are some really beautiful pieces out there,' says the artist. 'And it's a tool you have to wrestle with, which I like. It can be painful and unpredictable. When I worked with canvas, the steel belts would scratch and puncture the surface. On paper, the patterned shred introduces different treatments, and printed names can be used to make marks. In that way, it's a compound tool.'
That LaTocha spends so much time amassing debris is unsurprising. In her wall-spanning drawings – which conjure rugged cliff faces and expansive, earthy terrains – she is continually drawn to man-made and natural residuum, and the complex, shifting relationship between humans and the Earth. The works' tactile surface is slowly arrived at, through great physical exertion. LaTocha drags layers of silt and soil across wet, resin-coated paper, which she lays flat on her studio floor. Once the surface material has settled, the excess is scraped away and she starts over, obscuring and revealing with each instinctive gesture. On her stiffened paper, ink and earth collide with fallen tree limbs, gathered rocks, crumpled sheets of steel, and demolition detritus retrieved from nearby construction sites. Shredded tyres make perfect sense alongside these materials: artificial but organic-seeming. Their torn forms contain echoes of broader endeavours: human infrastructure, trade routes, attempts to move across the landscape, the reshaping of nature to serve our desires. LaTocha's work is concerned with these constantly shifting targets. She is interested in the way we perceive and relate to the world around us –politically, psychologically, culturally – and our relative smallness in contrast to the deep time of the Earth.
Right now, LaTocha is developing two site-specific exhibitions with New York gallery JDJ, set to open this May and June, respectively. One will be staged at JDJ's upstate-NewYork outpost The Ice House, a former industrial building in Garrison. The other is at JDJ's Tribeca site on Broadway – the city's oldest north-south main thoroughfare and a major trading route that predates colonial occupation. (Much of Broadway formed part of what was known as the Wickquasgeck trail and used by various Indigenous peoples to exchange goods.) 'One of the difficult things about working in an urban environment is trying to figure out what's going on underfoot,' LaTocha tells me, as we meet to discuss the Tribeca show. 'So much erasure has taken place in this area. It's worked and overbuilt. It's a complicated read – you don't have access to the bedrock or even the original soil. The question for me was how do I understand my connection to the original landscape, when it's been so built up and torn down?'
In Tribeca, LaTocha began like she always does: watching and observing, recording sounds and capturing footage, especially of infrastructure in flux. She traversed the densities of Broadway, Canal Street and other sites ripe with new development, such as Dumbo (Down Under Manhattan Bridge Overpass) in Brooklyn, currently packed with pile drivers. She observed construction workers tearing up and remaking patches of street with jackhammers – agents in New York's unrelenting programme of urban renewal, which makes sweet promises even as it violently displaces. She buried herself in historical narratives of 'people living on top of people, people overtaking people', and the social implications of commerce and trade among the Dutch New Amsterdam colony. 'For me,' she says, 'there is always something unsettling in learning these histories, and the impact of colonization on Indigenous populations. That deep sense of mourning never goes away.'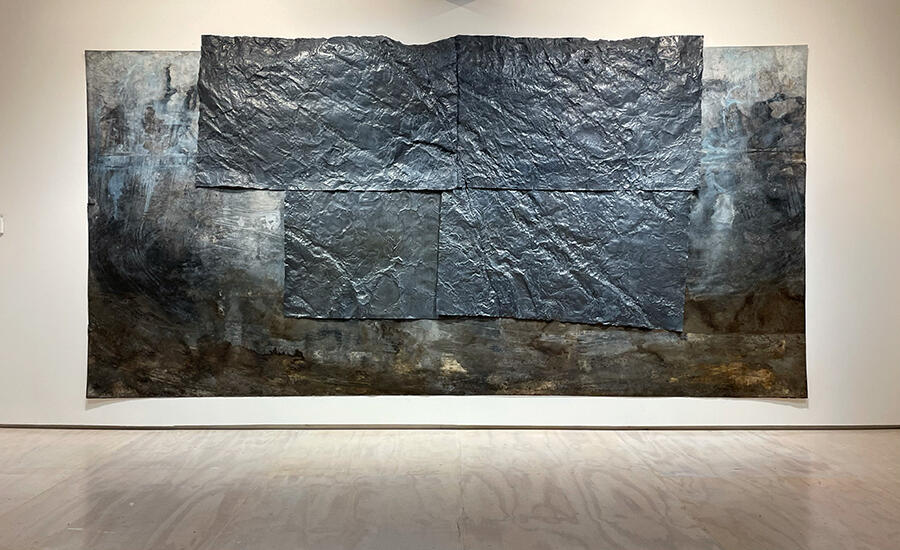 In the hopes of physically connecting with a site's deeper history, LaTocha searches for the oldest soils she can get her hands on. But in Tribeca – where teetering, new-build towers and art deco relics crowd over their foundation of bedrock – accessing such material is impossible. And so the artist returned to Brooklyn's Green-Wood Cemetery, where active excavations are still taking place, and where she'd already utilized earth for a recent, 17-metre installation at BRIC. For these new works – around ten will be shown at JDJ's Manhattan space  – she combined graveyard soils with shellac inks and 'demolition media' (dust, steel shavings and glass from construction sites). 
These new drawings are drastically smaller than the large-scale works LaTocha is known for – no larger, she says, than 3 x 6 cm. Regardless, she frames them as a continuation of the massive, expressive pieces she mounted at BRIC and MoMA PS1 in 2021, describing them as 'miniature movements' characterized by similar materials and thinking. Their size, however, is distinct to this setting – to the gallery itself, and the congested, increasingly slick and spectral environment of Lower Manhattan, where every unmanicured glimpse of nature can feel like a small, sublime marvel, and where it is easy to be myopic, thinking things have always looked like this. 'The work I typically make is larger than human scale,' says LaTocha. 'You can get that sense of being restlessly lost in it, overwhelmed or consumed by it.'
Main image: Athena LaTocha, Thirteen Days, 2017-19, ink and earth on paper, 112 × 305 × 5 cm. Courtesy: the artist and JDJ