The Best Shows along the Hudson River
From Charles Gaines at Dia Beacon to Susan Weil at JDJ Gallery, these are the must-see exhibitions in upstate New York
Susan Weil
JDJ Gallery
Garrison, New York, USA
27 February – 24 April 
The New York artist Susan Weil has been making work for the past 70 years that encompasses collage, painting, artists' books, and more. In 1948, Weil went to the Black Mountain College in Asheville and studied under the auspices of Josef Albers. An affiliate in the 1950s of the New York School of abstract expressionism, Weil ultimately became inspired to make work that investigates ideas around movement, time and the female form. On display here at JDJ Gallery, housed in a former icehouse in Garrison, are a selection of works from the 1990s that include paintings from her 'Soft Fold' series – unstretched canvases folded and wrapped to create amorphous, sculptural objects – and a selection of more recent works on paper: spray-painted shapes and forms suggestive of the female body (e.g. Black Configuration, 2000).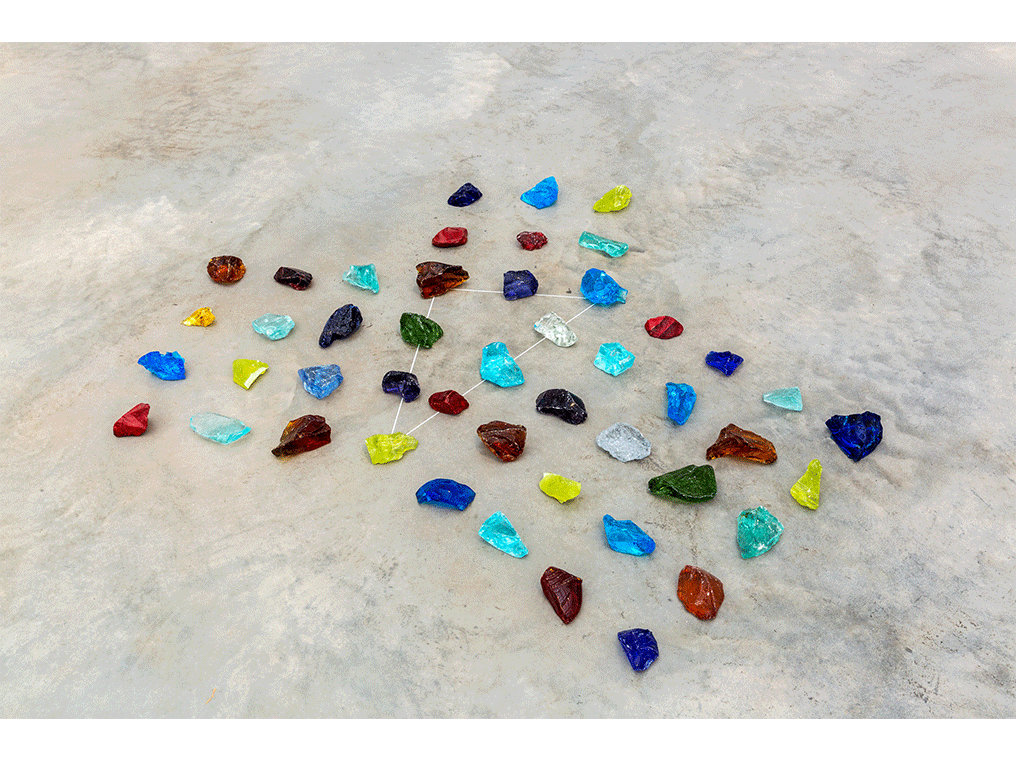 Bochner Boetti Fontana
Magazzino Italian Art
Cold Springs, New York, USA
2 October 2020 – 5 April 2021
In 'Bochner Boetti Fontana', the American conceptual artist Mel Bochner curates an exhibition that looks back at his engagement with Italian modernism and Arte Povera, specifically the works of Alighiero e Boetti and Lucio Fontana. The show presents rarely seen pieces from Bochner's private collection alongside some exceptional examples from Boetti and Fontana – including Bochner's Meditation on the Theorem of Pythagoras (1972/1993), Boetti's Ghise (Boetti) (1968), and Fontana's Concetto Spaziale (1956). The juxtapositions between the works are irresistible and complementarily. Beautifully installed, the show is an intimate portrait of the artist and his relationship to his influencers.
Charles Gaines
Dia Beacon
Beacon, New York, USA
19 February 2021 – 5 February 2023
Charles Gaines's meticulous, mathematical grid works will be on display for the next two years at Dia Beacon, including selections from his series 'The Regression' (1972–74), 'Walnut Tree Orchard' (1975–2014), 'Faces' (1978–79), 'Shadows' (1979–80), 'Africa and Numbers' (1984) and his most recent 'Faces 1: Identity Politics' (2018): a suite of numerically rendered portraits of thinkers such as bell hooks, Dolores Huerta and Edward Said, among others. One of the more outstanding works, however, is his Librettos: Manuel de Falla/Stokely Carmichael, Set 24 (2020). Part of a larger series of the same name, the piece presents an excerpt of Carmichael's 1967 speech delivered at Garfield High School in Seattle on issues of race and labour. The text is printed on stained paper and encased in clear acrylic. Inscribed across the transparent vitrine is the score for Manuel de Falla's opera La vida breve (The Brief Life, 1904) – the story of a young gypsy who falls in love with a wealthy man, who is already engaged to another woman – another tale of exploitation.
Marcia Hafif and John McAllister
Parts and Labor
Beacon, New York, USA
20 February – 25 April
At Parts and Labor, a small gallery just a stone's throw from Dia Beacon, works from the 'Shade Painting' (2013) and 'Glaze Painting' (1995–97) series by the late artist Marcia Hafif are shown alongside new paintings by John McAllister. Hafif's vibrant, monochrome, square canvases are dense with multiple layers of rich, colourful pigments – the surface of each painting begging to be touched. In counterpoint to McAllister's incandescent landscape paintings – which verge, at times, on psychedelic gaudiness – Hafif's works bring harmony to the installation, engendering a sensorial interplay of colours and forms.
Lukaza Branfman-Verissimo
SEPTEMBER
Hudson, New York, USA 
20 February – 3 April
In 'Let's rename the city', Luzaka Branfman-Verissimo's first solo exhibition at SEPTEMBER gallery in Hudson, a sparse selection of text-based works – including two sandwich-board signs and five paintings from the artist's 2020 Yerba Buena Arts Center show in San Francisco – populates the space comfortably. Each work has room to be seen and read on its own, almost in isolation. Founded by Kristen Dodge in 2016, the alt-art space is dedicated to showcasing the work of women-identified and LGBTQIA+ artists. Here, Branfman-Verissimo, a queer Black artist from Los Angeles, presents carefully layered tableaux assembled using sprawling words and phrases – at times, large printouts of photocopied texts – couched in a sea of dark blues and bright yellows. The messages are difficult, sometimes impossible, to decipher but, eventually, questions do reveal themselves, interrogating what it means to protect and reclaim spaces for Black, Brown, Indigenous, trans and queer communities.