Featured in
The Beguiling Work of Jessi Reaves
In her compellingly off-kilter sculpture, Reaves imagines strange and dire futures
Building on her training as an upholsterer, Jessi Reaves's earlier works – janky lamps, monstrous, intestinal ottomans, bricolage bastardizations of iconic modernist tables and chairs – sit somewhere in the crux between art and design. They could be used, but a niggling question linger: who would use them? The objects conjure up visions of the den of a design-conscious castaway, or the mood board of an interior decorator looking to kit out bunkers in a nuclear winter.
The works in her second solo exhibition at Bridget Donahue, which comes in the wake of her notable outings in both the 2017 Whitney Biennial and the 2018 Carnegie International, as well as a high-profile collaborative presentation with Maison Margiela's head designer John Galliano, take a slightly different tack. While furniture, as both an idea and a raw material, is still decidedly in the mix, the new sculptures are mostly void of use; they are more 'about' design than they are design itself. (As if in a nod to the potential disappointment of her viewers, who reportedly stopped by frequently to lounge on her creations during her last show, Reaves built a hulking, carpeted display structure that featured a mid-century-style conversation pit.)
This trimming back of functionality was accompanied by a ratcheting up of menace, which is fitting for our times. For Permanent Single Action (all works 2019), for instance, Reaves festooned a wooden structure that resembles a large shoe rack with clawed, bat-wing-like datura flowers that she rendered in her signature mixture of sawdust and wood glue. The plant is poisonous, but in non-fatal doses it has terrifying deliriant effects, which explains its colloquial names, 'zombie cucumber' and 'devil's weed'. You don't need much hand holding to connect the dots from there. Similarly, Redemption Island Standing Table is a vitrine wrapped in a snaky coil of rubber tubing containing the seat of an Eames chair Frankensteined to the base of a cheap, foldable camping chair, using the same wood-glue-and-sawdust mixture as adhesive. Sewn onto the leather seat is a swatch of a T-shirt advertising a season of the reality television franchise Survivor, as if the iconic modernist lounger was a heavy-metal battle jacket. A mashup of high and low design, the piece also collapses real fears of a Hobbesian future into their kitsch gameshow equivalent. I couldn't help but think of the irony that Survivor's producer, Mark Burnett, also produced Donald Trump's television vehicle, The Apprentice, an augury of the apocalypse if there ever was one.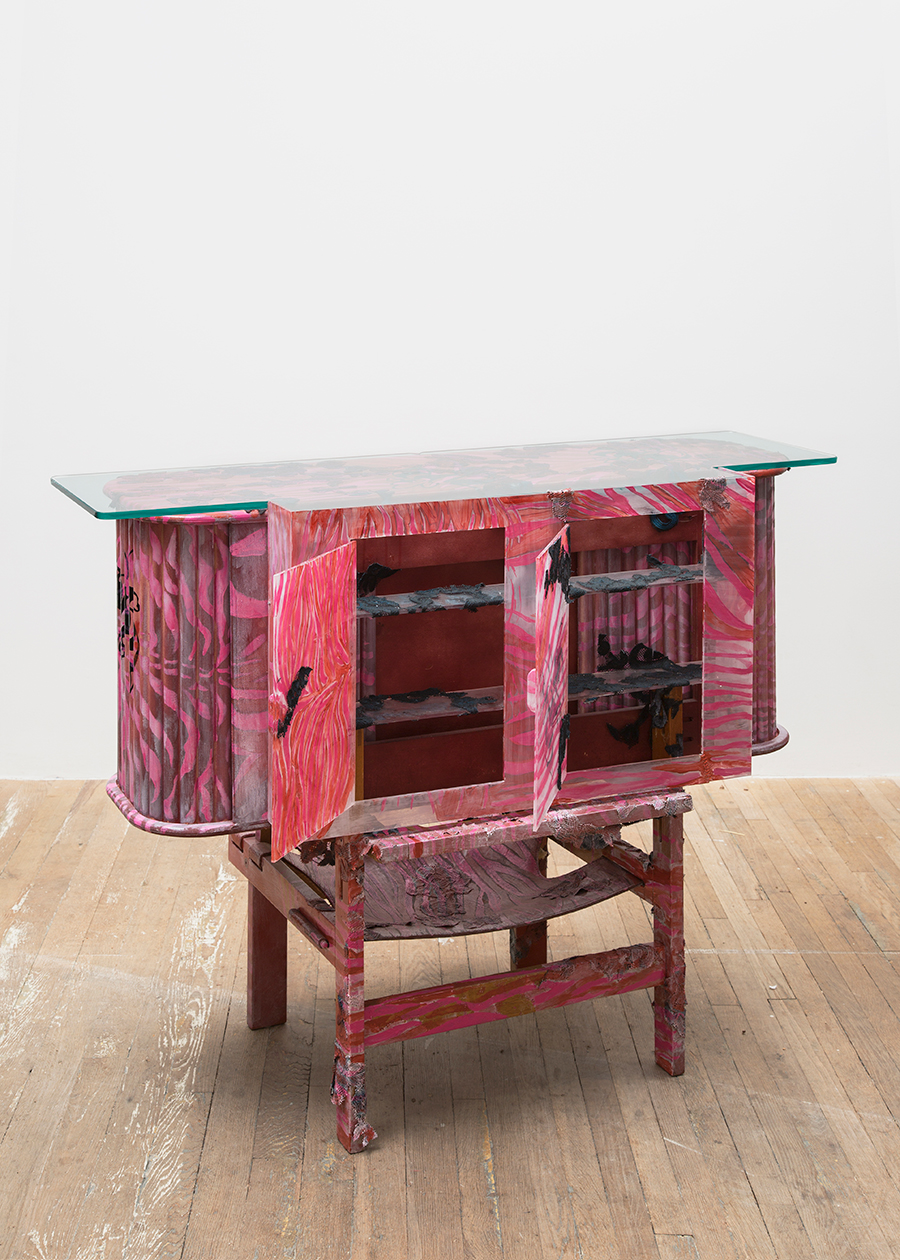 Other works in the show were less explicitly post-apocalyptic, but still compellingly off-kilter. Most notable in this regard was Walking Up Was Getting into Discipline, Nyc Stick Shelf, a structure cobbled together out of what the materials list indicates are 'nyc sticks' (presumably branches scavenged off the city streets) and what appeared to be yet more pieces of foldable camping equipment snugly shrouded in a net of yellow meshing, with zippered elements coyly unzipped to allow us peeks into the interior. The delicate attention Reaves gave to its canary-coloured casing had a poignant yet simultaneously comic effect.
As beguiling as much of the show was, Reaves's move away from utility amounts to a picking of sides in the sculpture/design debate that raged through her previous work. The wisdom of this, moving forward, seems questionable. I can think of any number of places where I can go to get my fill of hodgepodge sculpture, or critical takes on the legacy of modernism, or works caught in the ice grip of our dark, foreboding future. Sometimes, in the midst of all the world's racket, we still need a place to sit down and put our feet up for a while.
Jessi Reaves, 'II' was on view at Bridget Donahue, New York, from 14 March until 12 May 2019.
Main image: Jessi Reaves, Drive Through the Back of Your Eyes, 2019, metal, fabric, sawdust, wood glue, lamp & wiring, 101 × 142 × 20 cm. Courtesy: the artist and Bridget Donahue, New York; photograph: Gregory Carideo