A Ceramic Renaissance: Clay and Sculptural Works at Frieze Los Angeles 2023
From groundbreaking works by Italian master Lucio Fontana to LA-based Sophie Wahlquist's immersive installation in clay, artworks at this year's fair refelct a resurgence of ceramic in the art world
Representing Los Angeles's rich history of artists working with clay and a resurgence of ceramic in the wider art world, this year's fair will feature an international roster of artists producing clay works, using the medium to explore themes of spirituality, femininity and the environment. Highlights include:  
A solo presentation of ceramic sculptures by Filipino American artist Jane Margarette. Continuing the artist's explorations of strength, protection, sensuality, and captivity, the presentation will centre on a large butterfly shaped lock with four different 'repaired' wings (Anat Ebgi, Los Angeles, Focus). 
New paintings and ceramic works by artist Hana Ward, an LA-based artist who depicts Black and Brown feminine figures reflecting and dreaming as they build their own sovereign worlds. Influenced by anticolonial histories, spiritual texts, and cycles of the natural world, as well as by the canon of art history, Ward's works communicate deeply personal metamorphoses (OCHI, Los Angeles, Ketchum, Focus).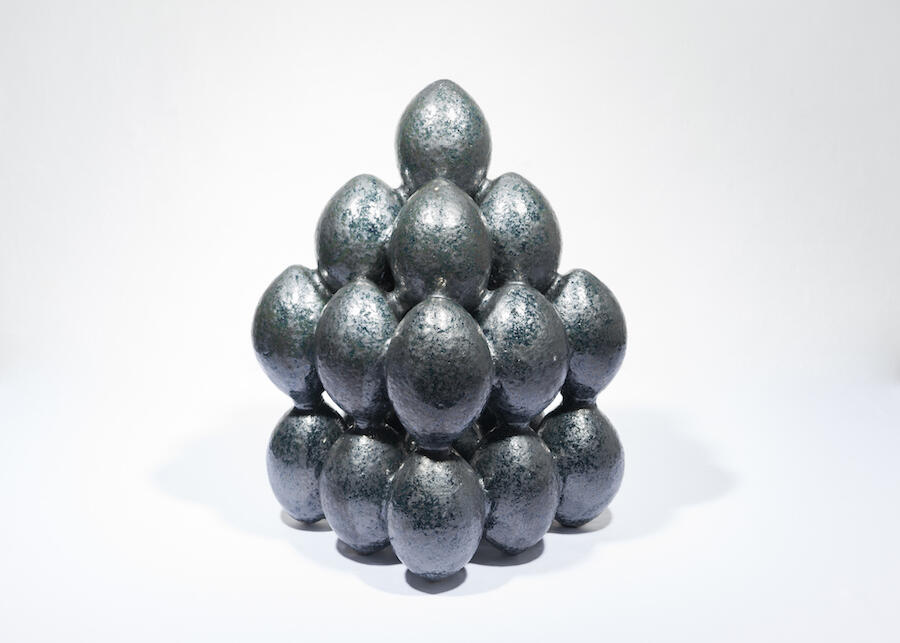 Andrés Monzón's work consists of replicating and modifying versions of historical objects in a process inspired by experimental archaelogy; his new sculptures are finished with built up layers of nail polish, enveloping the forms in cosmetic lacquer, a gesture that defies cultural expectations and prohibitions placed on the male body (Stars, Los Angeles, Focus). 
A solo booth of ceramic works by Sophie Wahlquist, a German emigrant to Los Angeles. The works, which are being made especially for the occasion, will be combined to create an immersive multi-sensory environment, including plant form-inspired fountains, sconces and chandeliers, evoking the mystical power one might feel in a forest (Baert, Los Angeles, Focus). 
A presentation of Japanese ceramic artists Machiko Ogawa and Yasuhisa Kohyama. Ogawa makes herself the means through which clay reveals its inner strength whilst Kohyama has played a significant part in reviving the use of the traditional Japanese 'anagama' wood-firing kiln (galerie frank elbaz, Paris, Main).
 Kwon Dae-Sup's transformation of white clay into hardened porcelain evokes artisanal ceramic traditions, as he shapes shapeless masses of moist earth to produce elegant, unadorned vessels with an intrinsic vital energy (Johyun Gallery, Busan, Main). 
A selection of ground-breaking works by Lucio Fontana forms the heart of Robilant+Voena's presentation, with his pioneering tagli and buchi shown alongside examples of his ceramics (Robilant+Voena, London, Main). 
Borrowing freely from blackness, healing rituals. flora and texting, Michaela Yearwood-Dan's works refuse to be framed by narrow expectations of racial or gendered notions of collective identity and history, and invite the viewer to slow down and engage with the ideas represented (Tiwani Contemporary, Lagos, Main). 
Plaster reliefs will accompany sculptures and ceramics by Mária Bartuszová, Erika Verzutti and Hannah Wilke, the subject of a 2022 survey at Pulitzer Arts Foundation, St. Louis (Alison Jacques, London, Main). 
Working in human scale with intimate precision, Arlene Shechet's sculptures incorporate materials such as steel, wood, glazed ceramic, resin and concrete within compositions that are both discordant and harmonious, seemingly defying logic and gravity (Vielmetter, New York, Main). 
Hilda Palafox's practice includes painting, drawing, ceramics, and textiles. Hidden in her strokes, the mystery of the feminine is balanced with the symbolism of the physical, emotional, and spiritual state (Proyectos Monclova, Mexico City, Main). 
Exploring identity, mythology and memory, Maryam Yousif's ceramic statues feature women with sets of blue eyes holding cosmic handbags, referencing Sumerian sculptures historically placed in temples and Middle Eastern mythology (The Pit, Los Angeles, Main). 
As a part of the fair programme, Frieze will collaborate with the People's Pottery Project. Their mission is to employ and empower formerly incarcerated women, trans and non-binary individuals through paid job training, access to a healing community, and meaningful employment in their collective non-profit ceramic business. 
Outside of the fair, Conversing in Clay: Ceramics from the LACMA Collection explores the medium through 14 case studies, placing historical works in visual dialogue with contemporary examples to illuminate symbolic meanings, technical achievements, and resonances throughout time. 
FURTHER INFORMATION
An annual highlight of the fair, Frieze Projects is an anchor program of Frieze Los Angeles and brings together a compelling program of artists and initiatives.
Be the first to know when Frieze Los Angeles 2024 tickets go on sale, sign up to our newsletter and follow @friezeofficial on Instagram, Twitter and Facebook.
Michaela Yearwood-Dan, What a Time to be Alive, 2020, Acrylic on clay, 28 x 16 x 7 cm, 11 1/8 x 6 1/4 x 2 3/4 in, courtesy the Artist and Tiwani Contemporary