Charmaine Watkiss on Reconstructing the Image of Black Womanhood
Victoria Adukwei Bulley speaks to the artist ahead of her first UK solo show at Tiwani Contemporary about its historical importance and the intimacy of drawing
Victoria Adukwei Bulley: What inspired the title of your latest series of works, 'The Seed Keepers' (2021), currently on show as part of your first UK solo at Tiwani Contemporary?
Charmaine Watkiss: The title came out of a conversation I had with Adelaide Bannerman, curator at the gallery. I had been thinking about how Black women are the keepers of culture, of ancient wisdom, and about how seeds are archives for the future. This correlated with our being at a point in history where we all have to be aware of the environment and conservation.
VAB: The women in this series occupy what feels like their own time and cosmology, in which plant life and human life co-exist, both offering wisdom. The drawings of plants evoke the botanical sketches of 18th- and 19th-century travellers, the scientific researchers of the natural world, whose work was inseparable from the larger projects of empire, although their legacies are often portrayed as benign. What reflections does that connection spark about plant life and human life?
CW: Ideas around Black women need to be reconstructed because, for so long, we've been maligned in every area of life. I want to present another image of Black womanhood. In the past, I've done historical work – looking at the women of the Windrush Generation, for instance, who immigrated to Britain from the Caribbean after World War II. This new body of work marries the three things that I'm most interested in: history, botany and cosmology.
VAB: How did your upbringing feed into this work? You are not a botanist, but you were raised with an awareness of the world of plants and their uses.
CW: When we were growing up, my mum treated me and my brother with herbs. She came from St. Thomas, in the Blue Mountains of Jamaica. My family still has land there, which they've tilled for generations: it's a real, deep connection with the land. Maybe that was the seed for where I am today in my work, because history feeds into everything.
VAB:  What kind of research have you had to do to guide your process for this show?
CW: I had to do a lot of research online, unfortunately, because all the libraries and archives were closed due to lockdown restrictions. During that time, I'd started drawing and thinking about composition. I was interested in finding stories about the kinds of herbal knowledge and lifesaving treatments that would have crossed over during the transatlantic slave trade. It's that thread, from Africa to the Americas, that I'm interested in. What are the remedies that survived? Unfortunately, I only reached a certain point in my research, because there were a few publications that I could only access if I went to The British Library, which was closed during lockdown. I did research on plant symbolism and mythology, which prompted me to think: what would it mean to embody that in human form? It gave me licence to be a bit more playful with the smaller works in the exhibition.
VAB: There is a quiet element to your work that invites people to come and look at it closely; it demands the audience's interaction and attention.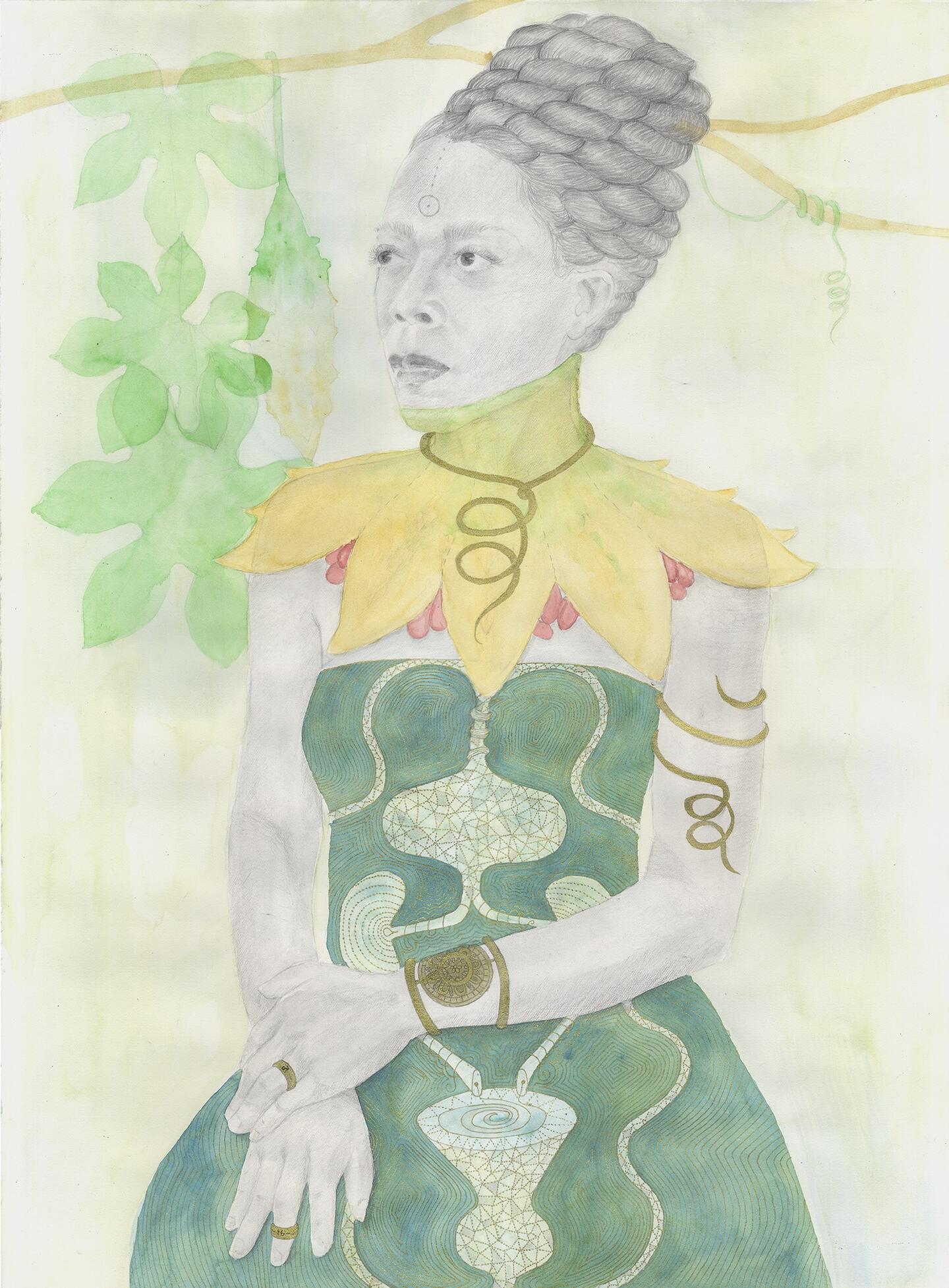 CW: I think there's a certain reverence that you feel when you're confronted with a life-size drawing. I get that sense of awe with Barbara Walker's work. There is also this physical connection that you get with drawing, which I think comes down to the viewer's proximity to the hand of the artist: you can see each mark and experience the layers that are put into the work; it draws you in.
I've seen painters whose underdrawing is so exquisite that the act of applying paint feels almost crude, since it obliterates much of the drawing's subtlety. With pencil on paper, you can experience almost-imperceptible nuances. When a person goes up close, they can see little things that they didn't notice from afar. That intimacy is what I love about drawing.
'The Seed Keepers' is on view at Tiwani Contemporary at 4 Cromwell Place, London until 5 December
Main image: Charmaine Watkiss, The Warriors Way: Restructuring the Self, 2021, graphite, pencil, watercolour and ink on paper, 76 x 56 cm. Courtesy: Tiwani Contemporary and the artist