Critic's Guide: Brussels
Ahead of the tenth anniversary edition of Brussels Gallery Weekend, a preview of the shows not to miss around town
Marcin Dudek, 'Steps & Marches'
Harlan Levey Projects
7 September – 28 October 2017
Polish artist Marcin Dudek launches his exhibition 'Steps & Marches' in Brussels' Harlan Levey Projects on the evening of 7 September, before shifting to a second chapter at London's Edel Assanti gallery later in the month. Dudek begins with his recollections of his time as a teenage member of the Cracovia football fan club, and uses that sense of personal history (drawing on his own photographs of a crowd escalating into a full stadium riot) throughout an installation that probes the mechanisms and movements of social control and violence. Dudek is particularly interested in examining instances of crowd unrest, whether through the prism of riot police formations or prison architectures. At Harlan Levey, the gallery is transformed into the spectator rings of a stadium caught in mid-disintegration, sculptures daubed in primary colours that evoke in equal measure the banners of sports teams and political protest. Across Brussels and London, Dudek's studies of the psychology and ideology embedded in mass movements and social explosions move into a series of sculptures and videos featuring footage of mob outbursts, rubber bullets and fractured mirrors interrupting the exhibition space.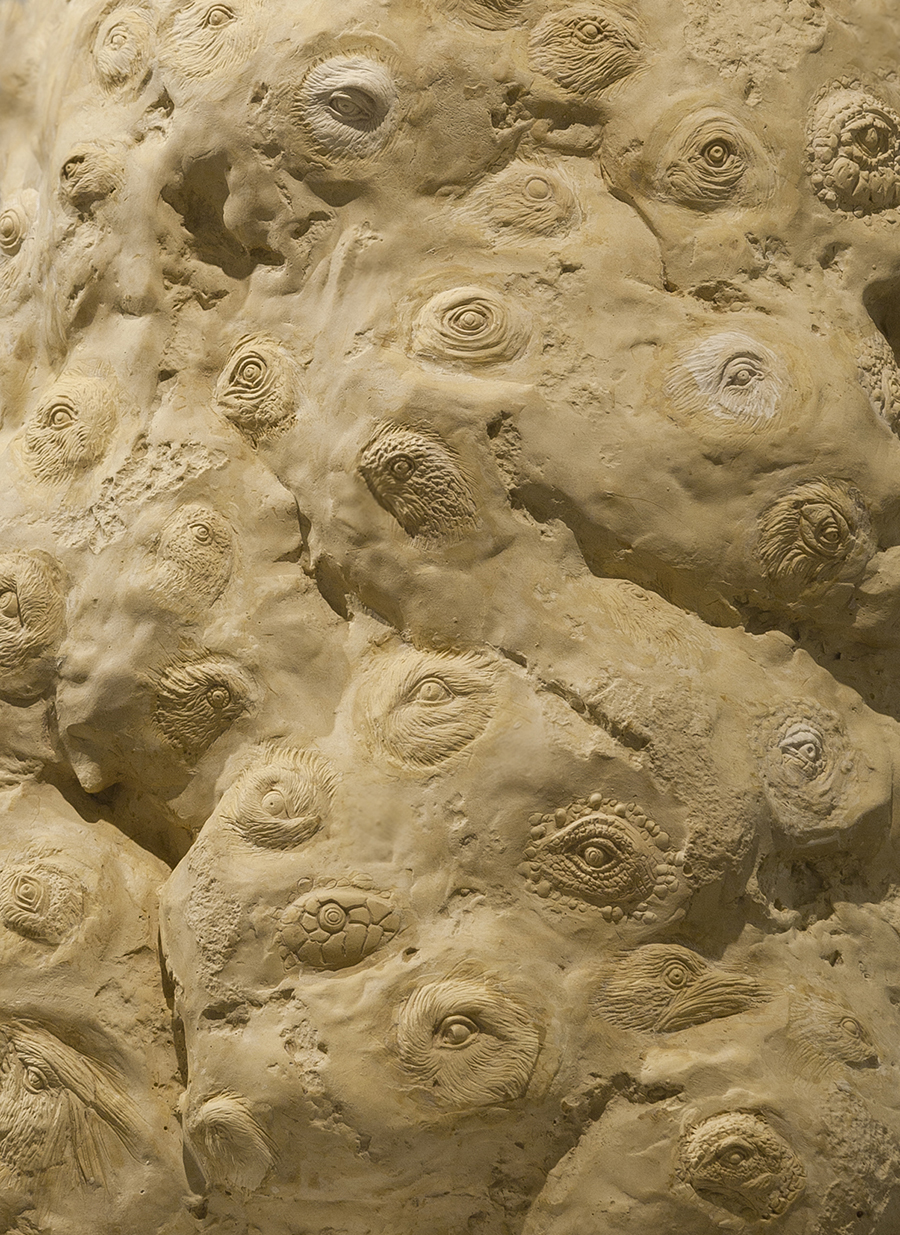 Jitish Kallat, 'Covariance'
Galerie Templon
7 September – 21 October 2017
Jitish Kallat's show in Brussels follows on from a major retrospective at the National Gallery of Modern Art in New Delhi, in which the artist's interests in India's changing urban spaces as well as cosmological concerns were both under the spotlight. At Galerie Templon, the focus is on Kallat's 'Covariance (Sacred Geometry)' (2015-17) sculptures: alien sandstone-like formations are inscribed with teeming streams of an eye-like patterning. Meanwhile in Wind Study (Hilbert Curve) (2016), Kallat sets out a fractal geometry in graphite on paper, layered and traced over in inflammable liquid before being lit – the direction of the wind determining how the fumes imprint themselves on the paper.
Kendell Geers, 'AfroPunk'
Didier Claes Gallery and Rodolphe Janssen
7 September – 28 October 2017
The mandate to create that originally drove Kendell Geers, born into a white working-class Afrikaner family in Johannesburg, was a clear interrogation of the apartheid system's code of ethics and issues of inherited identity – early actions featured Geers declaring his birthday as May 1968, or on Mandela's release (and after a brief period of exile for Geers), his 1990 Bloody Hell in which the artist washed his white body in his own blood. That drive is perhaps more elusive these days – his works, composed variously out of fragments of glass, barbed wire, rubber, now reach for a critique that is altogether more sweeping. On his relocation to Belgium in 2000, Geers reoriented his work towards the power of language and what he terms 'EuroAniminism'. In that spirit, his new work 'AfroPunk' is presented as a double bill across the galleries Rodolphe Janssen and Didier Claes – the latter being specialists in 'classic African art', self-described as a space for collectors to 'discover beautiful objects from Central Africa'. Geers opens with a set of paintings and bronze sculptures, setting up a conversation around originality, fetish and transference between his work and the gallery's traditional pieces. Geers uses 3D printing techniques on rare African masks, exploring how those tools might reanimate a Songye mask, and the ways in which scanning and printing become another form of collage.
Ritsue Mishima, 'Cristal Blanc'
Pierre-Marie Giraud
8 – 30 September 2017
There's a sense of weight and magic to the vessels and other sculptural forms produced by the Kyoto-born artist Ritsue Mishima, who now lives between Tokyo and Venice. Mishima works closely with Murano craftsmen to produce cancerous globules of glass, purposefully left completely transparent and colourless. Her works emphasize the process through which glass itself exists between solid and liquid states, from silica to limpid glass – and at Pierre-Marie Giraud, these glassmaking techniques produce moments of crafted light and fizzing cell-like formations.
Luiz Roque and Prem Sahib
Mendes Wood DM
7 September – 7 October 2017
At the São Paulo gallery's European outpost, this weekend sees the first solo exhibition in Brussels by Luiz Roque, 'The Modern Years', a series of three films emerging from the artist's interest in sculpture and bodily expression: Modern (2014) draws on research into Henry Moore's Recumbent Figure (1938) and performance artist Leigh Bowery (a fixture of London's '80s club culture) while in Rio De Janeiro (2017), a black transsexual woman holds a phone conversation with the founder of the city's Museum of Modern Art, in which she discusses a dream of the building burning. London-born Prem Sahib also presents his first solo exhibition, 'Heron', in Brussels with two floors taken up with his glass and ceramic installations. The show takes its title from the artist's comparison between the animal's watchful nature and the experience of gay cruising, and in the gallery's stairwell, twin rings made of rubber and steel bring to mind erotic play and alienation.
Ratna Gupta, 'You Will Die Soon'
Galerie Felix Frachon
7 September – 21 October 2017
After studying graphic design and book arts and craft in Mumbai and London, Ratna Gupta may no longer work with the printed page, but remains fascinated by angles of opening and entering – you can see that in her 2010 'breathe' series in which the artist wreathed herself in resin, freezing her body in time. Across her work, Gupta applies layering and repetition, of plaster bandages, latex or glass (often choosing explicitly artificial materials) to produce casts of her body or plant matter. The results are sculptures of monumental fragility, encoding the relationships between ground and body, and its steady erosion over time.
Hans Bellmer, Sascha Braunig and Matthew Ronay
Office Baroque
7 September – 21 October 2017
An eccentric interplay is proposed between the work of surrealist Hans Bellmer, along with Sascha Braunig and Matthew Ronay, at Office Baroque Gallery, now celebrating its 10th anniversary. Bellmer, born at the turn of the 20th century, was the German artist who became best known for his obsessive sculptural piece La Poupée ('The Doll', c.1936) – a female doll composed of reversible segments, rearranged and documented in a sinister photographic series. That focus on rhythm and patterning can be traced into the wire-frame effigies of Canadian-born Sascha Braunig's radiant paintings, evoking the ignition of neon signage and structures of 3D modelling, or the Play-Doh toy-town colour schemes of American artist Matthew Ronay's application of hand-carved folk techniques to chunks of basswood, creating sculpted, cartoonish landscapes.
Brussels Gallery Weekend runs 7–10 September.
Main image: Jitish Kallat, Sacred Geometry (Covariance), 2017, dental plaster, 109 x 86 x 61 cm, detail. Courtesy: the artist and Galerie Templon