Critic's Guide: Mexico City
Korakrit Arunanondchai, Monica Mayer, Fred Sandback and more: the best current shows in Mexico City
Monica Mayer, 'Si tiene dudas… pregunte'
MUAC
6 February – 29 July
With Maris Bustamante, conceptual artist, critic and activist Monica Mayer co-founded Mexico's first feminist art collective in 1983. The group's name, Polvo de Gallina Negra (Black Hen Powder), alluded to a herbal substance that could 'protect us from the patriarchal magic which makes women disappear'. 
For four decades, Mayer has channelled humour and rage into a vast body of work comprising collage, drawing, performance, video and text, a large proportion of which is on display at MUAC for the artist's first ever retrospective. Titled 'Si tiene dudas… pregunte' (When in Doubt … Ask), the didactic exhibition feel less art historical, more simply historical with vitrines of printed ephemera, booklets of text, listening stations and a seemingly endless stream of wall text. That it still manages to engage despite its formulaic format is down to Mayer's caustic wit and clear evidence of her social, political, and artistic bravery. If her art feels slightly out of place in MUAC's vast white halls, it is probably because it is more at home in the streets and classroom.
Virginia Colwell, 'Our warmest and most affectionate greetings …'
MARSO
2 February – 15 April
Virginia Colwell borrowed the title of this show from letters sent to revolutionary leaders by the Puerto Rican guerilla group FALN (Fuerzas Armadas para la Liberación Nacional – Armed Forces for National Liberation), who between 1974 and 1983 planted more than 125 bombs in the headquarters of corporations linked to the US government. 
Researching this largely forgotten revolutionary organization during a residency in Puerto Rico last year, Colwell's resulting videos are filled with still images of archival material – correspondence, legal documents and other printed ephemera – and long, grainy shots of waves crashing on the beach of the tropical island. Accompanied by the artist's own melancholic narration, the footage appears like a hazy, idealized Puerto Rico that FALN's members might have dreamt about in their US prison cells. 
An adjacent gallery houses several dozen cut-paper sculptures of building facades. Some are eerily reminiscent of the World Trade Center's charred, skeletal remains. In the base of each sculpture, a hole reveals a postcard photo of a tropical beach, a reference to the belief amongst the FALN guerillas that bombing corporate headquarters would bring them closer to a paradisiacal, pre-colonial Puerto Rico. It only took them further away.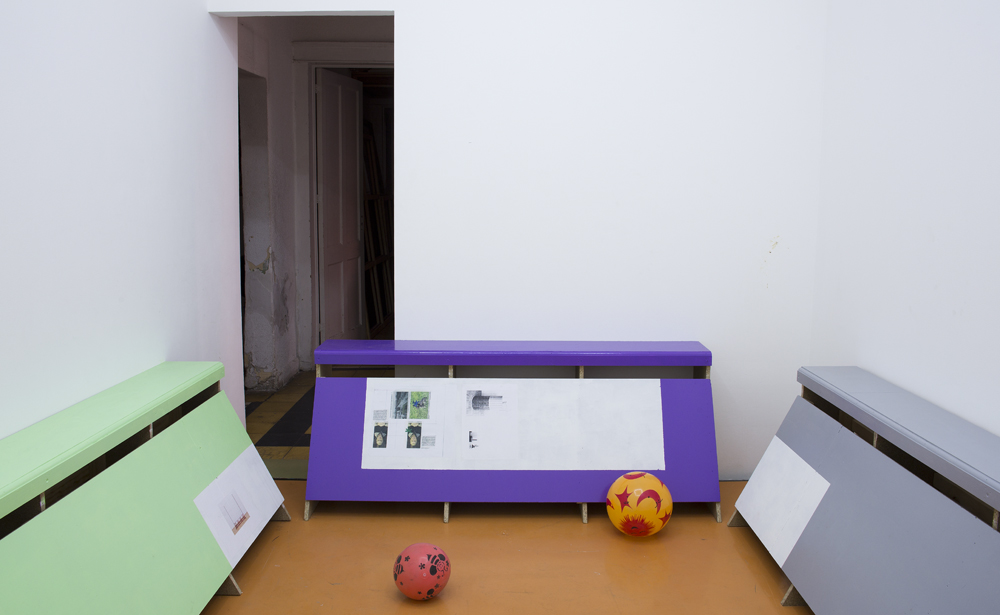 Manfred Pernice
Lulu
6 February – 3 April, 2016
The bite-sized project space Lulu seems a fitting place to view sculptures by German artist Manfred Pernice, and not simply because they were constructed onsite. In Distrito Federal, Pernice's work almost feels like a new arte povera for Latin America, its particular 'poverty' marked not by charred wood and plaster but by cheap plastic trinkets that you might find in dollar stores or McDonald's Happy Meals. 
Painted benches circle around a pair of thin, plastic balls that visitors are free to play with. The bright sherbet colours of the sculptures – redolent of the government's garish attempts to beautify the surrounding slums – read like a comically unsuccessful attempt to fussy up the sad and decrepit. A fully-functioning trash can wrapped with purple presentation board blocks the entrance to the front gallery, as if to bluntly declare that one man's trash is literally another man's art – an art world dig with added meaning in a country overtaken by cheap manufacturing since the 1997 North American Free Trade Agreement.
Rodrigo Hernández, 'Every forest madly in love with the moon has a highway crossing it from one side to the other'
kurimanzutto
6 February – 19 March
This solo show of sculptures by the Mexican, Basel-based sculptor Rodrigo Hernández is the third in a series of six exhibitions curated by Chris Sharp at kurimanzutto. The long, narrow back building of the sprawling complex is a particularly uncompromising space, yet Hernández's small wall sculptures have plenty of room to breathe. 
Made from wire and silver-painted paper to appear like hand-hammered metal, they recall the ideographic images on Mesoamerican pottery and the folk art often found in Mexican cities like Taxco, famed for its silverwork. Hung at various heights, the works appear to float through the space, amplifying the dynamism of their amoebic forms. Recalling the vibrant interiors of Mexican houses, the walls are painted in bright shades of yellow, orange and blue – a refreshing touch of exuberance in a city where many of the blue chip galleries opt for muted, minimal austerity.
Fred Sandback, 'Las propiedades de la luz'
Proyectos Monclova, Casa Gilardi, Casa Gálvez & Casa Luis Barragán
2 March – 11 May, 2016
In 2002, Fred Sandback had a revelation whilst in El Convento de Tlalpan (better known as Capilla de las Capuchinas), a chapel designed by the late Mexican architect Luis Barragán. The minimalist artist had long aspired to make 'sculptures without interiors', and Barragán's architecture was all about the play of light and shadow. 
In collaboration with the Fred Sandback estate, Proyectos Monclova has installed works by Sandback in three private homes across Mexico City, including Barragán's own former residence. With their brightly painted walls and deftly coordinated lightwells, Barragán's buildings merge perfectly with the brightly coloured strings of Sandback's sculptures. At the gallery, a more traditional exhibition of Sandback's work is equally beautiful. The gallery's open floor plan accommodates several larger-scale works that successfully demonstrate the exuberance of an artist predominantly known for his visual and conceptual severity.
Korakrit Arunanondchai, 'Dear Chantri, the you of the future may collect the us in the present, maybe decide to call it a history, put it in a room filled with people and give them all funny names'
Lodos
5 February – 6 April, 2016
Thai artist wunderkind Korakrit Arunanondchai is a divisive figure. While maybe best known for his body-print paintings (which admittedly read like bad art school riffs on Yves Klein), Arunanondchai's work is really an extended examination of spectacle.
Currently on view at Lodos gallery, his latest film Dear Chantri … (2016) not only questions the spectacular nature of internet culture (which extends further than Guy Debord could have ever predicted) but also how technological mediation has altered the limits of the human body and our notions of the infinite. Incorporating clips from Thai reality television shows and news broadcasts as well as sweeping vistas captured with drone-mounted HD cameras, the 15-minute film shows the artist painting in the wild, as if trapped in a kind of monastic performance or artistic self-flagellation. Presented in an 'egg yolk yellow' room to a drum and bass soundtrack, the accomplished film is a multi-layered meditation on humanity's uncertain future.