The Defiant Art and Design of Extinction Rebellion
A pink octopus, guerrilla projections, a bloody 'die-in' – what the environmental pressure group gets right about visual communication
In the grand scheme of green activism, Extinction Rebellion just got to the party and have barely taken their coats off. Yet, already, all eyes are on them. Seeking to capitalize on this widespread media attention, the environmental pressure group are working hard to ensure our focus doesn't veer away. On 9 October, videos of a giant, pink octopus 'floating' down Whitehall in London began circulating on social media. On the eyes of the soft-bodied, eight-limbed mollusc were Extinction Rebellion logos. Police responded by kettling the sculpture, along with the protestors holding up its legs on poles, and marching it to Trafalgar Square – scenes that prompted much humour online. While the protest didn't cause mass disturbance, the ludicrous imagery was enough to get Extinction Rebellion into the headlines once again: 'This Is Exactly How Many Police It Takes to Escort a Massive Inflatable Pink "Octopus"' quipped Time magazine.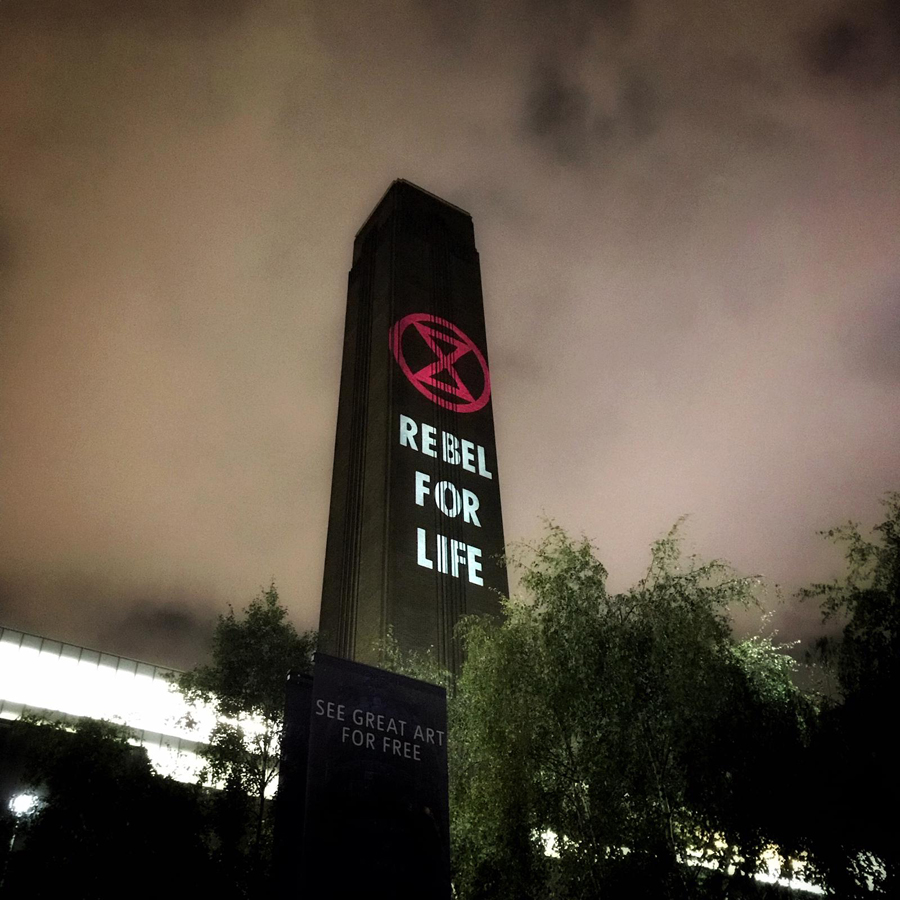 Founded less than a year ago, Extinction Rebellion's rapid success is due, in part, to the group's understanding of visual culture. What better way to garner the attention of social media than by fashioning a millennial-pink sculpture? They are also aware that effective communication relies on good graphic design. Their logo – a stylized hourglass inside a circle, denoting that time is running out for the earth – is, arguably, faultless: a simple-yet-powerful, one-note symbol that, like the world's best branding, burrows into the brain with minimal exposure. 'We needed to create a movement that looks radically different to all eco-movements previously, because they failed,' Clive Russell, a member of Extinction Rebellion's art group, told design magazine Dezeen earlier this year. This rejection of the 'hippy' aesthetics previously adopted by environmental activists has helped enable Extinction Rebellion to wake us up to the true urgency of the climate crisis. It's no surprise to discover that their powerful visuals take inspiration from the 1960s Situationist International group – an anti-capitalist movement of social revolutionaries comprising avant-garde artists, intellectuals and political theorists. 
Recently, Extinction Rebellion targeted Tate Modern, projecting the slogans 'Time's Up, Act Now' and 'Tell the Truth' onto the London gallery's soaring chimney. Compelling in their scale and legibility, the artworks were made in collaboration with the comics creator, artist, animator and co-founder of the band Gorillaz, Jamie Hewlett. Bristol-based Red Rebel Brigade also staged a performance outside the museum. Draped in crimson costumes with their faces painted white, the dramatic-looking group mimed in slow-motion to symbolize, as they describe on their Facebook page, 'the common blood we share with all species'. Understanding the value of visual impact, Extinction Rebellion are utilizing artistic practices and techniques to attract an audience. Their September 'die-in' – in which activists lay together in a pool of fake blood outside the London Fashion Week headquarters to protest the industry's impact on the environment – demonstrated Extinction Rebellion's awareness of how, while passersby may initially be intrigued by the arresting visual 'production values', these elaborate showcases also double up as recruitment drives.
Hewlett also collaborated with the group on an artwork that was projected onto the Houses of Parliament on 8 October. The still featured a hooded activist wearing a face mask that read 'Rebel for Life' and a pair of goggles emblazoned with the Extinction Rebellion logo. The event was organized by Projection Rebellion, a group of video artists, projection mappers and audio-visual production companies who support Extinction Rebellion by creating guerrilla visuals. From blood and anarchic symbolism to nudity (semi-naked protesters disrupted a Brexit debate at London's House of Commons in April this year), many of the environmentalist group's actions could be describe as shock art. And, despite Ivan Hewitt opining in The Telegraph in 2016 that 'shock art needs to grow up', this in-your-face form of expression seems to be working for Extinction Rebellion. Perhaps in this new era of sustainable consumerism, people no longer want to be sold an idea, they want to be disturbed by it.
Main image: Artwork by Jamie Hewlett and Extinction Rebellion projected onto the Palace of Westminster, London, 2019. Courtesy: Extinction Rebellion