Dispatches: Berlin
With Art Cologne acquiring abc – art berlin contemporary, what can be expected from the new fair Art Berlin? And what will become of Gallery Weekend?
You know that odd feeling of déjà vu? You can swear you've seen it somewhere before? With news that Art Cologne have acquired abc – art berlin contemporary, it's hard not to think back to 2008. That was the year abc – art berlin contemporary was founded as a response to discontent with Art Forum Berlin, the city's former art fair. At the time exhibitors wanted a different format to a regular fair. Now it seems we've come full circle: abc will become Art Berlin, embracing the very format it set out to challenge. From 2008 to 2010 both initiatives coexisted: Art Forum Berlin as a traditional art fair and abc as an hybrid format, halfway between an art fair and curated exhibition, funded by the Berlin state and organized by the same collection of gallerists who founded Berlin Gallery Weekend in 2005. When Art Forum Berlin was discontinued in 2010, the organizers blamed its demise on abc, who were accused of not committing to a joint venture.
While abc's first edition – curated by Ariane Beyn – gestured towards an Art Unlimited-esque format ala Art Basel, subsequent editions were either over- or ill-curated, imposing a thematic garrotte – monument, cinema, painting – around the exhibition. Having exhausted disciplinary categories, recent iterations have moved closer to a tradition fair format but momentum was seemingly lost. Overshadowed by Berlin Gallery Weekend, attendance figures have gradually dwindled. Reportedly, sales have dropped and the event started to bleed dealers: last year's edition barely managed to fill half of its traditional Kreuzberg venue, Station Berlin. Berliners felt abc had entered the territory of the undead.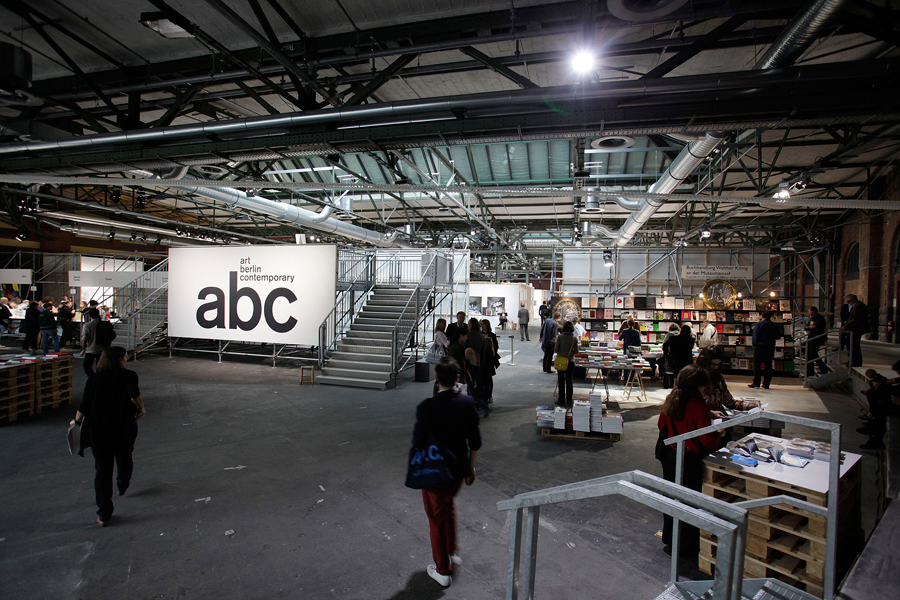 After speculation it might be scrapped altogether, the recent announcement of the merger with Art Cologne comes as a surprise. Even more so because Daniel Hug, the director of Art Cologne, tied this partnership to another event: Art Basel's parent company, MCH Group's acquisition of Cologne's art.fair last autumn. MCH decided to move art.fair to Cologne's neighbour and rival, Dusseldorf, rebranding it Art Düsseldorf. Hug described this manoeuvre recently as a 'hostile land-grab', an attempt by Art Basel to outflank Art Cologne whose recent growth it perceived as potential competition. Art Cologne's take-over of  abc seems to be its response to Art Basel's entrance onto their regional turf, both a defensive and offensive counter move.
This situation might present some difficulties for the future cooperation between abc and Gallery Weekend Berlin, which, up until now, has managed by the same company, abc GWB Veranstaltungs UG, under the directorship of Maike Cruse. Unlike abc, Gallery Weekend Berlin will remain under the responsibility of the same group of Berlin-based galleries, with Guido Baudach, Mehdi Chouakri, Jochen Meyer, Alexander Schröder, Nadine Zeidler continuing to sit at its board. To further the irony, its structure and history is markedly similar to that of Art Cologne which began in 1967 essentially as a gallery weekend format initiated by local galleries.
When I spoke to Cruse recently she played down talk of any potential rivalry and sees the merger as a promising opportunity: abc would gain access to a well-funded institutional platform with a solid collector base, allowing it to develop into a truly international art fair. Now rebranded as Art Berlin, the first edition is planned for September 2017.
Among Berlin galleries however, there seems little appetite for another art fair. Dealers are fond of the Gallery Weekend format – an event so successful it has been reproduced in manifold other cities – and worry the new merger is an attempt to weaken it. The decision by Art Cologne to change the dates for its currently running 2017 edition, to overlap with Berlin Gallery Weekend, was perceived by some as the opening salvo of a coming clash.
Younger galleries have grown weary of the constant internecine warfare in Berlin. They point to the batch of closures that has plagued Berlin's gallery scene – starting with the legendary Giti Nourbakhsch in 2012, followed by Klosterfelde in 2013, Joanna Kamm and Cinzia Friedlaender in 2014 and Sommer & Kohl in 2015, to name just a few –  and worry about the pressures on medium sized galleries and a soft market internationally. Non-German dealers have told me that the German market is famously hard to break into. Some say they seldom sell to German collections, thus the appeal of Art Cologne and promised collectors it will bring is not the proposition it might seem. Ironically, the contention between Art Cologne and Art Basel mirrors the current political climate and the rising friction between nationalism and internationalism. More broadly the spectacular narratives of value and success ushered in by the global market have begun to wane. The globalism that the circulation of contemporary art embodies seems threatened by a rampant polarization of the cultural sphere, balcanized by aggressive nationalisms, divestment, and the resurgence of fascism as a cultural force.
Maike Cruse is unfazed by these concerns. As she sees it collectors from the Rhineland often come to Berlin, and Berlin attracts an international scene that Cologne has more difficulty mobilizing. Consolidating both, the thinking goes, will create growth, from which all can benefit. Let's wait and see.
Berlin Gallery Weekend runs this weekend, 28-30 April. The full list of galleries can be found here. 
Read our Critic's Guide to the best shows to see across town here.
Main image: Station Berlin, Kreuzberg, the venue for abc – art berlin contemporary. Courtesy: abc – art berlin contemporary; phtograph: Simon Mullan