Erotic Photographer Nobuyoshi Araki Hit By #MeToo Protest Over Claims He Exploited His 'Muse'
Poland's feminist 'Bison Ladies' storm the Japanese artist's Warsaw exhibition in solidarity with longtime model Kaori's allegations of bullying
The Japanese erotic photographer Nobuyoshi Araki has been hit by a #MeToo-inspired protest in Poland. Donning bison masks, members of feminist art collective Żubryce Mówimy Nie (Bison Ladies, We Say No) mounted a protest of the artist's exhibition at Warsaw's Raster Gallery, in solidarity with Araki's long-time model Kaori who has claimed that he subjected her to exploitation.
Araki – well known for his photography of kinbaku-bi (Japanese rope bondage) and other forms of erotica – was accused by Kaori in April of several instances of mistreatment during their 16-year working relationship. Kaori was inspired by the #MeToo movement to speak out against Araki. She did not accuse him of sexual assault, but alleged emotional bullying.
In a blog post, Kaori, who Araki called his 'muse', claimed that she was never given a professional contract while working with him. Her requests for privacy would regularly be ignored during photography shoots, and on a number of times, Araki failed to pay her. 'He treated me like an object,' Kaori wrote.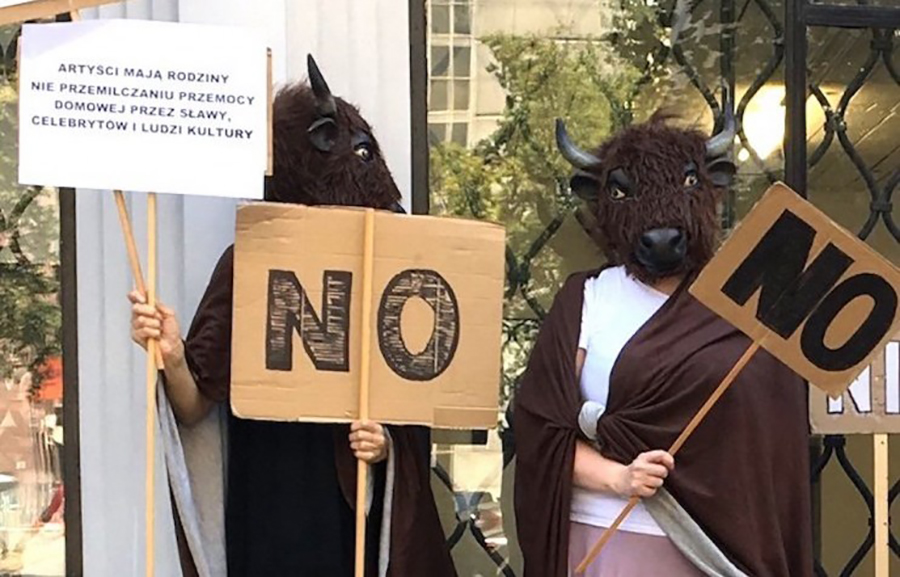 Araki's works were included in Raster Gallery's latest group exhibition 'Foreign Bodies'. The Bison Ladies activists took over the gallery on 2 August, holding up signs protesting 'sanctioning violence in art'. They released a statement claiming that Araki's 'visions of women are provocative and violent', and condemning 'those turning a blind eye to the abuse of employees and relatives just because it has been legitimized by the 'professonalism' of the perpetrators.'
Żubryce Mówimy Nie came together last year in response to Poland's increasingly conservative political climate. Taking inspiration from US collective Guerilla Girls, they have taken on the national symbol of the bison in their staging of anonymous, feminist protests across the country.