Gillian Wearing's Statue of Suffragist Millicent Fawcett Unveiled Outside Parliament
It's the first statue of a woman placed in Parliament Square, marking the centenary of women's right to vote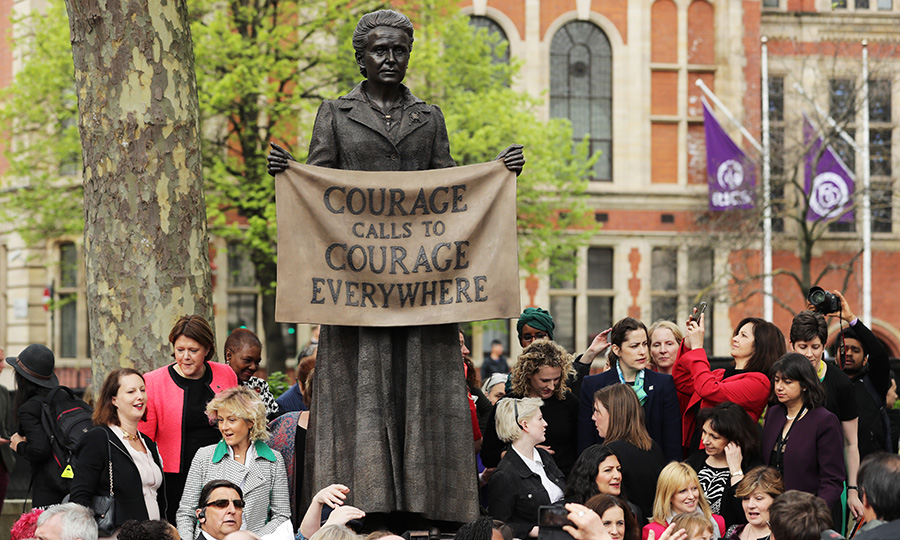 A statue celebrating the life of the early 20th century leading feminist and women's suffrage movement campaigner Millicent Fawcett (1847–1929) has been unveiled outside Parliament. Created by the Turner Prize-winning artist Gillian Wearing, it's the first statue of a woman placed in Parliament Square, as well as the square's first statue to be created by a woman.
Wearing's statue features a 60-year-old Fawcett, who began campaigning for voting equality from the age of 19, raising a banner that reads 'courage calls to courage everywhere'. The words have been taken from a speech that Fawcett delivered following the death of the activist Emily Davison, trampled by the King's horse at the 1913 Epsom Derby. Wearing has also included one of the campaigner's brooches in the statue, borrowing an original from the Fawcett Society and scanning it.
'I wanted the monument to be as inclusive as possible and to reflect that many women were involved in progressing the rights of equality, some of whom have never been publicly recognised,' Wearing commented. 'It is important to realize the battle for equality didn't come easily. It was a long, hard, arduous struggle.'
The statue was commissioned following a campaign led by the writer and activist Caroline Criado Perez, who also successfully called for Jane Austen to be included on a GBP£10 note last year. Its unveiling comes as part of the centenary marking the 1918 Representation of the People Act in the UK, which gave certain women over the age of 30 the right to vote (women only gained electoral equality with men in 1928 when all women over 21 years old, regardless of property ownership, were allowed to vote).
Fawcett joins 11 male statues in the square, which include Nelson Mandela, Abraham Lincoln, Mahatma Gandhi, as well as former British prime ministers including Sir Winston Churchill, David Lloyd George, Benjamin Disraeli and William Gladstone. Criado Perez said that she had first noticed the absence of women in Parliament Square while out for a run. 'When I got to the third man, I thought, 'Hang on a minute, surely someone has done something about this by now'', she said, 'I just couldn't believe it'.
From the archive: read Jon Ronson on Gillian Wearing, historical fact and the art of documentary film-making.