Featured in
Picture the Scene
Statements on Florine Stettheimer by Tomma Abts, Birgit Megerle, Silke Otto-Knapp, Dan Fox and Jan Verwoert
Born in 1871 into a well-to-do German-Jewish family in Rochester, New York, painter, poet and set designer Florine Stettheimer studied art in Berlin, Munich and Stuttgart. She travelled throughout Europe and became familiar with continental art movements and major artistic figures from the first half of the last century. In New York, Stettheimer became a society figure holding regular salons in her family's Manhattan home, designing stage sets and costumes while developing a largely private painting practice that featured the personalities around her while commenting on New York society and its consumerism. Her close friend Marcel Duchamp organized Stettheimer's retrospective at New York's MoMA in 1946, two years after her death. Stettheimer has proved influential for generations of artists from Andy Warhol to Nick Mauss. Here, we asked artists Tomma Abts, Birgit Megerle, Silke Otto-Knapp, and writers Dan Fox and Jan Verwoert to comment on the influence of Stettheimer, whose first retrospective outside the US opensat Munich's Lenbachhaus on 27 September.
TOMMA ABTS
Tomma Abts is an artist based in London. She had a solo exhibition at Galerie Buchholz, Berlin in 2013 and currently has a solo show at the Aspen Art Museum. Her upcoming solo at David Zwirner, New York, opens in September.
Sometime in 1999 I came across Florine Stettheimer's paintings in a book. I was not familiar with her work at the time.I was affected by her idiosyncratic approach to depicting the world around her, the sense of bright lights and decor creating an intense, otherworldly atmosphere. I particularly liked how she often used very bright oranges, reds, yellows and purples in sharp contrast to the paintings' white backgrounds.
I think what I absorb visually from my surroundings, consciously or unconsciously – whether from art or anything else I see – finds its way into my work, particularly in my decisions about shapes and colour. But most of this gets buried in the process of moving a painting forward.
Koob (1999) is one of the first paintings I made on the 48 × 38 cm format I continue to work with. I don't usually incorporate imagery so directly into my paintings. But in this case, I decided to take something, to simply steal the colourful floating spheres from Stettheimer's painting Music (c.1920). Instead of having them hover, I wanted to make them look as if they are partly inserted into the surface of the painting.
JAN VERWOERT
Jan Verwoert is a writer and contributing editor of frieze and frieze d/e. He is based in Berlin and Oslo. Cookie! , a selection of his most recent texts, is available from Sternberg Press.
Often, one only discovers something truly good when introduced to it by someone one really appreciates. That's how it was with Florine Stettheimer. On the couch at Silke Otto-Knapp's house, browsing through her books, I was lucky enough to come across The Life and Art of Florine Stettheimer (1995) by Barbara J. Bloemnik. It opened my eyes like a double espresso. I must have exclaimed something like 'my goodness, this is good!' but immediately realized: what am I saying? My host already knows.
Otto-Knapp encountered Stettheimer long ago. In painting. There are moments when kindred spirits meet in the same medium, with similar questions. The two paintings by Otto-Knapp dedicated to Stettheimer, Interior (Purple and Red) (2009–10) and Interior (West 40th Street) (2009) are like mental spaces created for such an encounter. They show a New York apartment of Stettheimer's, where she lived and worked and, in the 1910s and '20s hosted salons. The living area where she received guests was separated from her studio by cellophane curtains.1 The centre of Otto-Knapp's paintings are occupied by radiant white curtains, half drawn, as if the canvas itself were opening up, saying 'come in, I'll show you something'. In Interior (Purple and Red), the studio is in the foreground. We see many canvases painted such that the scenes can be guessed at but never fully discerned. There are no people in the pictures but their presence is in the air, as if someone might step through the curtain and appear at any moment. This feeling of sheer potentiality is generated by painterly means. But it turns the picture into a stage capable of presenting an entire society.
As I see them, Otto-Knapp's pictures highlight what is special about Stettheimer's work. Rather than merely depict social situations, Stettheimer stages them within the medium of painting. The canvas is a stage for the actors (starring as themselves) who find their way into the scenes. Her pictures are active social spaces: take, for example, her large-format painting Soirée/Studio Party (1917–19). It shows her salon, the cellophane curtains closed behind Stettheimer's guests, eccentrics one and all. They sit on the sofa or on the floor, lurk in corners, eye one another. In the foreground, Duchamp and Picabia stand before an easel, rubbing their chins before a painting by their host. Criticism will doubtless ensue. Stettheimer herself features twice: once, in a florid dress, on a bright red sofa with a slightly pained expression beside a harlequin of whom only the legs are visible, and again in the role of Olympia in her own painting Nude/Self-Portrait (1915–16), standing on an easel in the background. Naked, she observes her guests with interest. The crazy thing about the composition is that the floor and the walls are all a pinkish shade of white. Where they meet we cannot see. In this way, the room becomes a virtual continuum in which the figures float: a cloud on which the whole urban scene drifts towards us. Stettheimer invited friends and contemporaries into her
picture. They accepted the invitation, forming a magnetic field of closeness and distance, affection, vanity and solitude.
Stettheimer makes all these things happen in the picture. For her, the act of painting parallels that of inviting guests to her apartment. That is the material truth of her work: the picture is your house. Bring in some people. And let them find their places, on the canvas, in the play of interpersonal forces. None of this is mere illustration. It is painterly action. The social is a specific state of colours and forms in the picture. And Stettheimer observes precisely, using humour to add acuteness to her psychological gaze. She takes this from Francisco de Goya: if you paint adults like children, with big eyes and doll-like bodies, then the supposed innocence of the portrayal makes the verdict all the more brutal. Sometimes big children love each other, only to treat each other all the more cruelly the very next moment. And there's no knowing when they will act one way or the other. Precisely because of their Goya-esquely naive depictions, Stettheimer's figures seem anything but harmless, but they are no less loveable for this. In her Portrait of Carl Van Vechten (1922), Van Vechten – critic, photographer, patron – appears in his monstrous vanity as the epitome of New York flamboyance and cosmopolitan openness. In Portrait of Marcel Duchamp (1923), the sitter appears as the eternal manipulator. Leaning back in an armchair, he turns a crankshaft to hoist a woman sitting opposite him on a stool (probably the artist herself). Her look is one of amusement and forbearance: if Marcel can't help pulling his tricks, then one will just have to love him for it. The frame of the picture is adorned with a wreath of letters: MDMDMDMDMDMDMDMD…
Dedicating works to Stettheimer, as Otto-Knapp does, is a gesture in the spirit of Stettheimer's work. She, too, understood homage as an artistic act – an act her portraits perform in an incredibly differentiated manner. But reasoned arguments don't do justice to the formal and emotional richness of Stettheimer's homages, since homage can be reduced neither to a programme nor to pure reference. An homage is a declaration of closeness, no matter how distant it may be. It acknowledges influences and fosters links. It creates a milieu for the cultivation of complex elective affinities. Such affinities demand to be activated – lived, cherished, maintained. Homage makes the work into the site of this activation. And the painting (poem, book, song …) becomes a salon where kindred spirits meet, share, argue, love, mock …
Translated by Nicholas Grindell
SILKE OTTO-KNAPP
Silke Otto-Knapp is an artist working in Los Angeles, where she is a professor at UCLA. She has had recent solo exhibitions at Camden Art Centre, London (2014) and Kunsthalle Wien, Vienna (2014). Her solo exhibition at Museo Mario Marini, Florence, opens in September.
Henri Bendel (1868–1936), the founder of Bendel's department store in New York in 1895, was the first luxury retailer on upper Fifth Avenue. Bendel was also the first to stage an in-house fashion show and the first to offer in-store makeovers. He was responsible for bringing Coco Chanel to the United States from France and – according to the store's current homepage – is 'credited with the discovery of artist Andy Warhol', who was brought on as an in-house illustrator. Florine Stettheimer completed her painting Spring Sale at Bendel's in 1921 when the store was at its most fashionable and Stettheimer and her sisters, Carrie and Ettie, were frequent visitors.
For her painting, Stettheimer uses a circular composition that moves out from a centrally positioned display cabinet to depict various actions simultaneously such as women trying on, holding up and fighting over dresses, shoes and scarfs.  Events on both sides of the central axis allow the viewer to experience a sense of movement. Stettheimer contains the scene by framing it with a red curtain on each side and – on the left – a dramatic curved red staircase, both of which introduce the perspective of a proscenium stage. Her composition could be compared to that of the central panel of Hieronymus Bosch's Garden of Earthly Delights (1503–04) with its surreal scenes, slender figures and crisp colours. While it might seem far fetched to compare the 'delicate satire and effervescent wit'2 of Stettheimer's painting of a department store to Bosch's vision of mankind, Stettheimer frequently references European art history in her composition. This classical training is upstaged by her subject matter and direct style. For Spring Sale at Bendel's, Stettheimer uses her signature palette of artificial pinks, reds, greens and yellows, applied in thick impasto. Her use of white transforms this electric palette into pastel shades that at times make a painting appear like a fancifully decorated cake. Despite this directapproach to the material quality of paint, Stettheimer still focuses on details such as the design of a dress, the gesture of a hand, a particular item of furniture, a decorative detail in a curtain. She signs Spring Sale at Bendel's by putting her initials onto a monogrammed sweater worn by a Pekinese dog in the bottom left corner of the painting.
As a well-known hostess of a salon in the 1910s and '20s, Stettheimer invited an illustrious circle of intellectuals, artists and socialites into her Manhattan apartment at Alwyn Court on West 58th Street as well as her apartment-studios on West 40th Street. For her paintings she drew upon the social relationships, personalities and events that shaped her life. The scene at Spring Sale at Bendel's, where society ladies leap across tables and fight over dresses, was rendered at a time when the cultural mainstream lay elsewhere. It is both a satirical look at the behavior of Stettheimer's own privileged upper class and a celebration of high fashion and the modalities of its display.
BIRGIT MEGERLE
Birgit Megerle is an artist living in Berlin. She has had recent exhibitions at the Künstlerhaus, Graz (2013) and KW Institute for Contemporary Art, Berlin (2013). Her upcoming solo exhibition at Galleria Fonti, Naples, opens in October.
Florine Stettheimer's Spring Sale at Bendel's (1921) shows a lively panorama of zealous female shoppers. I'm drawn to the scene's frenetic atmosphere, to its unapologetically feminine women manically dressing and undressing themselves and to its predominantly red and pink shades. The women are clearly keen buyers. Not a hint of frustration is seen as they spiritedly dive into bargain bins at Bendel's, New York's consumer mecca, and frenziedly slip in and out of pastel robes.
The scene's backdrop is a web of floor-length folding mirrors, oversized satin curtains and Naples yellow ostrich feathers. The whole tableau is guarded by a lap dog. The rhythmic movements of the fabrics and the figures suggest a musical score. It's as if the women, all upper class, are players in a performance that doesn't want to end. Perhaps they are celebrating, in the middle of a department store, the dawn of the Jazz Age and its liberating effects. Each figure is engaged in different, though simultaneous, tasks; their flowing, elegant movements
are entangled on the monochrome pink background. Stettheimer's friend Marcel Duchamp called this technique of telling several stories simultaneously within the same picture 'multiplication virtuelle.'
One also can't forget the unusually campy frames Stettheimer designed for her paintings. Consisting either of interlocking rings, the initials of the portrait's subject or stage curtains, they invite her paintings to playfully test the boundaries of the canvas.
Translated by Yana Vierboom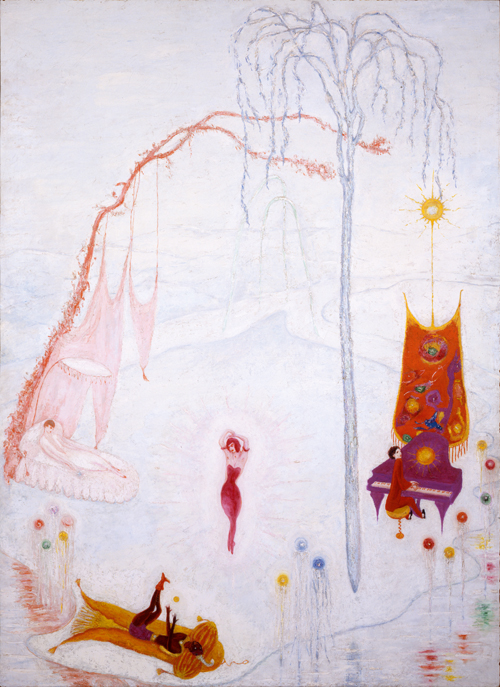 DAN FOX
Dan Fox is co-editor of frieze. He is based in New York. He contributed to the LP Crystal Flowers , compiled by artist Nick Mauss.
Not long after I moved from London to New York, I met the artist Nick Mauss. He invited me to visit his studio one afternoon, where conversation hopscotched from painting via wallpaper design to the music we were currently listening to. Nick asked if I liked the work of Florine Stettheimer. Back then she was mostly just a name I'd seen in books about Marcel Duchamp, or accounts of early Modernism in the US. What paintings I'd seen were collapsed together in a mind's eye shimmer of vividly coloured picnics, tea parties, and lux interiors.
Nick told me about the salons she hosted in New York, and about Crystal Flowers (1949), the collection of Stettheimer's poetry that her sister, Ettie, had published privately after her death in 1944. He explained his plan to invite friends to set the Crystal Flowers poems to music. A week later Nick sent me a photocopied version of Crystal Flowers through the mail, accompanied by a note telling me I could turn any poem I liked into a song. I chose Occasionally and You Are the Steady Rain. Concise and surreal, these verses were funnier, the language more darkly inventive, than other pieces in the collection which tended either towards nursery rhyme simplicity or were homages to specific characters in Stettheimer's circle.
Unlike those creative personalities orbiting Stettheimer, I wasn't part of an artists' salon, and Nick's Crystal Flowers project was an invitation to participate in a conversation I didn't have in New York at that point. Music, for me, has always been a social activity; a way of being in a room with people, conversing outside spoken language. I had only a small handful of friends in New York when I first moved there. Outside work hours, I was largely reliant on my own company, and the music I was making was all recorded solo at home. Perhaps it's why I picked Occasionally and You Are the Steady Rain; poems about meeting strangers and evolving friendships.
Stettheimer's images of afternoons in the park and lazy cocktail hours have a picture-book charm. What keeps them just the right side of twee is that her paintings of New York are flush with Modernist excitement. She takes the kind of spindly line and elastic sense of space that would later be found in Saul Steinberg's illustrations and powders it with a post-Impressionist palette. I wish life were like a Stettheimer painting, but I live in the 21st century New York of hyper-gentrification, where apartment buildings have separate doors for the rich and poor, and artists struggle with astronomical rents. If I'm honest, I find her world of cocooned privilege to be distant, icy with history. Instead, I'm grateful to her work for helping me connect with people in the here and now.
1 Later, Stettheimer used cellophane curtains as the backdrop of her set for the opera Four Saints in Three Acts that Virgil Thompson staged on Broadway in 1934 (with a libretto by Gertrude Stein)
2 Marsden Hartley, The Paintings of Florine Stettheimer, Creative Art, Volume IX, No 1, Albert & Charles Boni, 1931