Infinite Jest
A studio visit with Julie Verhoeven, ahead of her commission for Frieze Projects
Harry Thorne  In the run-up to your exhibition at the ICA in 2014, you released a promotional video in which you listed everything that would be channelled through the show, or 'everything that you love in life'.
I thought we could run through that list and talk about why those particular things interest you and direct your work. Let's start with the first loves: 'boobs, bums, and all things female.'
Julie Verhoeven  On a really basic level, I like bums and boobs because of their physical presence and the fact that they're like inverted hearts… [Laughs] I've come to realize that, in life, I only really like shapes and colour, and in that sense everything's getting more and more reductive. I mean boobs are just ridiculous. They're just ridiculous things, aren't they? They swing about, or don't, or drop, and I love the fact that on the one hand they're this tool of seduction, but they're equally quite absurd and comical.
The female thing comes from my love of people watching. I like the power that females tend to have, the sense of allure. It's something that I'm really envious of, because it's obviously something that I can't do! I just lack that sex appeal, I suppose, so ever since I was a child I have been fascinated with Sindy dolls and such like, any sort of female icon.
HT  Your video Whiskers Between My Legs (2014) plays with that idea of the body being both a tool for seduction, as you put it, and quite a silly thing. The work takes its cue from a catwalk or a high-end photoshoot, but then quickly moves towards light-hearted absurdity …
JV  I didn't even realize that I was doing that. I was aiming for a really bad dance troupe, a Pan's People, Hot Gossip, Kenny Everett style thing, but then it ended up looking like a catwalk… [Laughs] I hate catwalks. I find them really out-dated. I mean, clothes need to move, and that's why I love video, because it means I can use movement. Hands and things are just as expressive as a face, after all. That's what was annoying me about my own drawings: they're so static and dead.
HT  So you made a conscious decision to move towards video?
JV  It wasn't conscious, it just happened. I was a bit fearful of it at first because I don't know anything about the technical side of things, but it's helped me with my wider editing process. Obviously I like excess and extravagance, and it's really helped me to try and say something using less.
HT  Why do you find excess so fascinating?
JV  I don't know … I've just got no self-control! [Laughs] I've always liked collage, and I realize now that it's become this sort of never-ending process – collaging into infinity. As soon as I add something I realize I have to add something else; when I've added that I need to add something else.
HT  How do you stop?
JV  Yeah, exactly … You don't? I think I'm going to die in a collage. [Laughs]
HT  That would be a wonderful epitaph.
JV  I'll just be stuck to the page.
HT  Looking around your studio, it strikes me that your work is essentially a direct mirror of your working environment. Do you see a distinction between the two?
JV  I only realized recently that when I produce work I just reflect my surroundings, literally, in some cases. This area gets grubbier, and the work gets grubbier, more gross. The work's mine. It's me: SE17. [Laughs]
HT  I ask because Paul Pieroni once wrote an essay about you and your friend Jimmy Merris, in which he argued that neither you nor Jimmy ever really stop: everything is your work, and therefore in a sense nothing is your work, it's just life.
JV  It's just one stream of consciousness isn't it. I can't imagine making a distinction between the two, I just can't, which I suppose will make things more problematic in the long-term.
HT  Next on your list of things you love: 'layers of cloth and colour'.
JV  Something that bugs me in 'wardrobe' is that we've now had decades of this sort of body-con style thing. I love cloth and I love to see fabric move, so I like big billowy shapes.
As I got older and fatter, I realized: OK, I've got to obliterate my body now, which is why I started making big, giant patchworks. I was trying to hide, really, my own pathetic rebellion: rather than being all 'lady-body', I just try and cloak it, sort of wear a curtain.
HT  I was going to ask about your thoughts on the relationship between fashion and art. Firstly, I was wondering whether you see a distinction between your fashion output and your artwork; and secondly, whether you feel the art world is reluctant to accept fashion?
JV  But they love it don't they? They secretly love it! [Laughs] They know they do, they love the glamour! It's just silly.
The work that I do for fashion is a 'product', ultimately it has to function, and therefore I can never really do what I want – I'd rather make a dress with 10 sleeves. There are limitations to fashion that art doesn't have, and I really love the fact that art annoys people. It sort of winds people up, doesn't it?
The art world is often so fickle, and because I've got the fashion baggage I know I'm not going to be accepted. It used to really upset me, but now I'm ok. It's the same in any creative career: your work's relevant and then it's not. That sort of tragic side of it I quite like, because you know your moment's only going to last for a year, or maybe six months.
HT  Next on your list of loves is 'a final topping of smut and toilet humour'. Why do you find that so appealing?
JV  God knows. Blame the parents! [Laughs]
HT  Particularly smutty?
JV  I mean, I think I saw my dad's ankle once in his entire lifetime? [Laughs] His pale white ankle ... I've always liked smutty things, but you're supposed to keep that a secret, aren't you? I suppose now with the internet, it's ok to like it. I just like to keep myself entertained. I mean, what else would I do?
HT  What about the humour?
JV  You have to have that, don't you, otherwise it would all be far too sad. There's not enough funny art, it's a very po-faced world, and really I just love smiling! Maybe it's that question of attraction again: you try to be amusing so that you somebody might find you more engaging. [Laughs] It's another tool to get attention, I suppose, to be liked, to appear more attractive.
HT  Do you want people to like your work?
JV  It's not so much about like, I just don't want to be ignored. I don't want to go through life in a little rowing boat that just goes around in circles. I want to splash, I want to splash around, so I try to accelerate and make work that surprises me. Who wants to be predictable?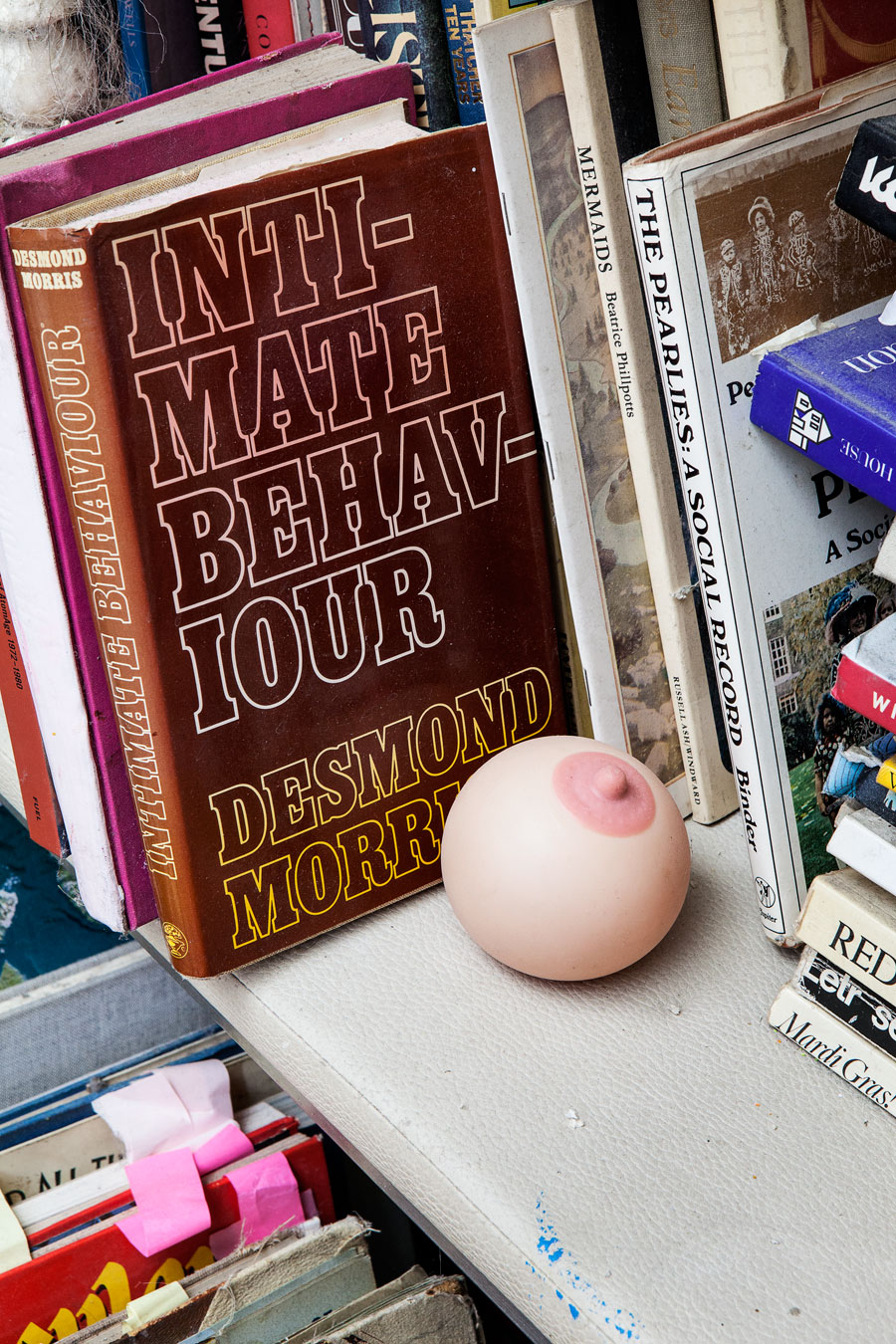 HT  Let's talk about your new work for Frieze Projects. You're going to be acting as a toilet attendant for the duration of the fair?
JV  It will be an intervention of sorts, in the men's and the women's toilets. I'll have my little trolley of products, and I'll be selling a few things.
I've always had a fascination with toilets ... [Laughs] We all spend so much time in them, for one reason or another, and I quite like that they're universal. There's no way of really avoiding them, whoever you are. Then I've always had this soft spot for toilet attendants, because people behave appallingly towards them. Cheryl Cole …
So the toilet seats will change, there'll be a lot of vinyl action, signage, the lighting will change a bit, and then there will be a really bad radio station playing throughout. I expect it will probably be quite annoying for some people, but that will be good. [Laughs] I'll be an annoyance, like a stone in your shoe.
Find out more about Frieze Projects 2016 here.