Featured in
Jesse Darling Teaches An Injured Society How to Practise Empathy
The artist's exhibition at Galerie Sultana, Paris, explores compassion as a means of resisting capitalism
In Berlin-based artist Jesse Darling's work, strong metaphorical associations form between facts and fiction, inanimate and animate objects, bodies and communities. Their latest exhibition, 'Selva Oscura' (Dark Jungle), at Galerie Sultana in Paris, explores the potential of empathy and support as means of resisting capitalism, with its focus on productivity and constant acceleration.
By incorporating objects that evoke the human body's vulnerability, Darling's works examine the subtle personal and political implications of everyday materials. In Untitled (2019), for instance, a set of three glass vitrines are filled with colourful bouquets. Often present at rituals, such as weddings and funerals, or in hospital rooms, flowers are gifted as expressions of joy, loss, care and, most of all, empathy. Where words fail, flowers speak with silent eloquence. The flowers speak not only for the dissemination of tenderness and care, but also mark unspoken tragedy, adversity and afflictions. In their decay they will soon turn into a vanitas symbol, a reminder of death, pointing out the transience of life and the futility of earthly gratifications.
Elsewhere, in St Jerome in the Wilderness (2018), we encounter 15 freestanding sculptures made of prosthetic steel, lacquer, a toilet brush, rubber, ferrules and archival binders – objects borrowed from everyday life that Darling has repurposed with the intent of evoking a forest-like setting. The title of the work refers to the priest and theologian St Jerome (best known for translating the Old and New Testaments from Hebrew and Greek, respectively, into Latin) and a hagiographical account in which he tamed a lion in the wilderness by nursing its wounded paw back to health.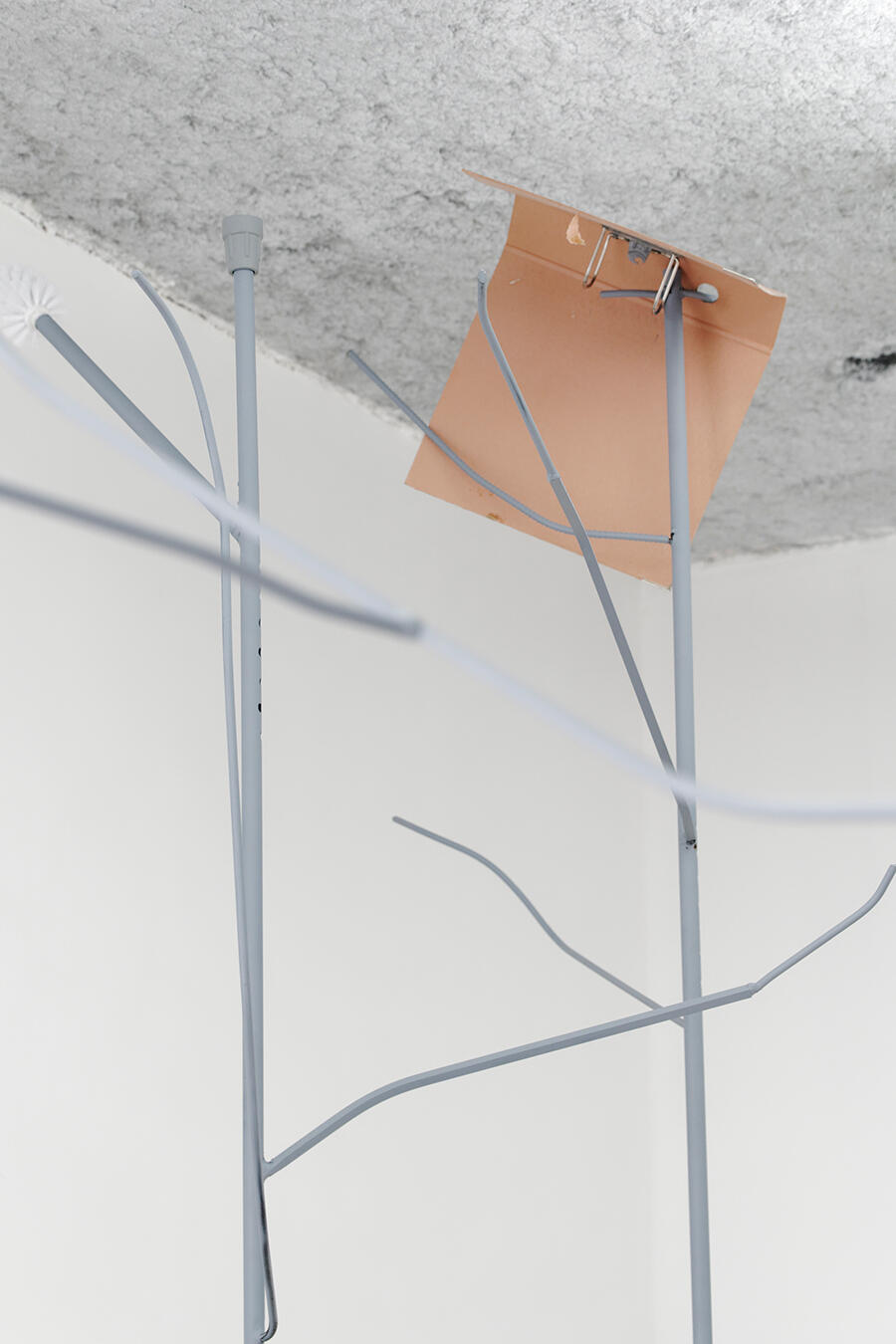 Reading St Jerome in the Wilderness with this tale in mind adds another layer to the materials Darling incorporated here. The steel and ferrules merge to form crutches: mobility aids for an injured society. The reasons why these materials have high symbolic meaning to Darling is related to personal experiences. In an interview with Momus, Darling said that they had lost use of their limbs and still experience limited mobility from time to time. Moored to St Jerome's story predicated on concern for others, the work reminds us that companionship falls into our collective will to be soothed. The modern mystics of today are not necessarily the doctors and nurses who cure suffering professionally but, rather, those who practise care and empathy as part of their personal, daily routine. The freestanding sculptures situated in the gallery thereby represent the synthetic materials that call into question the precariousness of everyday life, but also the health systems that are designed and intended to offer support, but sometimes fail to.
In a recent Instagram post, Darling cited Dante Alighieri's Inferno (c.1320): 'Midway upon the journey of our life, I found myself within a forest dark, for the straightforward pathway had been lost.' In the depths of their exhibition at Galerie Sultana, we, too, are challenged to navigate the dark forest – the selva oscura – that they have planted. Somewhere within Darling's 'perpetual purgatory', we encounter the gatekeepers of care: the flora in the vitrines suggesting new circuits of care, community and understanding and the crutches to help us walk again. Yet in a world rife with greed and inequality, Darling's practice evokes the need to establish new materialisms, foregrounded in an unnerving benevolence towards tenderness and sympathy. Their exhibition is thus a call to acknowledge agony and the importance of recalibrating society towards a healthier dynamic, a recognition that art isn't just about bringing pleasure, but also soothing pain.
Jesse Darling's 'Selva Oscura' is on view at Galerie Sultana, Paris, until 23 November 2019
Main image: Jesse Darling, Untitled, 2019, cabinet, flowers, dimensions variable. Courtesy: the artist and Galerie Sultana, Paris