Featured in
Kazuko Miyamoto's Living Minimalism
The artist's survey at the Japan Society, New York, foregrounds the body, labour and process
The photograph Stunt (181 Chrystie Street) 1981 (1982) documents Kazuko Miyamoto performing naked in her studio. She faces the camera from underneath a dark mask that covers her eyes, her body propped upside-down upon her shoulders and elbows, her legs kicked out overhead. Behind her are two Sol LeWitt grid sculptures that, in her role as his studio assistant, she was presumably in the process of fabricating, her arched back and scissored legs contrasting with their cool geometry. The photograph quite literally foregrounds the body that constructs the work, upending minimalism's self-proclaimed aloofness from politics and personal feeling. 
The work is a fitting introduction to 'Kazuko Miyamoto: To perform a line' at the Japan Society: a show, in many ways, about artistic labour and who gets to participate in its histories. Miyamoto immigrated from Tokyo to her current home of New York in 1964, quickly immersing herself in the downtown art scene. She met LeWitt during a fire drill outside the SoHo building they shared in 1969, and he went on to become her long-time employer, friend and collector. (A number of the works on view are borrowed from his private collection.) His influence on Miyamoto's practice is indelible, though her use of minimalist motifs – repetition, geometry, the grid – are steeped in a performance sensibility, always considering the body's – her body's – relationship to space, material and the politics of labour and display.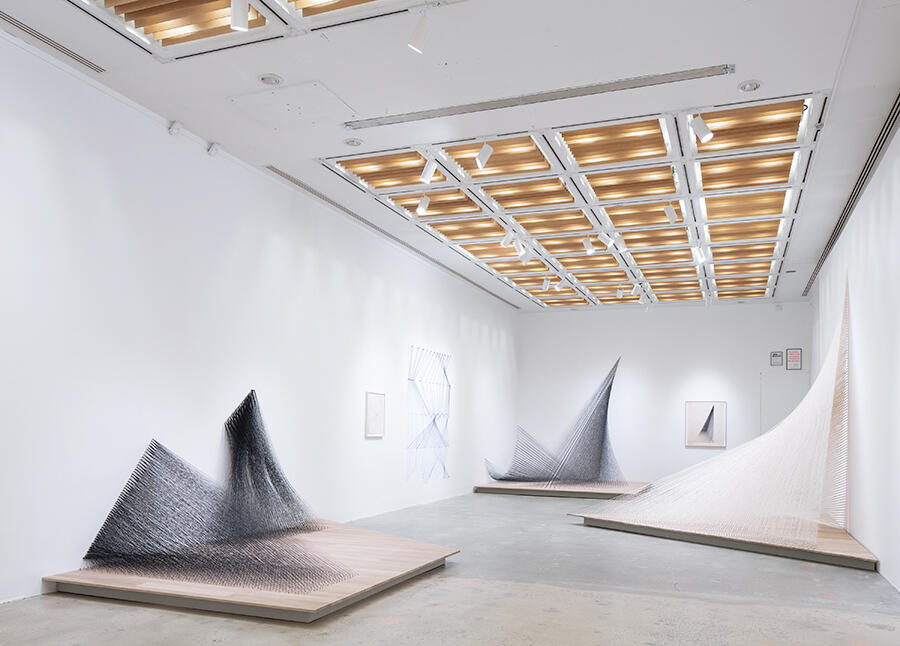 Miyamoto's early string constructions, several of which have been re-created for the show, were made by stretching industrial-strength cotton around networks of nails meticulously plotted on the wall and floor. Works like Male (1974) and Female (1977) shapeshift from different vantage points, entwining with both their own shadows and those of viewers to create expanding and contracting figures in space. Here, minimalism's masculinist rhetoric, with its industrial materials and hard-edged geometry, is supplanted by ephemerality and subtle irregularities that emphasize process. The works recall delicate ecosystems like spider webs and bird flocks, bodies simultaneously growing and threatening to vanish. Up close, the intricacies of Miyamoto's labour encourage narratives about endurance and resistance, the taut string an apt metaphor for the often-invisible working conditions of women artists. 
Miyamoto created several of the works on view for A.I.R. Gallery – the pioneering, all-female, artist-run space in New York of which she was an early member – and where, with Ana Mendieta and Zarina Hashmi, she curated the show 'Dialectics of Isolation: An Exhibition of Third World Women Artists in the United States' (1980). Her involvement in 1970s feminist circles, coupled with becoming a mother in the 1980s, deeply shaped the way her work began to more explicitly incorporate aspects of her personal identity and life.
The third gallery of the exhibition houses a Kimono-based series that Miyamoto began in 1987. The artist wore and learned to construct the T-shaped garment as a young student of traditional Japanese dance in Tokyo, and it became a significant motif in her practice through the early 2000s. A few of these works are newly constructed with materials including silk, gauze and newspaper; others – like Woman on the Step Ladder (1987) – repurpose family heirlooms with photographs of performances. 
The undyed cotton Bowery Mission Kimono (1990) is inscribed with a charcoal drawing of its namesake shelter. Miyamoto renders the Mission as a loose grid of windows bordered by a zigzagging fire escape, representing a safe harbour from the violent displacement of her rapidly gentrifying neighbourhood and commemorating the year the mission started offering services for women. Even considering the rough, graffiti-style depiction of this later work, Miyamoto doesn't stray far from the geometric directives of minimalism – but she imbues them, in her signature way, with a renewed political urgency that feels as vital as food, water and shelter.
'Kazuko Miyamoto: To perform a line' is on view at the Japan Society, New York, until 24 July.
Main image: Kazuko Miyamoto with assistant creating string constructions in her studio at 181 Chrystie Street, 1970s. Courtesy: the artist and Zürcher Gallery, New York/Paris