Retracing Key Moments in Cork Street's History
In anticipation of the opening of No.9 Cork Street, we look at London's famous 'Avenue of Art' from the 19th century to today
To celebrate the opening of Frieze's new permanent exhibition space No. 9 Cork Street, we delve into the history of this famous street in the heart of London.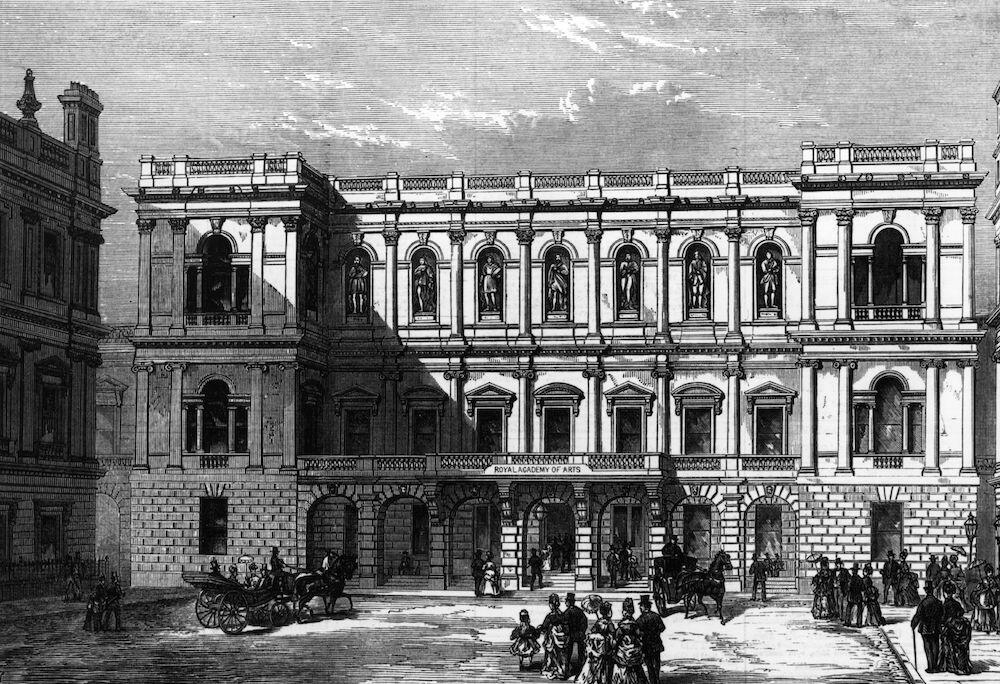 The Beginning
By the 19th century, London was the world's largest city, centre of global finance and trade, as well as the home of many artists and critics that shaped the culture of the Victorian period. In 1867, the Royal Academy moved to its current location at Burlington House after various residencies in Pall Mall, Somerset House and Trafalgar Square, securing an exceptional rent of £1 for 999 years. With the arrival of the RA, this area in Mayfair rapidly became a fertile ground for artists and dealers looking to set up shop. Despite the Academy's rejection of Modern Art until the 1990s, the streets north of Burlington House and Cork Street itself welcomed many trailblazing artists of the 20th century, becoming the UK's focal point for the avant-garde.
The First Settlers
The Mayor Gallery was one of the first permanent galleries in Cork Street opening at No.18 in 1933, showing works by Max Ernst, Francis Bacon, Henry Moore, and Barbara Hepworth, followed by The Redfern Gallery few years later. In the years before WWII, Cork Street became centre stage for avant-garde artists of Dada and Surrealism. In 1936, 'The International Surrealist Exhibition', held at No.5 Burlington Gardens, just on the corner of Cork Street, introduced some of the most famous Surrealists to London audiences. During this exhibition, Salvador Dalí performed Fantômes Paranoïaques Authentiques wearing a deep-sea diving suit and almost suffocated while delivering his speech. On the eve of WWII in 1938, Peggy Guggenheim also chose Cork Street as the location for her short-lived gallery Guggenheim Jeune at No.30, exhibiting works by leading artists, such as Wassily Kandinsky and Yves Tanguy. After the war, many more galleries opened on Cork Street and the arrival of newcomers, such as Picadilly Gallery, Waddington Galleries (now Waddington Custot), Browse & Darby, and Bernard Jacobson Gallery, established Cork Street as the most prestigious corner of the art world in London.
'Attack' on Cork Street
Cork Street's status as the centre of London's art scene inevitably led to some resistance. In 1980s-London the punk aesthetic and attitude of anarchy had emerged into a fully formed cultural movement. The Grey Organisation were a punk artist collective established in 1983 by founding members Toby Mott, Tim Burke, Daniel Saccoccio, and Paul Spencer. On 21 May 1985, in an attempt to 'liven up the boring and lifeless art establishment contained in the so-called centre of European art, Mayfair', the Grey Organisation launched an 'attack' on Cork Street. In the middle of the night, the group drove to Cork Street and threw grey paint on the gallery windows that lined the street. They were arrested and charged with criminal damage and banned from Central London. The aim of the demonstration was to protest the power held by traditional and conservative institutions and to draw attention to art-making and artists operating outside of the system.
The 21st Century
Throughout the 90s and 00s artists and gallerists spread out across the city and artistic hubs grew in both East and South London. However, Cork Street remained committed to its artists, exhibitions and audiences with numerous new names opening in the neighbourhood, including Victoria Miro in 1985, Cristea Roberts (formerly Alan Cristea Gallery) in 1995, and Sam Fogg, moving to its current location on the corner with Cork Street in 2000. In recent years, Cork Street has also been a loved location for off-site and temporary projects by leading non-profit organisations in the UK: from House of Voltaire's pop-up shop in 2016 at No.31 Cork Street, to Artangel's fundraising exhibition at No.22 in 2018. Additionally, major contemporary galleries have also recently opened new spaces on this street, including Goodman Gallery's first gallery outside of Africa, in 2019, and temporary spaces by Lisson Gallery, Sadie Coles HQ and Stephen Friedman in 2020.
Frieze at No.9 Cork Street
In October 2020, Frieze London's LIVE – the programme dedicated to performance and sound art, took over No.9 Cork Street. Curated by Victor Wang for Frieze Week, this marked the first time the LIVE curated section took place outside of the exhibitors tent. No.9 Cork Street was transformed into a temporary institute of sound and performance art called the Institute of Melodic Healing. The space hosted site-specific installations and performances by Mandy El-Sayegh, Cecile B. Evans, Zadie Xa & Benito Mayor Vallejo, Haroon Mirza, Anthea Hamilton, Denzil Forrester and Alvaro Barrington. After this, Frieze's relationship with No.9 Cork Street developed into a year-round residency with the launch of a new permanent home that offers a flexible exhibition space for galleries.
Launching in October 2021, the inaugural season of exhibitions at No.9 Cork Street will feature James Cohan, Commonwealth and Council, and Proyectos Ultravioleta. James Cohan will present a solo exhibition by Christopher Myers, Commonwealth and Council will debut new works by Danielle Dean, Nikita Gale, P. Staff and EJ Hill, and Proyectos Ultravioleta will show a joint exhibition by Elisabeth Wild and Vivian Suter. Learn more about October's exhibition programme
The following iteration of exhibitions at No.9 Cork Street will present partnerships with non-profit organisations Allied Editions and the Arts Council Collection, showing works by Liv Preston, Adam Farah, Olivia Bax, Miranda Forrester and Rosa-Johan Uddoh, reflecting the breadth of British art and artists working in the UK today.
Frieze is excited to expand its support to galleries and non-profits by creating a flexible and collaborative space in Mayfair, where galleries from around the world will have the opportunity to showcase their artists in the heart of London and connect with new audiences. No.9 Cork Street also aims to offer a new model for experiencing art in-person, providing an innovative space to discover new exhibitions and projects by international and UK-based artists, for free.
Main image: Cork Street. Photo by Richard Boll/Getty Images