List of Thousands of Refugee Deaths in Liverpool Destroyed Again
Turkish artist Banu Cennetoğlu and the Liverpool Biennial say the remains will be left as a reminder of 'systematic violence'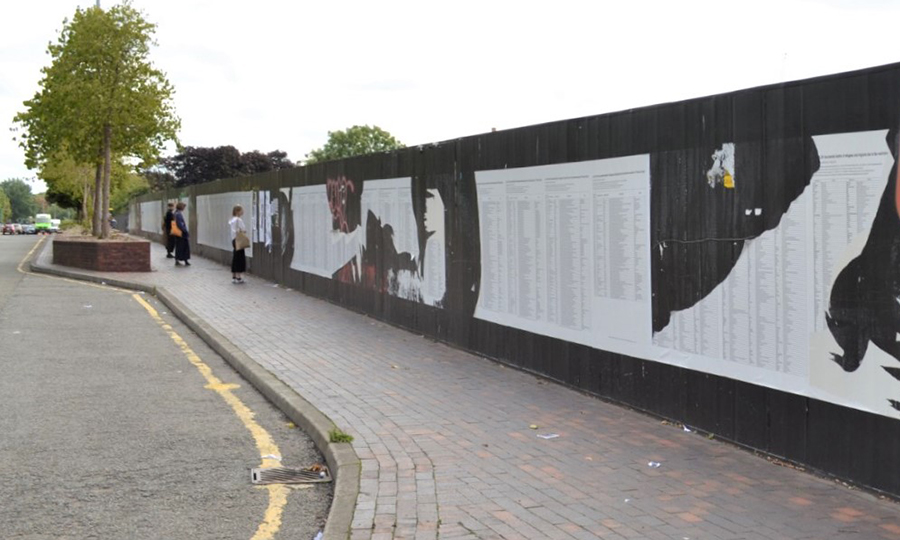 The List, a project which details the thousands of people who have died while seeking refuge in Europe since 1993, has been vandalized for a second time in Liverpool. The List had been installed as a series of posters along hoardings on Great George Street, as part of the Liverpool Biennial.
The installation, which names 34,361 dead asylum seekers and migrants, was torn down last month by unknown vandals. The Liverpool Biennial reinstated it following its destruction in July, before it was attacked again on Sunday. The motives and perpetrators remain unclear.
Now the Turkish artist Banu Cennetoğlu, who has helped facilitate the public distribution of The List, says that the project will not be installed again. In a joint statement with the Liverpool Biennial and NGO network UNITED for Intercultural Action, the artist said: '[The List] has been repeatedly damaged, removed and targeted since it was installed. We have decided to leave it in this current 'state' as a manifestation and reminder of this systematic violence exercised against people.' A notice will be put in place directing visitors to an online version of The List.
A spokesperson for the city council commented: 'We are saddened by this mindless act of vandalism.' They said that they would work with the Liverpool Biennial to 'shine a light on how we need to do more to promote a tolerant and compassionate society.'
Cennetoğlu has been supporting the distribution of The List – compiled by UNITED for Intercultural Action – since 2007. The artist does not consider it an artwork, but looks to facilitate its presence in public spaces. Earlier this year, it appeared as a special supplement in The Guardian newspaper. The List has not been attacked in previous editions, the artist has noted.
The List offers 'a challenge to the ways in which we consume and forget the world today, in which the deaths of refugees, or the banalities of our private lives, become commodites jostling for attention on social media feeds,' a recent frieze review argued. The current edition of the Liverpool Biennial, titled 'Beautiful world, where are you?' references recent political and environmental turbulence, and looks to how the future might be shaped amidst such global turmoil.