Looking Back at 10 years of Frieze New York
From Cecilia Alemani's playful projects to a major collaboration with the Vision & Justice project, we look back at ten defining moments in the fair's history
Frieze New York returns to The Shed in Manhattan from May 18 - 22, 2022, building on a decade of extraordinary artist projects, stellar artwork and ambitious and ideas-led programs.
From a Guinness World Record and a roaming trio of Leonardo Di Caprios, to collaborations with Linda Goode Bryant and the Vision & Justice Project: we look back at ten moments from the fair in New York City.
The Fair Launches and Breaks Records (2012)
Frieze landed on Randall's Island in 2012, with a bespoke, snake-shaped tent. Mapping 250,000 sq ft, the structure made the Guinness World Book of Records as the longest tented floor in the world. The launch edition hosted 180 galleries alongside Frieze Projects, curated by Cecilia Alemani (High Line Art), who is also artistic director of this year's Venice Biennale.
Paul McCarthy's Balloon Dog (2013)
Outside the fair in 2013, the mischievous LA artist Paul McCarthy installed Balloon Dog – an 80-foot tall, inflatable artwork that towered over the tent. The work was a playful jibe at Jeff Koons, who opened two retrospectives in New York that week, and his balloon dog sculptures, made from stainless steel and highly prized by the art market. 
Fair Sleepover: Al's Grand Hotel (2014)
The artist Allen Ruppersberg recreated his iconic 1971 Sunset Boulevard hotel project at Frieze New York 2014, as part of the Frieze Projects program. Guests were able to stay the night at the artist-designed pop-up hotel, built inside the fair structure on Randall's Island. Rooms included the 'Jesus Room' where guests had to step over a giant cross to get into bed, and the 'Bridal Suite' filled with presents and a giant wedding cake.
Maurizio Cattelan's Donkey (2016)
In 2016, Frieze New York was home to a donkey, as part of Maurizio Cattelan's special Frieze Project. A large gallery booth was converted into a stall for Gabe, a 15-year-old donkey (and a veteran of New York's entertainment industry, including New York's Met Opera). Recreating Cattelan's 1994 show at David Newburg Gallery, entitled Enter at Your Own Risk — Do Not Touch, Do Not Feed, No Smoking, No Photographs, No Dogs, Thank you, the donkey grazed beneath a Baroque chandelier under the auspices of Frieze New York visitors.
A Trio of Leonardo Di Caprios (2017)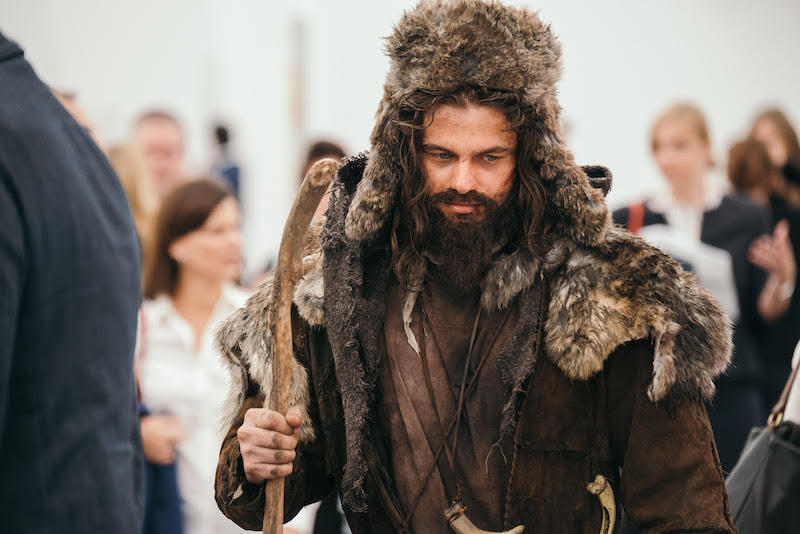 In 2017, the artist Dora Budor – who will feature in the main exhibition at this year's Venice Biennale – recruited three Leo-lookalikes to roam the fair, impersonating some of his most memorable characters: Jordan Belfort (The Wolf of Wall Street), Hugh Glass (The Revenant) and Frank Abagnale Jr. (Catch Me If You Can). Presenting as part of Cecilia Alemani's Frieze Projects program, Budor said, "I wanted to create the opportunity for unsuspecting visitors at the fair to experience a disjointed reality—believing that the actor Leonardo DiCaprio might be there, but seeing him, impossibly, many years younger and as characters he has played."
Adam Pendleton's Black Dada Flag (Black Lives Matter) (2018)
Adrienne Edwards –  President of the Jury for this year's Venice Biennale – curated the first-ever Frieze LIVE program, bringing together artworks exploring themes of protest and assembly. The artist Adam Pendleton placed Black Dada Flag (Black Lives Matter) near Scylla Point (which was once called "Negro Point" on maps) at the tip of Randall's Island, from April through November 2018.  
Linda Goode-Bryant and JAM Gallery celebrated at Frieze New York (2019)
The 2019 fair paid homage to the pioneering organization Just Above Midtown (JAM) – which is the subject of a major exhibition at MoMA this October – and its founder Linda Goode Bryant. JAM pioneered the early work of now world-renowned African American contemporary artists, including Ming Smith, Howardena Pindell and Lorna Simpson, who all showed solo presentations at the fair. 
Art in Lockdown: Frieze's First-Ever Digital Fair (2020)
Frieze New York 2020 was the first time the fair moved online, with the launch of the innovative digital platform Frieze Viewing Room; and a wealth of online programming including a conversation with Ai Weiwei, in collaboration with Human Rights Watch. Thus began a series of hybrid Frieze fairs, existing online and in person, bringing Frieze galleries and programming to wide audiences around the world.
A New Venue in Manhattan: Frieze New York Moves to The Shed (2021)
After eight editions on Randall's Island, Frieze moved into central Manhattan with its first-ever edition at  The Shed – a new cultural institution on the west side. The innovative, highly adaptable building hosted the 2021 fair which brought together leading galleries from around the world, a new Frieze Artist Award commission by Precious Okoyomon and a multi-faceted collaboration with the Vision & Justice project. 
A Major Collaboration with Vision & Justice (2021)
Led by Sarah Elizabeth Lewis (Associate Professor at Harvard University), the Vision & Justice Project is rooted in education and is dedicated to examining art's central role in understanding the relationship between race and citizenship in the United States. For Frieze New York 2021, more than 50 galleries and institutions, pledged their support and responded to the tribute in the form of digital events, artworks, institutional contributions and special screenings. Find out more
...
The next edition of Frieze New York returns to The Shed from May 18 to 22, 2022. More programming and highlights will be announced soon...
Tickets
General admission tickets are now sold out, but you can still purchase a Frieze membership to visit the fair.