Featured in
Luiz Roque's Pulsing Architectures
At PROA21 in Buenos Aires, the artist showcases a series of new films which convey the lifeforce that permeates the cities where he lives and the communities that build them up
To mark the opening of his solo show at PROA21, 'XXII', Luiz Roque threw a party in the gallery garden against the backdrop of his Super8 film Urubu (Black Vulture, 2020). A live techno soundtrack by DJ Hermano and DJ GB accompanied the film's silent footage of a black vulture, which the artist captured from the window of his São Paulo apartment in the Copán building during lockdown, when the streets were devoid of people and the birds flew low. Roque told me that these scavengers play a 'functional role in the maintenance of the city' and do not, for him, symbolize death, as they so often do. Rather, he sees them as part of the city's constant state of regeneration and flux. Comprising a 20-second loop, the film creates the illusion that the vulture is circling endlessly over a city that is both uncharacteristically silent yet pulsing with life – albeit confined within the buildings. The artist captures not only the choreography and pace of his hometown of São Paulo, but also that of Buenos Aires – where he produced the second film included in the show, XXI (2021) – and of Mexico City, where he has been spending more time. In these vast and heavily populated Latin American cities – where historical buildings and modernist architecture clash with overflowing nature – the environment can feel at once imposing and liberating, the boundaries blurred between inside/outside and public/private.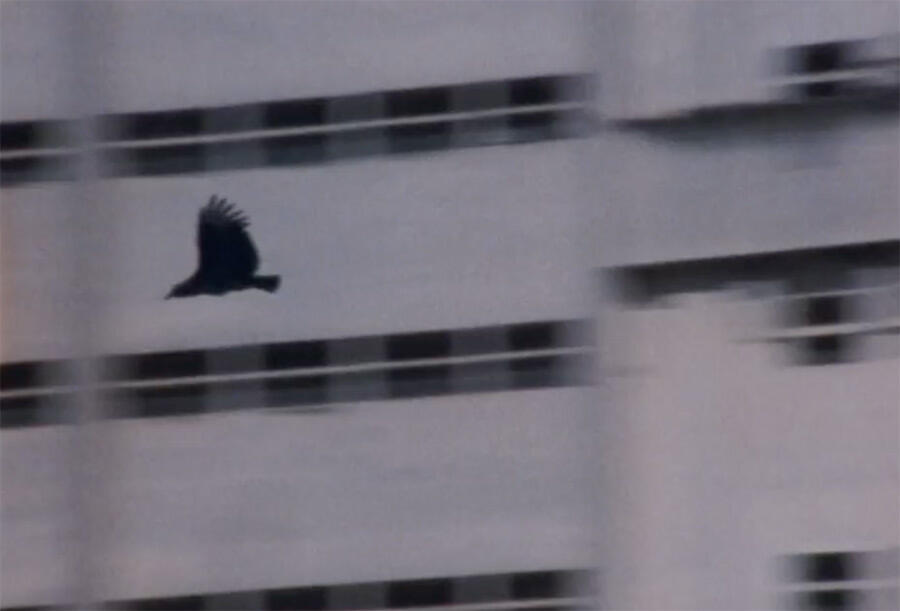 Instead of dwelling on the dystopian realities of contemporary life, however, Roque trains his lens on the beauty and counterforce of the dancers and angels that form the queer communities to which he belongs. Soundtracked by a trance-inflected score developed in collaboration with musician Ismael Pinkler, XXI guides viewers through the Buenos Aires cityscape: from a car wheel spinning towards dancer Andrés Andino as he vogues down an alley in angel wings, past vast glass lobbies in the upscale Palermo neighbourhood, into an apartment where two men dance. A younger man caresses his hands over an older man in a wheelchair, guiding him in choreography as he tips the chair forward and back, contracting his body as the soundtrack unfurls and the chair spins slowly.
On one level, XXI is an exploration of the power dynamics between intergenerational gay sexual relationships, which often see older, wealthier men hosting younger, poorer ones. On another, it is about a process of transformation: from youth to old age, from stranger to lover, from mobility to stasis. Like the glass lobbies on which Roque's camera lingers earlier in the film, XXI offers us a glimpse into a private space that we are unable fully to access. The city acts as a silent stage for the couple's pas-de-deux. Nearby stands Cajón (Coffin, 2022), a sculpture pasted with images of the Louvre apartment complex neighbouring Roque's home in São Paulo. The structure resembles both the residential building and the titular coffin.
In the exhibition text, curator Sofía Reitter explains that XXI is both 'a funeral and a party'. It's a description that calls to mind the words of queer theologist Linn Tonstad, quoted by Geoffrey Mak in a 2022 essay for Pioneer Works: 'Dancing flesh knows it is grass […] that wilts, withers and dies. The rave is what it feels like to be alive.' In his work, Roque channels the nocturnal spirit of the rave: an energy that pulses through people and buildings, creating possibilities for bodies adjoined in movement and in stillness; moments in which we catch our breath, when the city is suddenly tranquil or between beats in a track.
Luiz Roque's 'XXI' is on view at PROA21, Buenos Aires, Argentina, until 30 December. 
Main Image: Luiz Roque, XXI, 2021, film still. Courtesy: Fundación Proa