When we dream or draw we often do so in architecture, within armatures. We give our fictive spaces walls and floors, our fields fences of sky. We assign ourselves limits — because within them, now drawn, anything can occur. So it goes with Marta Riniker-Radich's flat, fluorescent-flavoured drawings flush with fantastic architectonics. The Swiss artist uses the rectangular piece of paper like a frame, and then, in coloured pencil, deftly draws more frames inside those perimeters. Thus her brilliant, people-less images are often vault-like, seemingly enclosed by concrete or just underwater; the viewer finds herself in narrow rooms flooded with enough weird familiarity that a certain surreality results. This surrealism comes from an admixture of recognizable elements and tropes — architectural, art historical, suburban. For in her drawings, one finds the daddy-like things of high Minimalism, their strict, sublime patrimony (James Turrell 'skyspaces', Dan Flavin fluorescent tubes, Donald Judd-like grids), as well as the critiques they have engendered (Elmgreen and Dragset's Prada Marfa installation [2005], which Riniker-Radich recast in Marfa Vents, 2009). Also there are the high-low buildings of Modernism (a building by LA modernist John Lautner or an anonymous mid-century American movie theatre) and proverbial Western Technicolor skies cast in a Pop art vernacular that can recall Ed Ruscha.
So much Americana, and yet Riniker-Radich resides in Geneva, where she co-curates Hard Hat, the petite artist-run space founded in 2004 by John Armleder, Lionel Bovier, Christophe Chérix, Balthazar Lovay and Fabrice Stroun. Born in Bern in 1982, Riniker Radich grew up on a US military base in Panama, before returning to French-speaking Switzerland. Her drawings yield a bit of the pathos-laden realism of that other Swiss maker of images of America, Robert Frank. But just a bit. Riniker-Radich is younger, less religious, and more profanely lurid in her preferred clichés, materials and palette. Thus her Geneva influence (with its long shadow of cartoon-making, Neo-Geo and intimate works on paper) wins out.
Consider an untitled drawing from 2010, in which a clubby bathroom out of some strange, speculative Miami (see the Art Deco light fixtures and mirrors, the wallpaper emblazoned with tropical plants) offers a Turrell-like skyspace opening in the ceiling; directly underneath it is a mirrored tabletop girded by a wooden 'X'. Like in so many of her works, the room offers near-perfect symmetry and an interior design aesthetic at once covetous and crazy. See A Private Store of Fog (2011): a green bunker with mossy walls punctuated by gold and black Deco studs, its floor a series of purple diamonds. Atop of them sits a grey trunk, steaming, cauldron-like. Above it, a ceiling where tuberous, periwinkle-blue forms hang like cysts.
This inexplicable ceiling points to an oceanic element that recently began to arise in Riniker-Radich's works. Images of sea anemones and other pattern-like animal forms of the shallow or deep compose a new act in the artist's repertoire, evoked equally in the pink shag carpeting (which might as well be waving underwater) of an untitled drawing from 2011, or from Little Shop of Horrors (also 2011), in which a bouquet-like image of pale-pink sea anemones is collaged against a ground of softest red pencil. The otherworldly forms of sea creatures have long been used as inspiration for science fiction films and some of the artist's works carry this dark, speculative, cinematic bent. If Riniker-Radich's architectural concerns can be explicitly of our terrestrial world – consider the North American suburban twilights offered in Zebedee, her 2010 solo show at New Jerseyy in Basel and the references to Lautner in her 2012 exhibition at Galerie Francesca Pia in Zurich – they can also evoke something extra, inhuman.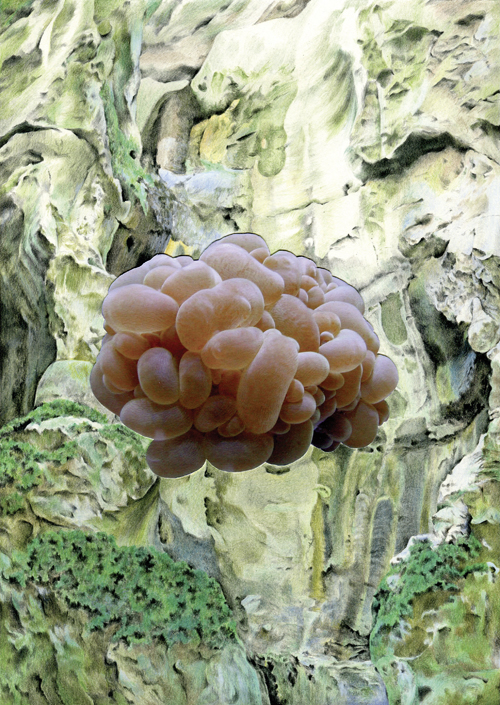 Untitled drawings from 2011 offer arching structures that might be concrete Soviet Modernism or spaceships, punctuated with collages of anemones blooming alien-like from them. Likewise, the kaleidoscopic look of the artist's work asserts itself in an untitled drawing and collage from 2012 that relies on symmetrical planes and triangles of grey against an Alpine horizon: a green anemone planted at the centre like a pearl-shaped omen. Here, as elsewhere, European mystic-artists such as Hilma af Klint and Emma Kunz are nodded to but not stopped at. Riniker-Radich's opiate-heavy rooms and fluorescent, gradated vistas, at once solid and restive, open out onto our own viewing of them. Yet they don't invite in the spectator's body. Not quite. Instead, like a film, the set furniture is secure and the screen remains, softly. We project upon it what we will.