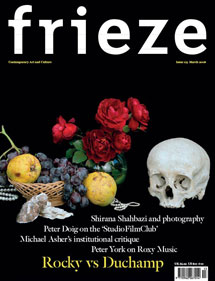 Featured in
Matthew Brannon
Matthew Brannon is an artist based in New York. His work is included in the 2008 Whitney Biennial (6 March – 1 June), and a comprehensive monograph of his work, To say the very least, will be published in May 2008 by the Art Gallery of York University, Toronto, with a text by Philip Monk.
What should change?
America. You wouldn't know it, but the States has great resources of intelligent people. Unfortunately no one is utilizing them.
What was the first piece of art that really mattered to you?
'Reconsidering the Object of Art: 1965–75' show at the former Temporary Contemporary in Los Angeles in 1995. It was perfect timing for me. Young, impressionable, curious. Maybe today it would come across as naive or quaint, due to the current post-commerce laissez-faire, but it set the tone for me. Each of us is responsible for our own work. Some conversations larger, some smaller.
What image keeps you company in the space where you work?
My studio is beside New York's Port Authority. A bus terminal and all it implies. From my windows I see the windows of hundreds of others working away. Across the street the always-lit floors of the new building of The New York Times (which served as inspiration for my last show, 'Where Were We'). On my studio walls a revolving film poster collection: currently Joseph Losey's The Accident (1967).
If you could live with only one piece of art, what would it be?
Stephen Prina's A Structural Analysis and Reconstruction of MS7098 as Determined by the Difference Between the Measurements of Duration and Displacement (1990) or the set from Guy de Cointet's Tell Me (1979) or maybe Charles Sheeler's Americana (1931).
What is your favourite title of an art work?
Once a Noun, Now a Verb (1998) by Lari Pittman.
What is art for?
A productive frustration and a pleasant irritation.
What film has most influenced you?
As much as I would like to be esoteric, I'll take my seat and say Rules of the Game by Jean Renoir (1939). The politest of films about how rotten we are.
What are you reading?
Bit dyslexic these days. Bedside: Billy Baldwin Decorates (1972); office: Jacques Derrida's On the Name (1995); subway: press releases, poetry, various turn-on/turn-off lists.
What music are you listening to?
While writing, I fantasize about being a good writer. And I listen to music while I do this. Lately: heavy on the Scott Walker, especially Scott 2 (1968), Bill Evans' Bill Evans Trio with Symphony Orchestra (1965), some Chopin, some Satie. I work alone, if that explains anything. Then I edit. And I think of myself as a terrible writer. I cleanse my palate with obscure Goth vinyl: The Cultural Decay, X Beliebig, early Coitus Int., early Siglo XX ...
What do you like the look of?
Conceptual art.
What should stay the same?
Can I say this? Architecture. I like to be in boxes, not triangles.
What could you imagine doing if you didn't do what you do?
I still regret not staying in science. Becoming a doctor. Being an artist is sometimes embarrassing. Especially when you're explaining just what it is you do to a stranger. Or you find yourself buying art supplies at the art supply store. Is this really a job for an adult? I guess so.
What do you wish you knew?
How to spell. How to dance.