Maurizio Cattelan's Gold Toilet and Five Other Brazen Art World Heists
The theft at Blenheim Palacetakes its place among the most notable robberies in recent art history
A solid gold toilet isn't the easiest thing to steal, or so thought Edward Spencer-Churchill, the founder of the Blenheim Art Foundation and first cousin, twice removed, of Sir Winston Churchill. But last weekend at Blenheim Palace, Oxfordshire, art thieves made off with Maurizio Cattelan's America (2016), an 18-karat lavatory once reportedly offered to Donald Trump by a Guggenheim curator. A 66-year-old man has been arrested on suspicion of the theft, but the location of the GB£1 million golden loo remains unknown.
The theft at Blenheim surely takes its place among the most brazen robberies in recent art history, and in tribute to last Saturday's escapade, we've curated five other notable heists that shocked the art world.
The Louvre's iconic portrait The Mona Lisa (1503) was stolen from the wall of the French gallery in August 1911. After spending the night in a supply cupboard, three Italian handymen snuck out into the gallery and removed the enigmatic painting from its frame, covered it in a blanket and rushed out of the gallery. The painting was recovered two years later.
The Ghent Altarpiece has been stolen numerous times – once by Napoleon. The most recent theft occurred in 1934 when one of its 12 panels was lost in a crime that remains unsolved. The mysterious case involves a ransom note, a heart attack and a cryptic riddle.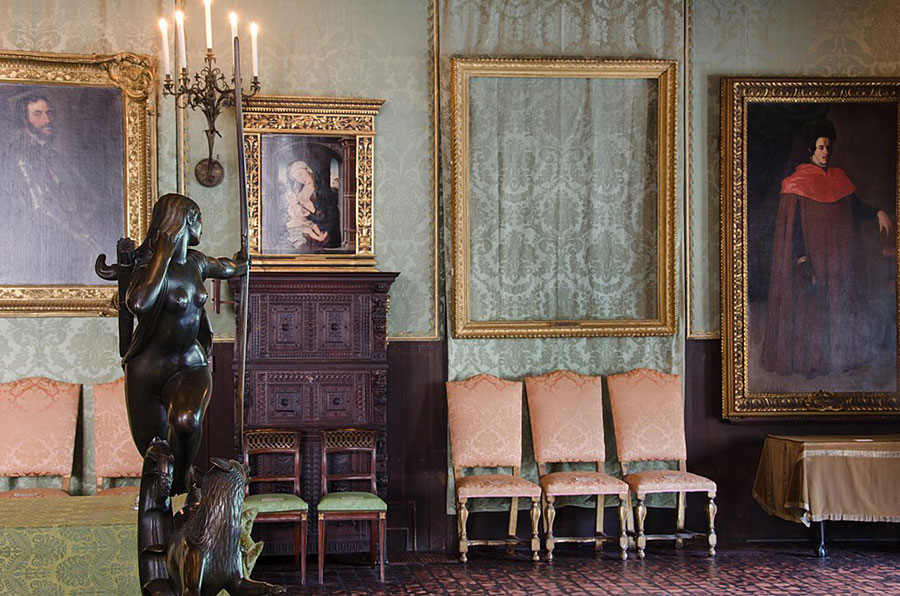 The Isabella Stewart Gardner heist is perhaps the most famous art robbery in recent history. In 1990, two men dressed as police officers entered the Boston museum before tying up the guards watching the works. 13 works, including pieces by Rembrandt, Vermeer and Degas, were stolen with a combined value of US$500 million. The museum is still offering a US$10 million reward for information leading to the recovery of the stolen artworks.
Yonathan Birn, a dealer who worked alongside the notorious art thief Vjeran Tomic, nicknamed 'the Spider-Man', admitted throwing away five paintings he stole from the Museum of Modern Art in Paris. The works – a Picasso, a Matisse, a Modigliani, a Braque and a Léger – were stolen in 2010 after Tomic scaled the Paris museum and entered through a window. At a 2017 trial Birn said 'I threw them into the trash […] I made the worst mistake of my existence.'
Edvard Munch's The Scream (1893) was stolen from the National Gallery, Oslo, during the opening of the 1994 Winter Olympics held in Lillehammer, Norway. The painting had been moved to a second-storey location for the duration of the Olympics when thieves broke into the gallery. The robbers left a note reading 'thanks for the poor security.' After the Norwegian authorities refused to pay a ransom, a sting operation led to the painting's recovery.