Featured in
Home and Away
With the 50th anniversary of the DAAD's Artists-in-Berlin Programme this year, a visit to its most legendary artists' apartment
What does a good artist's residency flat look like? The 50th anniversary of the DAAD Artists-in-Berlin Programme this September offers a good opportunity to pose this question. Since 1963, the German Academic Exchange Service (DAAD) has brought more than 1,000 artists, writers, filmmakers and musicians to Berlin for a year each: initially to West Berlin and later to various parts of the reunited city. All of these people need to feel, if not truly at home, then at least comfortable. After all, there could be no worse PR for the DAAD than if artists blamed their lack of productivity during their year in Berlin on the lousy mood their flats put them in.
Such a flat needs to be neutral enough that artists don't feel they are moving into their predecessor's place, but not as anonymous as a hotel room. It should also have a fairly central location. The flat at Hornstraße 3 in Kreuzberg, arguably artists' favourite among the DAAD apartments, meets all the criteria. Currently living here, in the front building, is the Canadian artist AA Bronson. In 1969, Bronson formed the artists' group General Idea in Toronto with his friends Felix Partz and Jorge Zontal (who both died in 1994). In February, Bronson came to Berlin from New York, bringing along his partner, the architect Mark Jan Krayenhoff van de Leur. On meeting them, it is immediately evident that both feel very comfortable in the Hornstraße flat. Bronson says that from what he's heard, every artist-in-residence flat in the world has the same Ikea furniture. Here too there are generic Ikea lamps and the typical Ikea sofa – but pleasantly balanced with character adding pieces: 'the apartment has a really good vibe, but at the same time it is also quite blank visually', Bronson says. 'The DAAD have been quite good at removing all the signs of the former artists who were here, so that when you come in it is very easy to make the apartment your own immediately.' Bronson says he can also work well here – meaning it was no problem that he had to wait until July to move into his actual Berlin workspace, an artist-in-residence studio at the Künstlerhaus Bethanien.
The two light-flooded, high-ceilinged front rooms of the renovated Altbau flat overlook treetops and roofs. Facing the back courtyard is a Berliner Zimmer – a connecting room between the front and back houses, typical of 19th and early 20th century Berlin architecture – and a small kitchen and windowless bathroom. The house dates from around 1880 and is historically significant: Ursula Goetze, a member of the Communist resistance group Rote Kapelle (Red Chapel), lived here when the Nazis were in power. Goetze was executed by the Nazis in 1943. The flat, which the DAAD has rented since 1974, has been a part of art history since Nan Goldin lived here in 1991. Goldin was one of the first photographers to come to the city on the Artists-in-Berlin Programme (photographers were not admitted until 1988). She was originally assigned other accommodation, further west in Halensee, which she couldn't stand. After a week she asked the then head of programme, Joachim Sartorius, if she could move. This is how Goldin came to Kreuzberg, where she immortalized the Hornstraße flat in photographs that have become iconic, including Joey in my Mirror at Hornstraße (1992), a picture whose quiet grace speaks volumes about how private and protected Goldin and her friends felt there.
Naturally, others among the roughly 20 Berlin apartments which the DAAD maintains for its resident artists have also entered into the work of their inhabitants. Marcel Broodthaers shot his film Berlin oder Ein Traum mit Sahne (Berlin or a Whipped Cream Dream, 1974) partially in his DAAD flat on Bundesratufer in Moabit. The film shows Broodthaers in cream-smeared glasses sitting at a coffee table, smoking, reading a newspaper, sleeping, dreaming. The feeling of anxiety and displacement which informs Joan Jonas's filmed performance He Saw Her Burning (1982) is said to have arisen from the artist's intense feeling of isolation during her stay in Berlin, where she spent most of her time in her flat listening to English and American military radio. Jonas lived on Lützowplatz in Tiergarten. Nonetheless, Hornstraße 3 is considered the most legendary of the DAAD flats – because of Goldin, but also because of Kreuzberg. Other DAAD apartments, especially those in Charlottenburg, are rather more bourgeois, nearly luxurious. But what they cannot offer is the unique Kreuzberg mixture of toughness, leftist activism and loafing outside their front door which fascinated an observer as early as Ingeborg Bachmann who said of Kreuzberg in her text Berlin, written during her DAAD residency from 1963 to 1965: 'The damp cellars and old sofas are back in fashion now, the stovepipes, the rats, the view of the back courtyard. And then you have to grow your hair long, you have to wander the streets, make noise, preach and be drunk and scare off the old people.'
The list of artists who have turned the door handle at Hornstraße is an illustrious one. Pipilotti Rist, Willem de Rooij and Cyprien Gaillard are just a few of those who have lived here since Goldin. Gaillard, however, was never seen, according to Bronson, who says a neighbour who's lived here for 18 years told him he thought the flat was empty during Gaillard's residency. The same neighbour – himself an artist – reports that Pipilotti Rist, on the other hand, always passed him without saying hello, and never spoke to anybody.
Bronson finds it rather amusing that he lives in Berlin now. After all he's been in contact with the DAAD for forty years. As early as 1973, General Idea took part in Aktionen der Avantgarde (Avant-garde Actions), an exhibition co-hosted by the DAAD, the Neue Berliner Kunstverein (NBK) and the Berliner Festspiele. Later in the '70s, General Idea got to know René Block, who in 1982 became the director for visual arts for the Artists-in-Berlin Programme. The same year the trio came to Berlin for the first time, for their performance P is for Poodle at the Akademie der Künste. So when Bronson received an invitation to attend the DAAD residency out of the blue last year, his initial reaction was 'what took them so long?!' Then, he says, he accepted the invitation straight away – and immediately asked for the Hornstraße flat, which he'd heard acquaintances in New York, including a MoMA curator, rave about.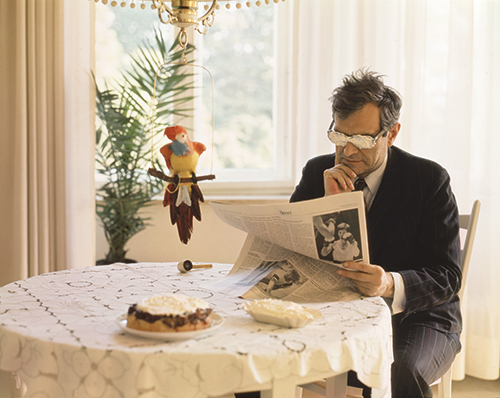 The projects Bronson plans to carry out in the coming months would not be so readily feasible in New York. Travis Meinolf, a Berlin-based 'action weaver' from San Francisco, is weaving him a tent out of woollen blankets. In Bronson's next exhibitions this tent will serve as a sort of therapy centre where he will give massages, read Tarot cards and make tea. Meinolf is an artist who collects old woollen jumpers, unravelling and weaving blankets out of them, which he then puts out on the street so that anyone can take them for free. 'The kind of work Travis does can really only happen in a city like this one', Bronson says.
Berlin then seems to live up once again to its tiresome reputation – 'poor but sexy'. It's fitting that the only warning that was passed along to Bronson and his partner from their acquaintances in New York proved warranted: the couple next door's enthusiasm for very loud sex. 'One of the artists who lived here – I won't disclose his name – supposedly liked to stand next to the wall with his ear to a wine glass so he could listen in better', smirks Bronson. 'We always give them a friendly nod when we see them in the hallway.'
Translated by Jane Yager
AA Bronson's solo exhibition The Temptation of AA Bronson is being shown at Witte de With in Rotterdam from 5 September 2013 to 5 January 2014.