Featured in
For Nicole Eisenman, Historical Memory is a Blunt Instrument
The artist presents a range of paintings and sculptures at The Contemporary Austin that problematize grand historical narratives 
I first saw Nicole Eisenman's monumental caravan of sculptures, Procession (2019), a year ago, affixed to the Whitney Museum's sixth-floor terrace as part of last year's Whitney Biennial. Nine humanoid giants – made of bronze, plaster, found materials, manufactured elements and doused, in parts, with oil slick and charcoal – occupied five square metres of outdoor space. Eisenman takes cues from historical paintings like Emanuel Leutze's Washington Crossing the Delaware (1851) and Eugène Delacroix's Liberty Leading the People (1830), but here – as she has so often throughout her three-decade career – the artist turns on its head our quiet reverence for these histories and nationalist images. One figure lugs a cracked flagpole oozing bilious goo from both ends; another cartoonishly carries empty tuna cans like a knapsack; a third is a ribald send-up of Auguste Rodin's The Thinker (1880), flipped forward and prostrate, which intermittently releases a fart. I remember that puff of hot gas a little too fondly; it reminds me of the ousting of Warren B. Kanders, profiteer of tear-gas canisters hurled at asylum seekers at the US-Mexico border, from the Whitney's board during the months in which Procession was installed there.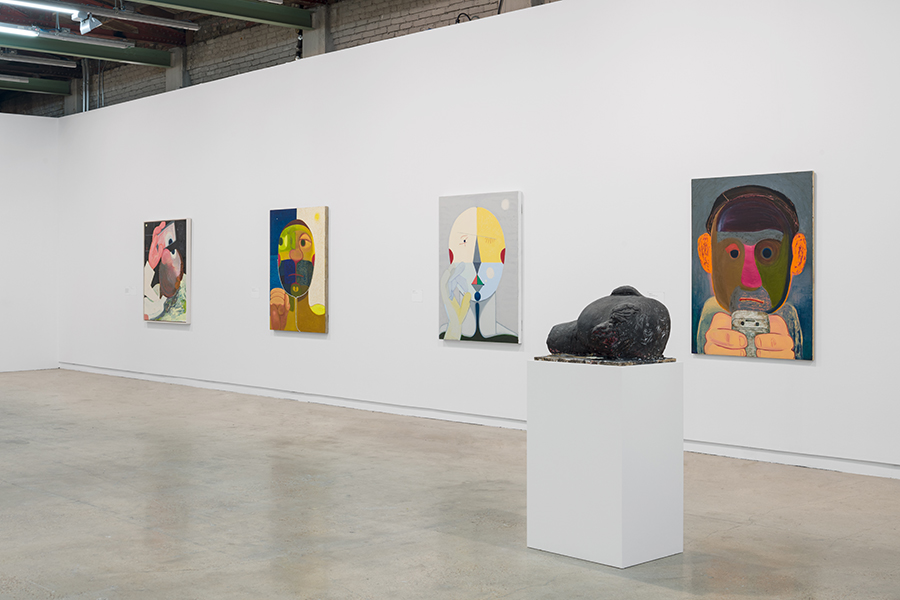 My second encounter with the work was as part of 'Sturm und Drang', a survey of Eisenman's paintings and sculptures, curated by Heather Pesanti, on view at The Contemporary Austin – just blocks away from the Texas State Capitol, where political protesters come to rally. Arranged across the entire ground floor of the gallery – with the addition of some new figures – Eisenman's cavalcade has been situated alongside her paintings, enabling consideration of both their affiliations and the extremity of their deviations. Viewers can get close to these demi-gods to see what Johanna Fateman, in an April 2019 essay for Artforum, called Eisenman's 'queer morphology of surfaces' – the figures' abraded genitals and visages don't conform to a single gender – as well as the precarious structures that undergird them: a wad of bubble gum pulls one figure to the ground, while another is hoisted up by flimsy wooden slats. Two early paintings, Support Systems for Women #1 and #4 (both 1998), hang nearby, depicting female subjects that rest on, or hold onto, haphazard constructions. Eisenman's portraits of individual subjects also keep a relational or dialogic composure. Some feign self-satisfaction, like the balding man in Onanist Own'n It (2017), who ejaculates onto his own reflection. Others miscommunicate: Self-Portrait (1994) includes a close-up of the artist's face with gruffly exaggerated features. In the background, a man in a morning suit, holding a gas lamp, scurries by, the back of his head turned towards Eisenman's crossed eyes. But the artist is transfixed by something or someone else entirely.
On the museum's first floor, several paintings and prints hang near an assortment of three-dimensional works, among them busts and a series of masks. The massive Going Down the River on the USS J-Bone of an Ass (2017) returns us to the scene of George Washington's crossing of the Delaware River. Here, however, a donkey mandible-turned-sailboat ushers an unwitting threesome down a river of waste towards a precipice. Urge to Become a Thing Destroyed (2017) depicts a comically large exhaust pipe pumping out a plume of smoke. An antenna-like prong winds up the canvas in an opposing direction, making this constructivist scene of industrial waste look not unlike a swastika. For Eisenman, who is both gay and Jewish, historical memory sometimes works like a blunt instrument. Against the many crises her painting and sculpture insistently refer to – climate collapse, the imbroglio of electoral politics, the dilapidated conditions of migrancy – we receive, unequivocally and without restraint, the gamut of the artist's own experience saturated with the calamity of our collective present.
Nicole Eisenman is the winner of this year's Suzanne Deal Booth / FLAG Art Foundation Prize. Her exhibition 'Sturm und Drang' runs at The Contemporary Austin until 15 November, and will be presented at the FLAG Art Foundation, New York from 12 December to 13 March, 2021. 
Main image: Nicole Eisenman, Procession, 2019-2020, exhibition view, 'Nicole Eisenman: Sturm und Drang', The Contemporary Austin. Courtesy: the artist, Vielmetter Los Angeles and Anton Kern Gallery, New York; photograph: The Contemporary Austin / Colin Doyle