The Long-Awaited Return of PJ Harvey
Her new record, I Inside the Old Year Dying, looks away from present terrors to the reassurance of past mythologies
With its sparse, piano-led songs and relentless mood of despair, PJ Harvey's 2007 album White Chalk sat starkly, strangely in the musical landscape of its time. Unlike anything she had released previously, the record saw Harvey abandon guitar-driven art-rock in favour of an unsparing stare into the abyss. White Chalk's subject matter felt incongruous alongside the future-facing, hyperglobal focus of the time, exemplified by emerging genres, including grime and new rave, and artists such as M.I.A. 
Since then, Harvey has released two albums: the remarkable Mercury Prize-winning Let England Shake (2011) and the more outward-gazing The Hope Six Demolition Project (2016), which features songs-as-reportage inspired by her travels to Afghanistan, Kosovo and Washington, D.C. Her latest work, however, I Inside the Old Year Dying (2023), while still following the coastal path laid out by White Chalk and Let England Shake, serves as a far more fitting tribute to the zeitgeist than its predecessors. Released in a Britain cowed by political and social upheaval and now lurching, dazed, towards places of safety, I Inside the Old Year Dying looks away from present and future terrors to the reassurance of past mythologies. Seemingly, Harvey's artistic imagination is at its most liberated, prescient and urgent when applied to the landscapes around her. 
Harvey's vision of her homeland has slowly come into focus throughout her 30-year career, emerging as a site of both longing and mourning. 'Leaving California', from her 2009 album with John Parish A Woman A Man Walked By, saw her singing wistfully, 'Oh England come soon.' While on Let England Shake's 'The Last Living Rose', she laments, 'Take me back to beautiful England.' The titular track from White Chalk, however, envisions her homeland as an extension of the fleshly prison: 'White chalk hills are all I've known / White chalk hills will rot my bones.' On Let England Shake, the island is stained with ancient blood, 'Weighted down with silent dead'. I Inside the Old Year Dying reimagines the countryside of her native Dorset as a whirling, liminal organism, quietly teeming and seething, teetering between life and death.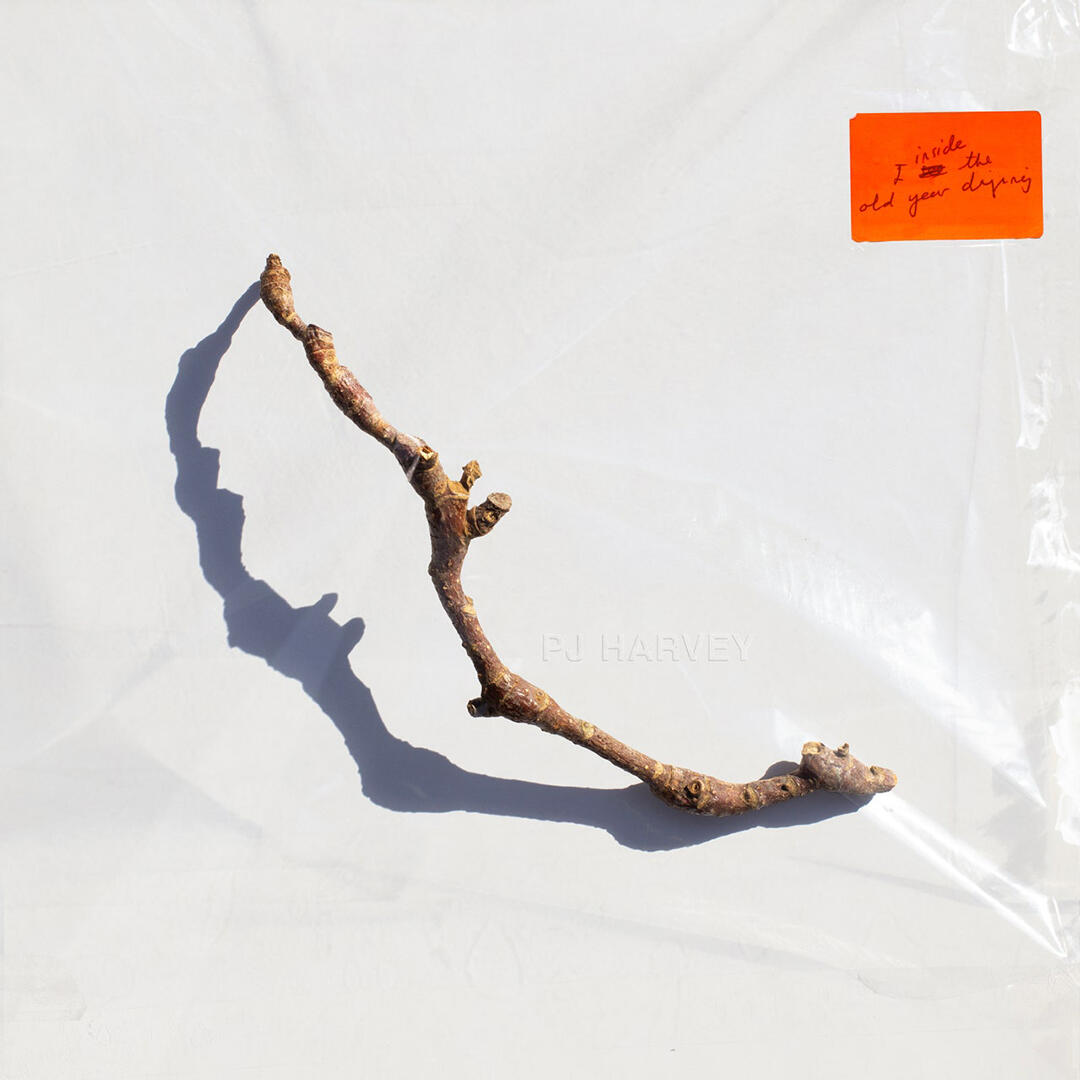 The lyrics of I Inside the Old Year Dying derive from Harvey's second poetry collection, Orlam (2021): a seasonal poem cycle set in the fictional Dorset village of Underwhelm and composed entirely in local dialect. Despite its literary origins and rigid lyrical parameters, however, the album feels freer and more intuitive than almost any of her prior works. The precision with which Harvey builds worlds and inhabits characters is as present in her song writing as in her poetry. From the stream-of-consciousness synths of 'The Nether-Edge' to the hazy, contemplative distortion of 'Prayer at the Gate', this record gives the sense of an artist in complete league with her subconscious and creative powers. 
Although I Inside the Old Year Dying is best taken whole, certain moments shine particularly brightly: the title track shares its tonal sensibilities with Let England Shake, Harvey's eerie cooing creating a haunting counterpoint to the song's earthy rhythmic flow. The plonky, strangely Hudson Mohawke-esque synth opener on 'All Souls' is redolent of Harvey's fourth studio album, Is This Desire? (1998). 'August' is hypnotic, searching and gorgeous, with its simple refrain of 'Love Me Tender' crooned beautifully by the actor Ben Whishaw.  
In a recent interview with American National Public Radio, Harvey spoke of not wanting to create a straightforward folk album. This desire is echoed in recent, exceptional works by her peers, which use the rural as a musical stage on which to cast emotions and perceptions. Notable examples include Gazelle Twin's prophetic Pastoral (2018) and, more recently, Deep England (2021), her collaboration with NYX, as well as Lingua Ignota's superlative Sinner Get Ready (2021), which uses the setting of rural Pennsylvania to create a devastating theatre of religious horror. I Inside the Old Year Dying sits comfortably among these compelling albums, whilst remaining completely true to Harvey's singular vision. It is the sound of an artist conjuring a purgatorial, poetical palimpsest out of the salty British air, using the fullness of her creative powers to craft a new world out of the ancient, to speak to the heart of an old island, dying. 
Main image: PJ Harvey, 2023. Courtesy and photograph: Steve Gullick