From the Playful to the Surreal at Frieze London and Frieze Masters 2022
Generations of artists present visions of the unconscious and the uncanny at this year's fair, from the iconoclastic paintings of Leonor Fini and Leonora Carrington to new works by Prabhakar Pachpute and Maryam Hoseini
Artists at Frieze London and Frieze Masters explore surrealist themes, including 20th-century radicals included in the main exhibition at the Venice Biennale, and new works by artists who are reimagining and questioning our relationships with the self, the body and the unconscious. Highlights include... 
20th-Century Pioneers at Frieze Masters
A presentation titled Phenomena brings together women surrealists all featured in the 2022 Venice Biennale: Leonora Carrington, Remedios Varo, Alice Rahon and Dorothea Tanning and Leonor Fini (Gallery Wendi Norris, San Francisco, Frieze Masters, Stand D12). Fini is also featured in a solo presentation in the Spotlight section at Frieze Masters (Loeve&Co, Paris, Frieze Masters, Stand S21).
A survey of the 50-year career of Ljiljana Blaževska, whose atmospheric paintings and works on paper evoke otherworldly figures and textured cityscapes. (Alison Jacques, London, Frieze Masters, Stand S26).
The remarkable Sister Gertrude Morgan (née Gertrude Williams) was a rare and rarified figure in the aesthetic history of 20th century America: a confident female artist, whose visceral image-making went hand-in-hand with the saving of souls (The Gallery of Everything, London, Frieze Masters, Stand S13).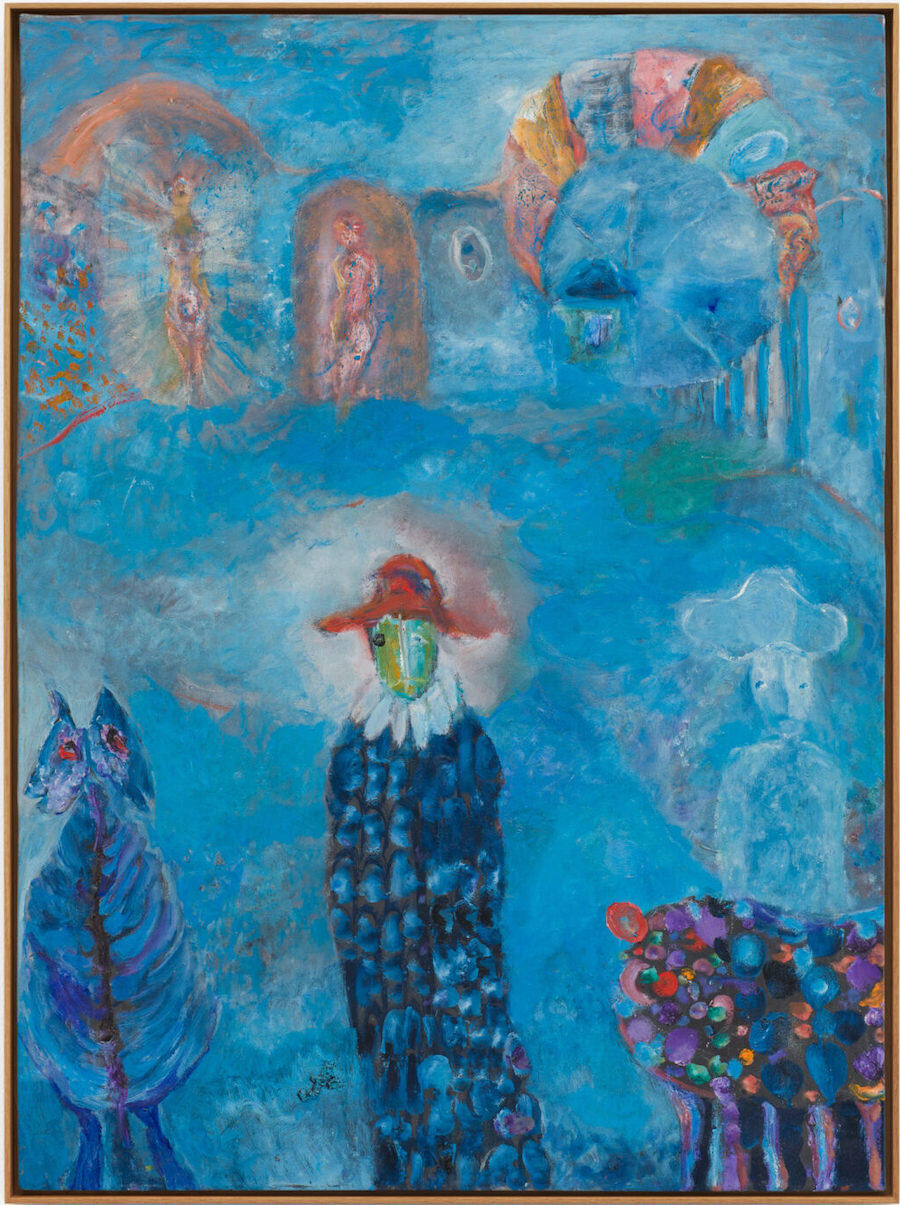 Leading Contemporary Artists
Anthea Hamilton – known for her playful and surreal projects, and also featuring in this year's Frieze Masters Talks – has curated Thomas Dane's stand at Frieze London 2022. Including recent examples of her own work, Hamilton has created an immersive environment to present works by Alexandre da Cunha, Dana Schutz and Amy Sillman alongside recent pieces from her own practice.  (Thomas Dane Gallery, London, Frieze London, Stand E5) 
Nicelle Beauchene Gallery showcases varied practices in painting and sculpture that consider the use of surrealist aesthetics as a tool for understanding the body. Artists include Saif Azzuz, Jonathan Baldock, Jordan Kasey, Panayiotis Loukas and Alice Tippit (Nicelle Beauchene Gallery, New York, Frieze London, Stand B17). 
Through painting, drawing and installation, Maryam Hoseini creates liminal spaces that explore the construction of gender, and the violence of power. Probing the contours of subjectivity, fragmented architectural environments host scenes of collective drama where figures sequence in the midst of rebellion (Green Art Gallery, UAE, Frieze London, Stand H3). 
Through the surreal narrative imagery of the figures inhabitating her pieces, Susanne Themlitz lets us dive into a world full of oneirism, fantasy, which is strange yet familiar (Galeria Vera Cortês, Lisbon, Frieze London, Stand G20). 
Prabhakar Pachpute's artistic universe is inhabited by a surreal cast of characters and creatures, which recur and migrate across his works. In The Anthills and Asylum Seeker, we see the artist's trademark use of cut-outs and charcoal – a material with both political and familial weight, given his family's background in coal mining in Maharashtra, India (Prabhakar Pachpute, Experimenter, Frieze London, Stand A4). 
Zoe Barcza's paintings juxtapose different elements to create surreal, humorous compositions that investigate cultural, political, and social forces on the body (Derosia, New York, Frieze London, Stand H23). 
Find out more about Frieze London and Frieze Masters.
TICKETS
Be the first to know when Frieze London & Frieze Masters 2023 tickets go on sale, sign up to our newsletter and follow @friezeofficial on Instagram, Twitter and Frieze Official on Facebook.
Main image: Ljiljana Blaževska, Deo zaborava, 1974/1991, Oil on canvas, 101.6 x 155.7 cm (40 x 61 1/4 in), Courtesy: © Ljiljana Blaževska Collection & Archive