The Politics of Seeing in Egon Schiele's Glowing, Pulsating Bodies
A century on, the Viennese master's paintings and drawings still lay life bare: the angst, thrill, the thrum of flesh
Just before entering the 'Klimt/Schiele' exhibition at the Royal Academy of Arts in London, a friend who was joining me had an adverse reaction to some new eyedrops. They had burned her eyes and disintegrated her contact lenses, leaving her temporarily blinded. So, she experienced the art through a hazy fog, accompanied by my running commentary. It was a strange irony for my friend, to be stripped of sight before a show all about what it means to see, and what it means to be seen. Yet, as I shared what was before me, transmitting the paintings to her in speech, my own vision seemed heightened by the process of explanation.
Egon Schiele's figures glow. They glow with passion, with fury, with the enlivening cognizance of death. Their eyes pierce. Their bodies swell with colour. They materialize, stake their presence. They are from a century ago, but they stare directly at us.
At the Royal Academy, Schiele's paintings and drawings are sharing space with the works of his mentor, Gustav Klimt, on the occasion of the 100th anniversary of both men's deaths in 1918: Klimt at age 55, Schiele at 28. Their setting is turn-of-the-century Vienna: grandeur and grit, Freudian sexual reinvention, the crumbling Austro-Hungarian empire.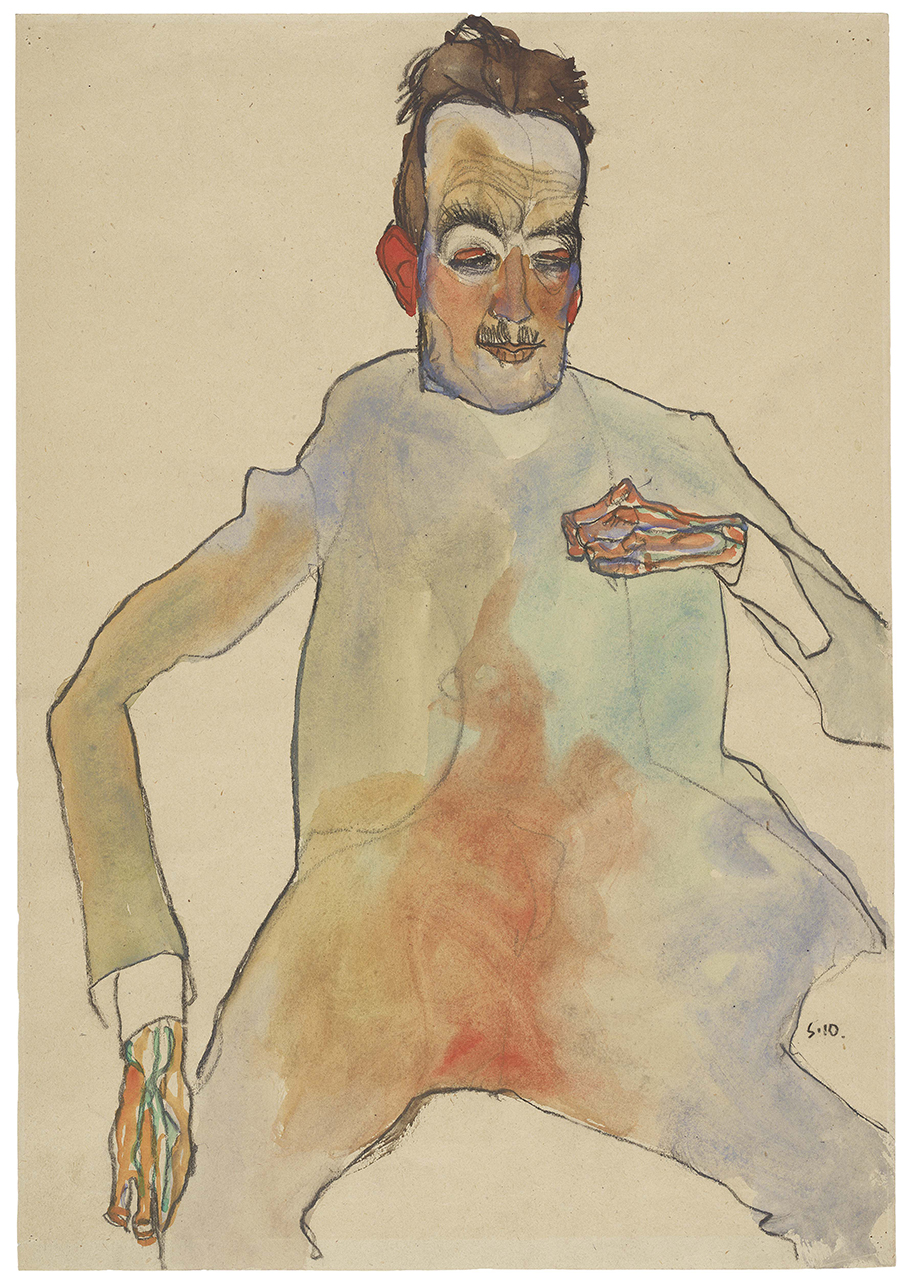 We encounter a young Schiele struck by the famous older Klimt's experiments with the human form: languid drawings of nudes and bodies tangled in embrace, eroticism with a light and reverent touch. These are mainly studies for Klimt's paintings, soon to be swathed in colour and pattern. But for Schiele, they are gestures toward what is possible. Before long, Schiele is off to the races, and the exhibition transforms into a celebration of his own blazing, radical vision.
Whereas Klimt suggests, Schiele confronts. Bodies balloon and twist; legs splay; gazes burn: Schiele wants to harness and amplify human vulnerability, not smooth it over. In Female Nude (1910), a woman sprawls back into space, her hair a flame of red and purple, her gaunt hand moving over taut flesh. Schiele renders her without arms or legs, but the cropping doesn't feel violent; rather, it heightens her, concentrating her expression of simultaneous brazenness and indifference. Rimmed by a thick aura of white, her limbless form seems to rise. A queen in command on a cloud.
Often, Schiele applies his gimlet eye inward. The show features a number of wonderfully varied self-portraits, manifesting a belief that we hold multiple selves. In one, ribbons of burgundy and purple swirl through Schiele's torso, reminiscent of pulsing veins and arteries. His hand pulls down the skin beneath one eye, as if he is striving for a deeper sense of sight. In another, Schiele sits naked with his head cocked and a penetrating glare, his limbs muscular and mottled, spilling energetically beyond the frame. There's virility in these self-portraits, but mortality is equally present: flesh turned inside-out, skeleton pushing through translucent skin.
Among the show's most haunting works (Black-Haired Nude Girl, 1910) is a portrait of a teenage girl, likely a Viennese prostitute. Her naked body stretches, column-like, up the centre of the canvas, ashen and ghostly but for shocks of red on her lips, nipples and vulva. It is difficult to look at, because it demands nuance. Schiele doesn't flatten her into a passive victim, nor does he deny her compassion. She stares boldly at the viewer, her body strong and alert, her eyes dark wells of knowing. What has she seen? What does she want us to see?
Financially strapped, Schiele often relied on prostitutes, minors and poor women as models, which added to the sense of impropriety that already shrouded his work. In 1912, after he and his partner took in a 13-year-old girl who had run away from home, he was arrested on charges of child abduction, seduction and immorality. While the first two were deemed groundless, he was charged with 'public immorality' and spent 24 days in prison. The incident became a referendum on Schiele's work, an opportunity to punish him for the artistic conventions around gender, sex and representation that he assertively flouted.
'Instead of being passive receptacles for masculine desire,' scholar Jane Kallir observed in a 2018 article for The Art Newspaper, 'his nudes are bluntly confrontational.' The frankness of his subjects' sexuality, and the sense of agency he imbues them with, was contentious in 20th-century Austria. That remains so but, in our current era, the question which rings louder is that of exploitation. How do we reckon with the fact that Schiele's models were often teenagers? Regardless of the power and agency he may bestow upon them in art, what was their dynamic in life? By today's standards, it is clearly inappropriate. Are we complicit, in looking? These are worthy questions, ones I think Schiele would welcome. His art is, in many ways, about the politics of seeing. Writing in the Berlin-based magazine Die Aktion in 1914, he declared: 'I wanted to look with love at the angry people so that their eyes would be forced to respond.'
In a series of watercolours made while in prison, Schiele depicts objects from his cell adrift in space, the figure sharply absent. But, in one work, Schiele's body appears, distended and grey, a kind of storm cloud. His skeletal hands claw outward, and his face is pure anguish. Beside this grim figure is an inscription: 'I should be punished but, instead, I am cleansed!' The portrait is in keeping with Schiele's dark corporeal excavations, but the text serves as a glimmer of lightness. It's a frank rebuke, making explicit the artist's commitment to the exuberant force of life, even as death looms.
The contorted, exaggerated energy of Schiele's figures, suspended in undrawn backgrounds, conjured, for me, the work of contemporary movement artist Eiko Otake. In her series 'A Body in Places' (2014–ongoing), Eiko positions herself in various locations – a Philadelphia train station, radiation-scarred Fukushima – wilting, arching and twisting with potent slowness. Like Schiele's subjects, Eiko's body both emerges from and transcends time and space – a coiled vessel of emotion, of aliveness, of fragility.
If the figures in Schiele's art dwell on the knife-edge between life and death, it's because Schiele himself does, too. His works seem to fizzle and crack, as if he's accumulating intensity, somehow aware his life will soon be cut short. No time for artifice, just life laid bare: angst, thrill, the thrum of flesh. There's a palpable urgency to his hand, as though he's asserting his legacy in advance, as if to say: 'This is it.'
The word that comes to mind is jouissance, that polysemous term: a vivid bliss that springs from the inseparability of sex and death. That mystical, universal juncture confounds and animates Schiele until his end. (He died of the flu, just days after his pregnant wife succumbed to the same illness, at age 28.) And it's what transfixes us, too. He goes straight to the core, hungry – and stays, as long as he can.
'Klimt/Schiele' runs at the Royal Academy of Arts, London, until 3 February 2019.
Main image: Egon Schiele, Group of Three Girls, 1911. Courtesy: Royal Academy, London