Featured in
On Pop Romanticism Between 1969 and 1974
Softcore, a narrative of terminal Romanticism, created a mythology of elegiac romance 
Britain in the early 1970s had the look of a country still caught in the colourless damp of the late 1950s. Hence, perhaps, Michael Watts' slip into archaic, post-war gay slang ('varda': to see or to look at) when faced with Bowie's self-promotional gender-bending in 1972. The aesthetics of contemporary retro-chic are too exquisite and self-serving to get this essential detail of early 1970s styling exactly right: it was the drab background that heightened the impact of pop fashion's dreamy slide towards effeminacy, gentleness and the affectation (for the most part) of homosexuality. But within its own period the 'satin and tat' of Bowie's 'Queen Bitch' (1971) came over as half-way political; an oppositional stance towards an idea of oppression represented by overtly masculine ideals. It was a re-run of classic Romanticism, from John Keats through Oscar Wilde to F. Scott Fitzgerald - the foppishness of indolent youth. Visually, and even ideologically, the pop fashion styling of the late 1960s produced a whacked-out mood swing that is best discussed in terms of the tactile: soft for hard. The mood swung on gender reversal and, vitally, time travel: a modern fantasy of nostalgia for elegance (preferably doomed), to add the finishing dab of romance.
All those Biba prints and blue-shadowed eyes; Bowie in a dress by Mr Fish; Brian Eno's peacock feather collar; Hollywood's gauzy recreation in 1974 of Jay Gatsby's 'gorgeous pink rag of a suit' on the slender frame of Robert Redford in the trend-setting film of Fitzgerald's novel The Great Gatsby (1925); Mia Farrow's saucer-sized baby-doll eyes in the same movie, where she played the role of Daisy Buchanan like a drowsy child at a wedding reception; all those clearly heterosexual young men (even in his dress Bowie called himself 'a cosmic yob') - David and Marc and Steve and Bryan - looking limp-wristed amid bedsit Edwardiana and junk shop Art Deco. Even Elton John would swap the beard and shades of his naturalistic Honky Chateau (1972) phase for the shimmering fantasy costume changes of Don't Shoot the Piano Player (1972).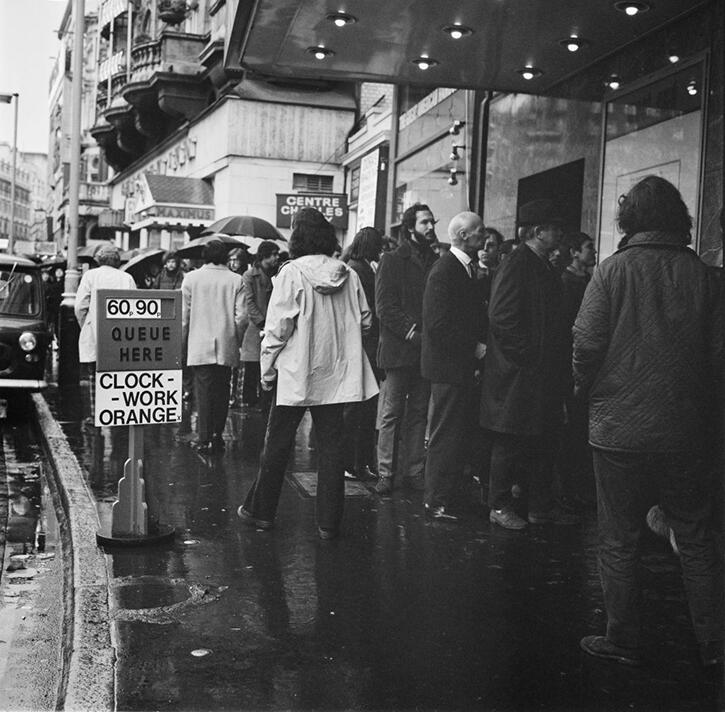 But strangely, the moment lacked Camp; as fashion, the softness was sincere to the point of seriousness. At the beginning of the 21st century - an epoch of constant, simultaneous revivals of past pop styles, Photoshopped and remixed into baroque impersonations of themselves - it's hard to imagine a culture before sampling or an outlook untainted by irony. But take a look at the background detailing of those British films which mark the slow dissolve from late psychedelia into Glam Rock brutalism - Performance (1970) and A Clockwork Orange (1971) define the territory - and you'll find a kind of suffocating homeliness, a world of institutional order fuelled on cups of brick-coloured tea, which makes the revolts into stylistic effeminacy all the more impressive. ('It's a right piss 'ole in 'ere,' says hard Mod gangster Chas about the soft, androgynous Turner's decadent Notting Hill mansion in Performance, 'they've got drugs, foreigners, long 'air - the lot'.) The moment was summed up during the filming, in Malcolm McDowell's flat off Kensington Church Street, of the brutal rape scene in A Clockwork Orange: the film's stylist had to buy false eyelashes by the yard from Biba, as those worn by McDowell, playing the ultra-violent thug Alex, kept melting under the lights.
If 'Swinging' London fetishized youth, above all, as a vibrant and vivacious force of nature which could be reported upon almost as though it were a single entity, once through the stargate of hallucinogenic drugs there was a sudden gear-change. As the 1960s began to accelerate from innocent-yet-earnest youth posturing - Vogue models wearing two-tone vinyl caps as they stood in frozen robotic positions ('Show me love, baby!') - to the ragged edge of chemically induced reverie and political disillusionment (John and Yoko swapping the campaigns of the New Left for home-building in Dakota) - so you could say that the styling of youth entered, in terms of mood, a kind of Indian summer. By 1969 the tone of the times was limpid with melancholy, and the rock music, squats, shops and bedsits seem to have produced, as though organically, a temper of stillness and reminiscence. The freaks and the love generation had rediscovered old-fashioned English Romanticism: a Keatsian softness, a nostalgia born of concussion from bad drugs, free love and truncheons.
It's easy now to doubt that such a moment ever existed, particularly if your experience of it comes down from distant memory, records and film clips. But that Indian summer of the 1960s, that new softness (which made the hardness, for instance, of Iggy and The Stooges seem so eccentric and largely despised at the time), has been captured for us at its source. We can now produce, as exhibits A, B and C in the Court of the Crimson King, the footage of the ritualized wake for Brian Jones which comprised The Rolling Stones in Hyde Park Free Festival on 5 July 1969.
Jagger was wearing the most delicate of clothes: a bridal white tutu, originally designed by Zandra Rhodes for Lord Lichfield, who had been going to wear it for a Biafra benefit at the Royal Albert Hall, but which his lordship felt, at the last moment, went a little too far. Rather than launching straight into 'Midnight Rambler', Jagger chose to read, in memory of Jones, a poem by Shelley - Adonis. And finally, in a poetically astute but naively cruel gesture, Jagger released a cloud of butterflies - the softest of creatures - to fly over, and almost immediately expire into, the hashish-clouded crowd. It was all soft: soft, soft, soft. (History now tells us that the only hard-edged action in the park came from Gilbert & George, who, dressed in their grey clerk's suits and with multi-coloured, metallic heads and hands, circulated among the limpid flower children.)
Watched now, the opening scenes of The Stones in Hyde Park reveal a rock aristocracy, glassy-eyed but all-powerful, surrounded by the high aesthetic paraphernalia of a 1960s interpretation of Wildean London: gorgeous Indian carpets, regal palm fronds - like the spoil of some Victorian conservatory - and pale plumes of incense smoke rising up into dust-mottled sunbeams. Jagger looks like some beautifully ugly girl, while his then girlfriend, Marianne Faithfull, has the look of a Dorian Gray.
In this overture to the Indian summer of psychedelic melancholy (you could call it Old Romanticism, the ancestor of the New Romanticism that would follow precisely ten years later, with the coming of David Sylvian's Japan et al.) the principal themes are gender-bending and time travel - a dress rehearsal (and how!) for the early 1970s. It's a preview of forthcoming attractions - a nod towards the waiting teenage generation who would benefit from the great rock manager David Endhoven's brilliant decision to change the name of the group centred around ultra-softy Marc Bolan from Tyrannosaurus Rex to T. Rex.
As all Romanticism is triggered by the progression from innocence to experience, so the late 1960s Indian summer had sadness at its heart. The death of Brian Jones was just one example. You could find the American version of this collapse of a dream in some of the best folk rock of the period: Neil Young's After The Goldrush (1970), for example, or Joni Mitchell's Blue (1971). For both these great singer-songwriters, it was the demise of the Hippie dream, and the last plangent, lingering moments of the freak power idyll that brought about their Romanticism. Here was the return to the city from the sun-soaked countryside - in Young's 'Don't Let It Bring You Down', or Mitchell's despairing lines 'Acid, booze and ass, needles, guns and grass - lots of laughs ...'.
In the contemporary Canadian novelist Douglas Coupland's account of 'Global Teens', Shampoo Planet (1992), it is his central character's Hippie earth mother, Jasmine, who cuts through the chilled-out irony of her slacker son with some gentle advice about age: 'Life at that point will become like throwing a Frisbee in a graveyard; much of the pleasure of your dealings with your friends will stem from the contrast between your sparkling youth and the ink now you know lies at your feet.'
For the son, brought up on a Hippie commune, the 'ink' of his parents' generation formed the earliest memories of his own: 'I remember robes made of flags, pots of stew and candles made of beeswax. I remember adults spending hours staring at the small skittering rainbow refractions cast from a window prism. I remember peace and light and flowers.
But let me also tell you of when the world went wrong, of hairy faces violet with rage and accusation, of sudden disappearances, of lunches that never got made, of sweetpeas gone dead on the vine, of once meek women with pursed-lips and bulging forehead veins ... of lawyers visiting from Vancouver - the mood of collapse, of disintegration ...'
Ultimately, Coupland concludes his account of the last gloaming of flower-power softness with a ride through the darkness to the tract housing of a town called Lancaster. 'Let me tell you of the house that became our new home and the new wonders inside: switches, lights, grills; immediacy, shocks and crispness. I remember jumping up and down on the novel smooth floor and yelling, 'Hardness! Hardness!'
As the 1960s flipped over into the 1970s, pop fashion fused the vogue for Art Nouveau and Art Deco (high Romantic forms of the decorative arts) with a whimsical theatricality. The gentleness of flower power - which as Coupland points out, was balanced at its peril on a drug-based dream - gave way to an affectation of aristocratic decadence, sourcing its romance from the 1880s and the 1920s. As Roxy Music stormed the charts, the accompanying fad for dance band music brought to light a song from the 1930s, 'Masculine Women, Feminine Men', by the Savoy Orpheans, and it seemed to fit neatly alongside 'Ladytron' or 'Virginia Plain'.
But the fashionable flirtation with effeminacy seldom translated into an actual repositioning of male sexuality. While foundation and mascara had replaced the blood, sweat and tears of 'rockist' modes of masculinity, most of the prettified males were locked into the codes of their heterosexuality. When Brian Eno, formerly of Roxy Music, was invited to pose naked for Viva magazine - a precursor to Playgirl that survived for only a few issues owing to the understandably entrenched indifference of most women to masculine constructs of print erotica - the whole episode, as related in 1973 by Creem magazine, described the yawning chasm between gender and sexuality.
As an ideologue and arch-Conceptualist with, as his published diaries show, a healthy interest in sexuality, Eno went through with the idea of a quasi-porno photo-shoot with wit and good humour, but decided to keep the resulting shots well out of public view. However flamboyant his image had been in the early 1970s, as the cover shots for Roxy Music (1972) and For Your Pleasure (1973) went to show, the pouting and preening had nothing to do with sexual coyness. In a subsequent interview with Guardian Weekend in 1997 Eno described the exotic plumage of early Roxy Music as 'suggesting ideas of male beauty in a way that hadn't necessarily been used before'. Closer to cartoon heroism than eroticized statements of sexuality, Eno saw the band's costumes as 'quite deliberate takes on those 1950s visions of space nobility - masters of the Galactic Parliament and so on'. In short, the average Roxy Music fan was being invited to enter a narrative of time travel.
The early 1970s were suffused with literary romance from the fin-de-siècle and inter-war years. The novels of Colette became freshly fashionable and were repackaged (a little late, perhaps) in pastel covers with Art Nouveau framed, sepia images of either Colette herself (acting as 'the little faun') or elegiac-looking men and women from the turn of the century. Likewise, Hollywood's version of The Great Gatsby (and the subsequent reprint of the Penguin Classics edition of the novel) took 'softness' to its limit, visually representing Daisy Buchanan's line in the story that she would like to place Gatsby in a pink cloud, and pat him about in the sky. Visconti's adaptation of Thomas Mann's Death in Venice (1971) saw a made-up Dirk Bogarde pursuing the impossibly soft Tadziu, played by Bjorn Andressen; even the repeated motif of the film's score - the adagietto from Mahler's Fifth Symphony - had a languor that verged on the somnolent.
These were all narratives of terminal Romanticism, in which elegance was synonymous with melancholy or despair - with death, even, in the cases of Jay Gatsby and the doomed Von Aschenbach of Mann's novella. Linked to the pop styling of the 1970s - Vogue featured a shoot by Jonvelle in 'Colette' clothes in 1971 - this mythology of elegiac romance was given the fizz of high fashion, and the ceremonial flourish of pure artifice posed as sexual ambiguity. Penelope Tree, modelling for Vogue in 1969, had worn 'a transparent orchid chiffon dreamshirt, turquoise buttoned and tabbed, girdled with golden chains, in the Valley of Kashmir ...' like some doomed heroine of a terribly sad novel. Similarly, the photographs of Deborah Turbeville or Sarah Moon maintained the fantasy, not least in Turbeville's shoot for Nova magazine in 1973 which depicted fashion designs by Bill Gibb as Art Deco arabesques, caught in the drowsy sunshine of a summer garden.
By the time that Brian Aris photographed international crumpet-chaser Rod Stewart in 1975, the former-beatnik 'Ace Face' Rod the Mod appeared dressed in floppy cream pantaloons and a satin blouse, with a polka dot scarf knotted about his waist - signifying that the stylized softness of an era's fashionability had become little more than cosmetic. Only a man as supremely down-to-earth and heterosexual as Stewart could have got away with such an outfit. Rod marked the end of an era. Between 1969 and 1974 the contortions of pop Romanticism had placed a fine gauze over the cameras that recorded it, and for reasons that ran deeper than a desire for mere prettiness.
Main image: The Rolling Stones perform at Hyde Park free festival, July 1969. Photograph and courtesy: Reg Burkett/Daily Express via Getty Images
1. Michael Watts, 'Oh You Pretty Thing', Melody Maker, 22 January 1972.
2. Kathy Miller, 'Eno: Naked and Neurotic', Creem, issue unknown, 1973, available at http://music.hyperreal.org/artists/brian_eno/interviews/creem73a.html.<