Postcard from Vilnius & Riga
Two Baltic cities with compact, open-minded and active art scenes
On my second day in Vilnius I took an aimless walk around the city. As I looped around the winding streets of the city's medieval centre, I passed a dilapidated building in a state of mid-demolition. Graffitied across its ragged façade were the words: VILNIUS FULL OF SPACE. 
The Lithuanian capital is indeed full of space. Literally, given its lack of density, but also in the sense that there is ample room for experimentation. Its arts community may be relatively small, but it's also incredibly active and, for lack of a better word, permissive. Almost everyone I spoke to during the month I spent there expressed some version of this open attitude. If you want to try something new with the potential for weirdness, failure, or flammability, you don't need to explain yourself. In fact, would you like help finding the matches?
I was in Vilnius as part of the Rupert Residency Program, which has been running since 2013. Rupert's three live-work studios are housed in a stunning wood-clad building whose architecture melds perfectly into the surrounding pine forest, about a 25-minute drive from the city centre. Living there for a month without a car provided a microcosmic experience of being at once in the centre and the periphery. Over time, this led me to consider what those words mean on a broader scale. Is Vilnius a 'peripheral' city in the scheme of the global art world? Is it even useful to think in those terms?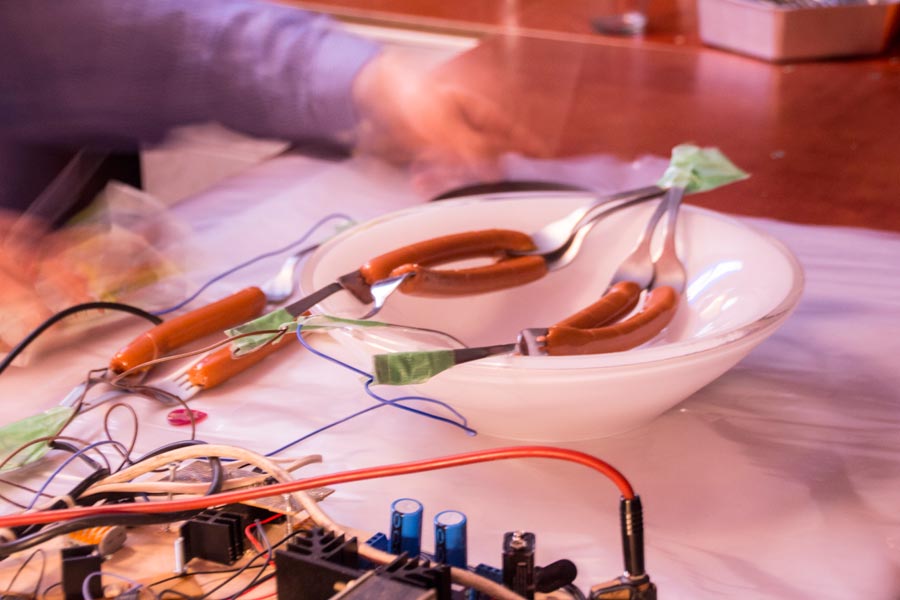 Back to that second day: after the walk, I and the other residents – a curator and an artist – found ourselves at a cheese-fondue dinner party held in an Airbnb rental with a jacuzzi and a sauna. (Weird, flammable: check, check.) This was an informal gathering to kick off a three-day event called '3dienos3jours' ('three days three days', in Lithuanian and French), a collaboration between the Vilnius project space Autarkia and Theatre de l'Uisine, a theatre group from Geneva. The weekend's highlights included a disruptive, unofficial performance in the National Gallery by the 'Old Masters' – as they call themselves – duo Marius Schaffter and Jérôme Stünzi, and a performance at Autarkia in which Jérémy Chevalier sizzled hot dogs on forks by wiring them to his electric guitar.
That weekend also marked the opening of a solo show at Vilnius' Contemporary Art Centre (CAC) by the Lithuanian artist Robertas Narkus, who co-runs Autarkia with Kipras Garla and a network of collaborators. He told me that while 'usually you wouldn't do something' like open a major solo exhibition on the same weekend as hosting an event with a visiting theater troupe, but 'I always stop myself and think, really? Really, we can't do it? Then what would be the point?'
Like everything Robertas does, Autarkia (autarky means self-sufficiency) is an always changing, energetic, at times chaotic melting pot. Billed as an 'artist day care centre,' it's not only a performance/party venue; it's also a restaurant serving lunch every weekday, a co-working studio, and soon to be an exhibition space. Mostly, it's decidedly and deliciously unpretentious.
Two more exhibitions premiered at CAC within the month, exemplifying the institution's rigorous programme and its central importance at city, national, and regional levels. The show 'TV' features archival photos by Algirdas Šeškus documenting the early days of Lithuanian broadcasting, at a time when public media was a state apparatus of the Soviet Union and when 'the freedom of a professional artist was firmly restricted,' in Šeškus' words. Importing reflections on yesterday's dystopias to today, an international group exhibition across the hall, 'Futures,' examined retro-futurist nostalgia: 'How do outdated desires gain new, unfamiliar forms and turn anew into promises for the future?'
The CAC also has a permanent 'Fluxus Cabinet' on view, focusing partly on the legacy of influential Lithuanian Fluxian George Maciunas. To some extent, much contemporary Lithuanian art is clearly indebted to the Fluxus tradition, with playful subversion yielding incisive criticism. Perusing the Cabinet, I couldn't help thinking back to curator Raimundas Malašauskas' wildly popular Lithuanian Pavilion at the 2014 Venice Biennale, a series of undefined happenings in a gymnasium.
Vilnius is not a major economic hub, and cultural production operates on a shoestring budget. Perhaps, as Robertas suggested to me, 'if you lack a market you're more experimental.' It's easier to take risks if you feel like there isn't a spotlight on your back. But at the same time, there needs to be an audience, and Vilnius has this too: every event I went to was absolutely packed.
When my month at Rupert was up, I took the four-hour bus to Riga. The night before, a friend had told me that I could expect to find Riga's art world more occupied with commercially friendly aesthetics and less with conceptual experimentation. Arriving at my Airbnb, this instantly made sense: the amount of UNESCO-protected Art Nouveau frosting on every building on the block seemed to practically demand an affinity for pretty surfaces.
It's true that many parts of Riga are shinier and cleaner. While, as in Vilnius, the updates are entirely uneven – there are boarded-up one-story wooden buildings between brand-new hotel towers – the Latvian capital, with its large quantity of meticulously restored decorative facades, is close to pristine. After my month lounging on Autarkia's broken bar stools, I braced myself for the white cube.
I was happily surprised, then, to attend the opening of a new space by the long-running media art collective RIXC. It showcased a series of funny, lo-fi video works from the '90s by a group called F5. Set to early electro and drum & bass, the video loops, which were made to be shown at underground parties, attested to the twin development of media art and club culture in the Baltics at the end of the Soviet era. Alongside these, new VR works by current media art students were displayed, a smart juxtaposition of cutting-edge tech then and now.
This summer, F5 will also show work at Riga's artist-run gallery 427, which was started in 2014 by young Latvians Kaspars Grosevs and Ieva Kraule. When I visited, 427 was just closing an exhibition by the Berlin-based artist Mirak Jamal. Titled 'cornered,' it included a series of retro-looking ink drawings, a blueprint of 427's floorplan, and a makeshift drywall construction. Grosevs told me, smiling, that for some audiences in Latvia the show 'was at the edge of what could even be considered art' – whereas in, say, Berlin, a drywall sculpture with screws sticking out wouldn't raise an eyebrow. Mainstream sellable art in Latvia, he said, often still focuses on 'craftsmanship,' 'forests and nature,' and I would add, nationalist symbolism.
I couldn't help thinking that this historical strand of rather conservative representational work, which I was told still exists in Lithuania as well, could partly be chalked up to a not-so-distant time in which transgressive practices were repressed. Encouragingly, those lost histories are now being brought to light in Riga, too. A new exhibition series at Riga's National Museum, 'Divdabis', pairs works of younger and older artists. The first iteration matches Kaspars with the conceptual artist and critic Janis Borgs, whose work from the 1960s and '70s was never fully realized due to censorship. Here, Borgs's minimalist pieces were finally recreated and exhibited alongside Kaspars's work, including paintings Kaspars had self-censored by covering in whitewash.
This kind of institutional reckoning with histories of repression in both cities was not only impressive in intent but in execution; the emphasis was not on mining past horrors for shock value, but finding ways to revive archival projects in lieu of current political debates.
A Lithuanian friend joked: 'Vilnius has one great thing in every category' – one great contemporary art centre; one great project space; one great museum; one great Georgian restaurant. This is of course hyperbole, and up for debate (especially the last claim), but it gets to the point. There might not be enough lemons to go around, but artists and curators are making, and sharing, the lemonade. This is not to glorify 'marginalization.' If Riga and Vilnius each have one great thing in each category now, imagine what could be done with double the resources.
Main image: Kaspars Groševs, Nothing passes (only that, which passes by), 2017, installation view, Latvian Centre for Contemporary Art, Riga. Courtesy: the artist