Featured in
Renée Green's Colourful Semiotics
At Bortolami, New York, the artist presents a series of text-based banners inspired by the words of two female modernist poets
In 'Excerpts', Renée Green submerges viewers in a panoply of colours and poeticized texts. The centrepiece, Space Poem 7 (Color Without Objects: Intra-Active May-Words) (2020) – 28 double-sided banners suspended high above the viewer – is a series of reversible poems, inspired by May Swenson's poem 'Colors Without Objects' (1965), which can only be fully experienced in person. Equally impressive is Space Poem 2 (Laura's Words) (2011/20), a set of silkscreen prints hung at eye level, which similarly colorizes and reimagines the words of another poet: Laura Riding.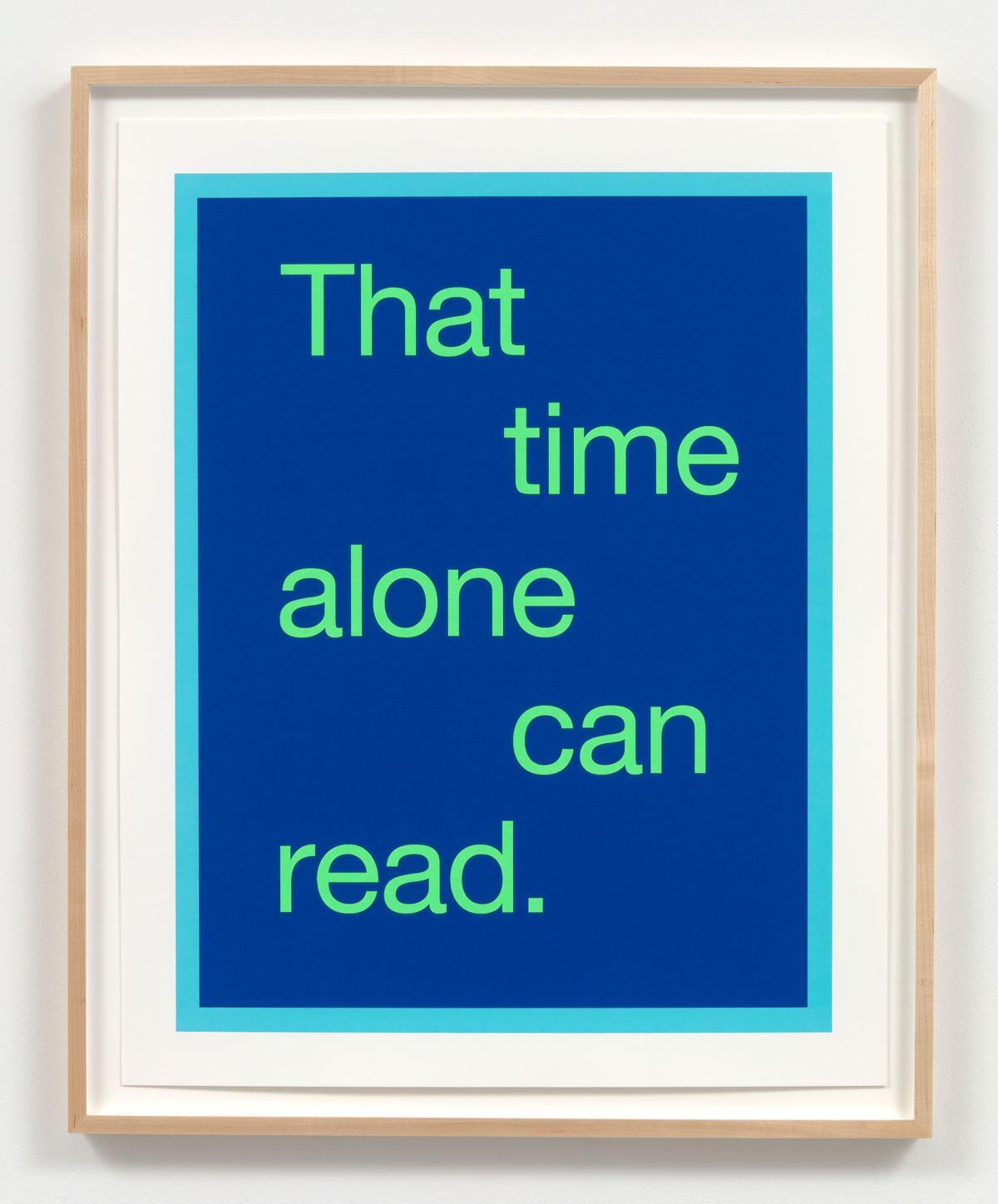 Green's work presents countless opportunities for rereading and for misreading. The individual Space Poem 7 banners can be read literally: 'yellow melting like a firework petal' – in yellow text against a magenta ground – aspires to its proclaimed state. These texts explode above, then rain down upon, the white backdrop of the gallery, playfully exploring the implications of, at one extreme, 'ALL THE COLORS COMBINED' and, at the other, 'THE ABSENCE OF ALL COLOR' – words which appear in Green's Color / No Color (1990), also displayed here in the gallery.
This earlier work – a black and white piece also featuring the words 'NO COLOR' and 'COLORED' stamped in ink against two wooden placards – calls to mind the Black conceptualism of Glenn Ligon, Adrian Piper and Lorna Simpson. Simpson's contemporaneous C-Rations (1991), for instance, is similarly divided into two starkly minimal halves. Like much of Green's work, this show embodies the aesthetic that Piper defined in her 1989 essay 'Xenophobia and the Indexical Present', whereby the viewer is confronted in the here and now. Another piece from the same period, Green's Color Games (1989), is sui generis in its colourfully punning grids. Presenting a comprehensive overview of her practice – including a number of works omitted from her published monographs – 'Excerpts' is a revelation even to those familiar with Green's oeuvre.
Renée Green's 'Excerpts' at Bortolami, New York runs until 31 October 2020.
Main Image: Renée Green, 'Excerpts', 2020, installation view. Courtesy: the artist and Bortolami; photograph: Kristian Laudrup