7 Shows to See in London During Frieze Week
The best exhibitions on view during the fair – from Doron Langberg's splashy gay paintings at Victoria Miro to Theaster Gates's homage to clay at Whitechapel Gallery
Frieze Week is always exciting: all of London's galleries have something special to offer. As a result, art lovers can find themselves in a quandary over how best to distribute their time and energy. So, here are my picks of the best shows to see outside of the fairs this October. 
Doron Langberg
Victoria Miro
First up is Doron Langberg's splashy exhibition of gay paintings at Victoria Miro in east London. Over seven canvases, the US artist paints beautifully rendered scenes of men fucking, bathing, lurking and lazing. The show's title, 'Give Me Love', sounds as a cry for compassion in a culture obsessed with sex and devoid of empathy. After 18 months of global lockdowns, this yearning for affection is something with which we can all identify. Evading the sanitized appearance of many queer lifestyle images with their painterly acumen and grandiose ambition, Langberg's works are refreshingly exuberant.
'Amaru's Tongue: Daughter'
Auto Italia
While in east London, drop into the non-profit space Auto Italia to see Chuquimamani-Condori and Joshua Chuquimia Crampton's Amaru's Tongue: Daughter (2021). The 8mm film draws on a ritual from Aymara – an indigenous nation whose territory overlaps with Bolivia, Chile and Peru – to humorously enact a ceremony for the artists' late grandmother, Flora Tancara Quiñonez Chuquimia. The excellent ambient, almost shoegaze score of jaunty guitars and thundering bass unifies the many strange and repetitious visual elements. At a time when highly conceptual works seem to lack the visual impact we so desperately crave post-lockdown, this film's loose and bold approach is compelling. 
Issy Wood
Carlos/Ishikawa
Issy Wood has made her name painting powdery mise-en-scènes of waxy trench coats, cosmetics, smoking guns and Egyptian marbles. Her images occupy a sort of eroticized plane in which high fashion, art and ancient history collide. Call it neo-surrealism, if you will. Wood's latest exhibition at Carlos/Ishikawa in Stepney Green presents a series of new oil-on-velvet paintings, featuring her characteristic depictions of fragmented, conflicting, whimsical, and, at times, mildly fetishistic signifiers. The appeal of Wood's paintings is in their ambiguity – the sense that something untoward might happen, and you might like it.
Theaster Gates
Whitechapel Gallery
Theaster Gates's solo show at Whitechapel Gallery is dedicated to his infatuation with clay in all its forms. As is the case throughout his practice, the artist's project here is to intervene not only in collections, communities and museums but in received notions of history. Whitechapel's long upstairs gallery is at its best when unhindered by partitions, and Gates's spectacular arrangement of oversized ceramics furnishes the open space with a quiet and resolute purpose. In 'A Clay Sermon' – as well as companion shows at the Victoria & Albert Museum and White Cube – the artist uses his passion for clay to excavate the material's social histories, currencies and legacies as sites of exchange and trauma. Gates's takeover of London this autumn feels entirely justified with these three excellent shows.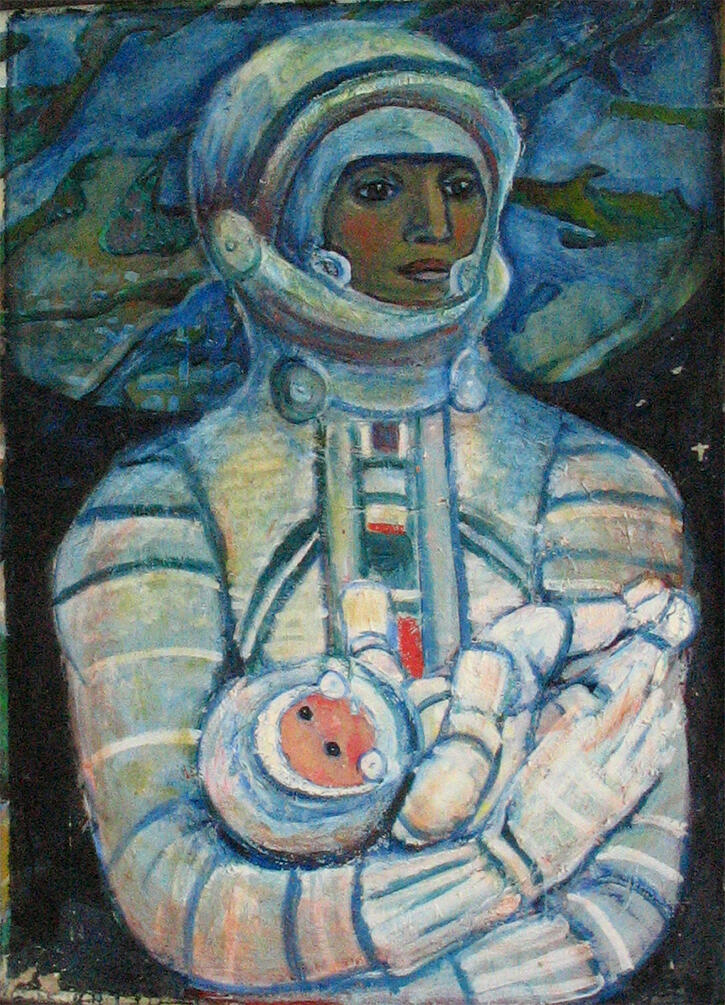 'Cosmic Mothers' 
Mimosa House 
Mimosa House's celestial group show takes Galina Konopatskaya's mysterious Soviet painting Cosmic Mother (1970) – depicting a mother and child in astronaut suits – as its point of departure. Curator Daria Khan has selected works by five artists – Bonnie Camplin, Annie Goh, Jackie Karuti, Janina Kraupe-Świderska and Alexandra Paperno – who address alternative constellations of knowledge through queer, postcolonial or spiritual lenses. The show positions contemporary artists in discourse with little-known historical figures, such as Kraupe-Świderska, whose work has never previously been exhibited outside of her native Poland. While I can't profess to fully understand Camplin's proposition for spiral theory nor comprehend the synesthetic impulse that birthed Kraupe-Świderska's aura paintings, I know I want to go where they're taking me: skywards.
William Scott 
Studio Voltaire
Studio Voltaire in Clapham reopens this week following extensive redevelopment, and it's worth making the journey to south London to see the new garden, studios and (trust me!) toilets alone. The inaugural exhibition is a concise and fantastic snapshot of US artist William Scott's varied practice, including paintings, drawings, sculpture, film and an insightful selection of handwritten letters. Scott imagines a future in which civil-rights leaders, Black singers and celebrities return from the past to heal the earth. Expect to see Prince and Diana Ross alongside Martin Luther King Jr and members of Scott's church congregation in space.
Anicka Yi 
Tate Modern 
Tate has filled the Turbine Hall with many things over the years: a sun, a vast red plastic trombone, a delivery office in which all the boxes were white, a sea of metal beds and a carpet of porcelain seeds. It's a difficult commission that, I imagine, artists equally dread and relish. 'In Love with the World' is a collection of almost-sentient, plastic units that bob around in the air and routinely return to a partially obscured docking station like something out of Star Wars (1977–ongoing). It's a complicated engineering operation with soothing qualities: reacting to human body heat, the pods diffuse a sickly-sweet smell throughout the space. Was I cynical? Yes. Have I seen something like it before? No. Whatever your opinion, it'll give you something to debate at the fair.
Plus: Mickalene Thomas's explosion of fractured, found imagery on Black femininity, 'Beyond the Pleasure Principle', at Lévy Gorvy, and Maïa Nunes and Pádraig Spillane's first showing in the UK, 'Silver-Tongued Seas', which opens at Jupiter Woods on Saturday 16 October. 
Main image: Mickalene Thomas, Jet Blue #25 (detail), 2021, rhinestones, acrylic paint, chalk pastel,
mixed media paper and archival pigment prints on museum board mounted on dibond, 2.1 × 1.5 m. Courtesy: © Mickalene Thomas / Artists Rights Society (ARS), New York