Featured in
Studio Voltaire Takes on New Terrain
As collective reopens its renovated exhibition space we look back at its impressive record of rearing talent, dating back to its tram-shed Clapham days.
It was a collective of twelve artists who, in 1994, set up Studio Voltaire as a shared studio space in a former tram-shed on Voltaire Road in Clapham, a South London neighbourhood more associated in the public consciousness for its verdant common, with cruising grounds and chicken shops, than contemporary art. Five years later, it was re-sited to part of a former Methodist mission on nearby Nelson's Row. Over the next two decades, the wooden beams and tall windows of the building's chapel-like exhibition hall have born witness to the first debut solo shows in the UK by acclaimed artists such as Shahryar Nashat (2011), Nicole Eisenman (2012), Judith Hopf (2013) and Jamian Juliano-Villani (2016). Showing at Studio Voltaire has for some artists proved a turning point in their wider reception: see the case of Phyllida Barlow DBE, whose 2010 'Bluff' was instrumental in her belated recognition by the art world.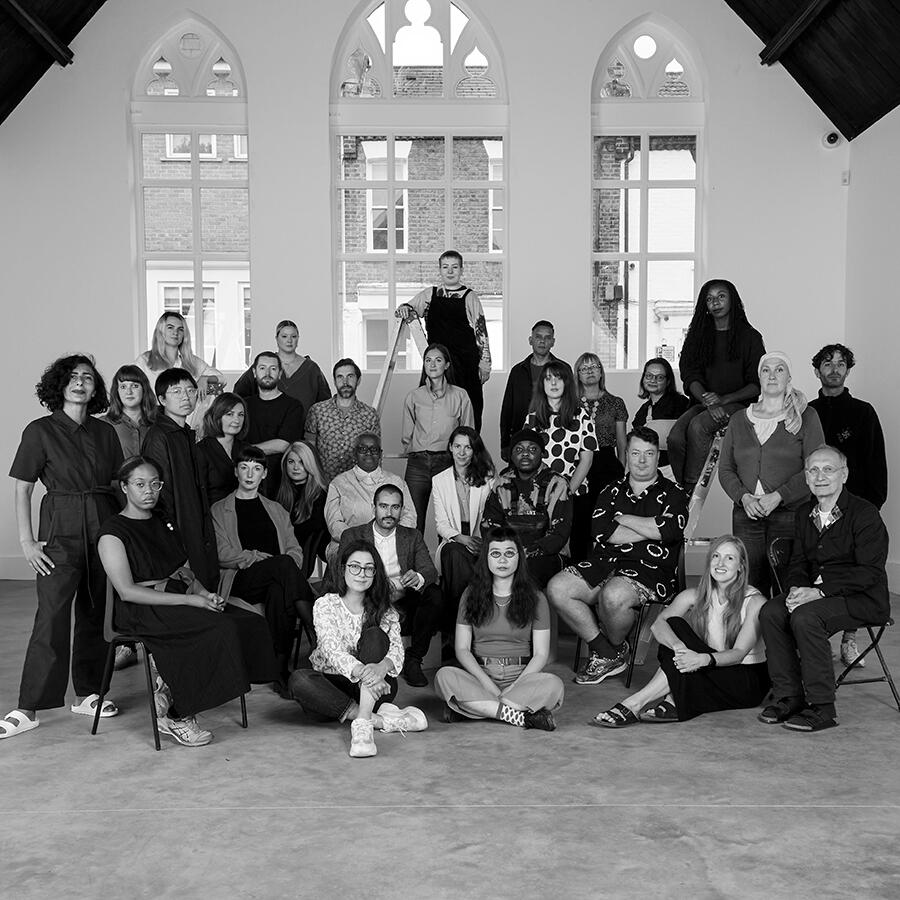 Joe Scotland, Studio Voltaire's Director since 2010, first joined the organisation as a studio tenant, and over the years, its studio complex has been no less vital than its exhibition programme: utilized by the likes of Turner Prize-nominee Anthea Hamilton as well as cultural tenants such as ActionSpace, a development agency for neurodivergent artists. The reopened facilities increase the amount of affordable studio workspace by almost a half, and triple the amount of space accessible for ActionSpace artists. A new initiative, the LOEWE FOUNDATION / Studio Voltaire Award, will see studio space made free for two years to seven selected recipients at a time.
The reopened Studio Voltaire also boasts a dedicated education space, a cafe, and a permanent home for House of Voltaire, the organisation's arm that fundraises through artists editions, artworks and accessories and homewares: you will find some of their latest deeply desirable offerings at the Allied Editions stand at Frieze London. On view during Frieze Week, the space reopens with the first solo exhibition outside the USA of Bay Area artist William Scott, whose paintings and sculptures are a deeply moving lexicon of Black life. The first survey of Scott's work in three decades, the exhibition will spill out of the building, with Scott's sculptures sited in other public venues in the area. As timely as it is surprising, knitting the global and the local, and full of vision and passion: it promises everything that this institution does best.
Trained as an artist, Joe Scotland first came to Studio Voltaire as a tenant of the artists' studios, and became an employee in 2003 when he took on a half-a-day-a-week job, working on the organisation's funding applications. 'There were a few people in the office who had started just before me and had similar ambitions for the space, so we were doing it together,' he told Andrea Phillips in an interview as part of the 'How To Work Together' research programme in 2014. In 2010, he became Studio Voltaire's inaugural Director. 'In a really selfish way', he told Phillips, 'I think I'm the primary audience. It still comes from the organisation, but I am inviting all the artists I would like to see. ... That doesn't appeal to everyone, but that's also its strength.' That initial start in fundraising would serve Scotland well; the Studio Voltaire Capital Project, which saw expansion and redevelopment leading to  the reopened Studio Voltaire of today, required £2.8 million, raised over a number of years. In 2020, Scotland described to writer Nicolas Smirnoff how: 'A large part of my role is fundraising and income generation, and as our team grows I seem to spend more time managing and overseeing other people' (the core team now numbers 16).
'It should be an obvious thing to say,' Scotland reflected in 2020, 'but working with artists (and their work) is the best part of my role.' Happily, the Studio Voltaire Board of Trustees numbers artists Pablo Bronstein and the Turner Prize-winner Elizabeth Price (who showed an important video work here in 2006–07), as well as regeneration specialist Fred Manson OBE, and Catherine Wood, a Senior Curator at Tate. Frieze's own Board Director, Victoria Siddall, became a Trustee in 2011, and has chaired the Board for the last six years. Tracing Phyllida Barlow's ascent from her Studio Voltaire show, through to representing Britain at the Venice Biennale in 2017 'sums up Studio Voltaire very well to me', Siddall tells me. 'I often think they play the hardest and most important role in the art world, which is to give artists an exhibition at a crucial stage, before they are shown in bigger institutions and often before they have gallery representation. Being parts of the redevelopment efforts, Siddall notes, 'has been fantastic: going from being a space with a great programme but a leaky roof, to a world-class gallery and vital studio building with a thriving community of artists.'
Some curatorial currents seem to run through Studio Voltaire's historic exhibitions, from gender (via Judith Bernstein and Alexandra Bircken to the Neo-Naturists), to queer voices (like those of Sharon Hayes, Edward Kay, Charlotte Prodger and Henrik Olesen); to an attention to artists from working class backgrounds (like Bod Mellor, or the late Jo Spence). But what seems to fundamentally drive the programme fundamentally is a keen, open curiosity about artists themselves. The breakthrough Phyllida Barlow exhibition, say, came after Barlow was championed by sculptor Nairy Bagrahmian, who produced her first solo exhibition in the UK at Studio Voltaire in 2009–10. Scotland and then Studio Voltaire Curator Sarah McCrory visited Barlow's studio soon afterwards: they 'decided on the spot to offer her a show', as Charlotte Higgins noted in her account of Barlow's rise in The Guardian, tracing how mainstream recognition rapidly followed Barlow's ensuing exhibition at the space, the astonishing 'Bluff' (2010).
'I think Studio Voltaire likes art, so they then try to allow everything else to follow from there', artist Joanne Tatham writes to me via email. Tatham and her artist collaborator Tom O'Sullivan first exhibited work at Studio Voltaire in 2005, before collaboration with the institution on several offsite projects, such as in 2006, when they translated a version of that exhibition to the clifftop studio of late Scottish painter Lil Nielson in the small Aberdeenshire coastal village of Catterline. 'There's always a possibility of absurdity', Tatham says, 'embedded in our working relationship with Studio Voltaire.' For the reopening, Tatham and O'Sullivan have created a new permanent commission installed within the building's loos. 'It's a very confident, intuitive and humorous approach to commissioning work, and I think this reflects what Studio Voltaire stands for in a much wider way', Tatham says.
Artist Anthea Hamilton's work with Studio Voltaire has taken a similarly plural, long-term form: occasioning her first artistic collaboration with her partner, Nicholas Byrne, for an offsite project in 2009, and participating in the group exhibition 'Notes on Neo-Camp', curated by Chris Sharp in 2013. A long-term resident of the area, and now with a studio in the expanded buildings, Hamilton has created a permanent commission for the main entranceway, inspired by South London gardens. Both 'a garden and an artwork', it's an exciting move into new terrain by this essential artist.
Around thirty artists, collectives and arts organisations currently use the new, expanded studios at Studio Voltaire, which also offers a bookable specialist workshop and project studio spaces. In a city where affordable studio space for artists has long been in a state of crisis, the provision is much needed. Current artist tenants range from established artists such as Kaye Donachie, whose dreamy, psychic re-imaginings of cultural outliers are currently on view at Lismore Castle Arts in County Waterford, Ireland, to emerging figures, such as sound artist Ain Bailey, whose collaboration with Ego Ahaiwe Sowinski, Remember to Exhale (2020) – look it up on Soundcloud – was as part of 'Desperate Living C-19', a public programme aiming to support LGBT people during the first phase of the pandemic. Not everyone fits the mould of typical studio-based practice: the curatorial duo Languid Hands work here, as does Jamila Prowse, an artist, writer and researcher who probes her own experience as a disabled person of Black descent to 'understand and subvert barriers to working in the arts', in her words.
Breaking down barriers to the arts is core to Studio Voltaire's long collaboration with ActionSpace, an organisation that uses dedicated studio space within the building for their programme of one-to-one mentorship for artists with learning difficulties, helping to develop their practice and move on in their career. The links between the two organisations are strong: Charlotte Hollinshead, who also works as a facilitator for ActionSpace artists, has a studio here, as does Nnena Kalu, a neurodivergent artist who has worked with ActionSpace for twenty years, and whose vigorous, process-led sculptures were exhibited at the Cork Street Galleries in 2020 as part of the 'Studio Voltaire off-site' programme. Kalu was one of seven artists selected for the LOEWE FOUNDATION / Studio Voltaire Award, which provided each winner with two years' rent-free studio space, a development and a bursary. In the Award's second phase, a year-long residency for an international artist will be established at Studio Voltaire, adding one more star to this already bright constellation.
This article first appeared in Frieze Week, October 2021 under the headline 'The Gang's All Here'
Upcoming exhibitions at Studio Voltaire:
William Scott on view from15 October until 2 January 2022
 
Monster Chetwynd: Free Energy on view from 15 October until 14 November
 
Conal McStravick, Desperate Living: Queer Care Camp on view from 15 October until 24 October
Main image: Left to right: Fred Manson OBE, Joe Scotland and Victoria Siddall