Taking Back My City: What Arts Collective Resolve Teaches Us About Local Engagement
Working across art, design and architecture, the trio make community-focused work that aims to have a long-term impact on an area and its inhabitants
How does Sheffield adhere to European standards of beauty? Via its buoyant art scene. With old industrial sites repurposed into galleries and theatres, the city has flourished into one of the UK's leading cultural centres in recent years. 'We're interested in the stories that underpin some of the much larger narratives in Sheffield,' say Resolve Collective, a London-based interdisciplinary design trio made up of Gameli Ladzekpo, Akil Scafe-Smith and Seth Scafe-Smith —'stories of migration, ableism, race and gender.' The collective's latest venture sees them transforming the city's S1 Artspace located in the sepia-toned almost-demolished Park Hill estate, into a 'living archive.' An installation in the gallery and a programme of public events titled 'The Garage' attempt to decode the ways in which citizens emotionally respond to, and move through, the buildings, environments and neighbourhoods in which they live. 
Since 2016, Ladzekpo, Akil Scafe-Smith and Seth Scafe-Smith have been making work that straddles disciplines including architecture, art, design, engineering and technology. Their practice has a strong anthropological approach. Last year at Berlin's Haus Der Kulturen Der Welt, the collective presented 'Off Grid', a mathematical installation of colourful crates that looked at human separation in cities. The modular work was also used as a storytelling arena for performances by local artists. 
The act of gathering is a strong component of Resolve's practice and motivations. In a section titled 'Organising' at S1 Artspace, the group have assembled a structure where talks and events that they host take place, fashioned in a way that encourages 'close proximity to one another,' perhaps as a tool to dismantle hierarchical structures. While the work doesn't ignore visuality; colour, pattern and shape are all considerations here, the work attempts to go far beyond the corporeal. 'I don't think the work is the physical thing, it's what happens when you get people together,' says Ladzekpo. Given that the predominantly white and middle-class art world's long-held mission has been to find new ways to be more accessible to those that exist outside of these privileged categories, endeavours such as those initiated by Resolve can perhaps help to remove barriers to access much more quickly than regular gallery programming can.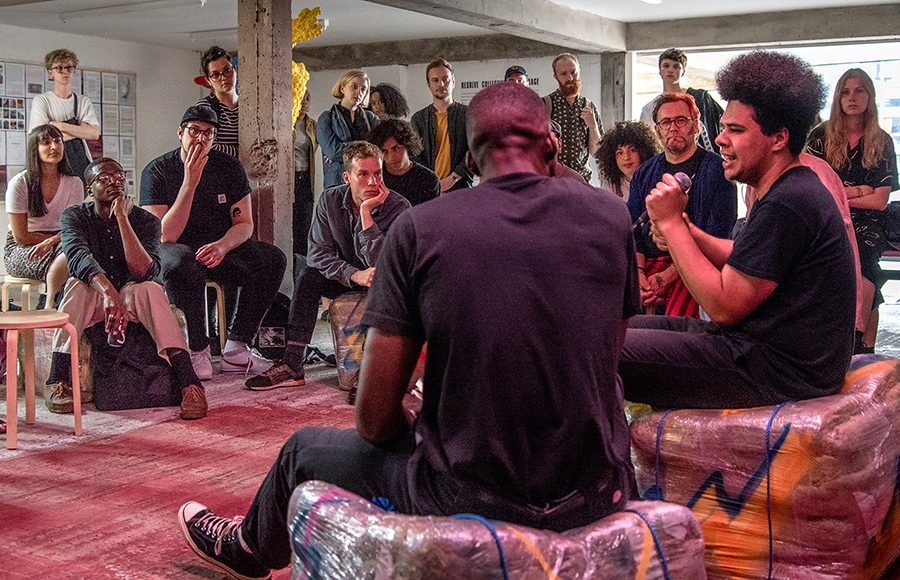 Much of Resolve's early work focused in and around London, specifically Brixton. In 2017, they temporarily transformed an abandoned space underneath Brixton Station passageway with a project that looked at the value of urban markets and how they are socially, culturally, politically and environmentally valuable to society. But with 'The Garage' focusing on the ways in which race and class impact structures that exist within the North, it produces important and necessary research outside of London. Working with students from Longley Park Sixth Form College in Sheffield, some of the show's work considers what it feels like to be a statistic, specifically in relation to poverty maps and reports such as 'The Fairness Report' (2017), which looks at Sheffield's 83 bus and how it moves through the city. The report found that with each passing mile, the life expectancy of women drops by one year. 'From end to end, you have a life expectancy drop of 10 years,' explains Akil Scafe-Smith. 
This idea of journeying is also key to Resolve's work. In the 'Mapping' section, participants dot out key locations on a diagram of the city. 'It stops being a map and becomes an ethical object, it becomes a portrait,' says Akil Scafe-Smith, who also mentions that 'you can tell white Sheffield from non-white Sheffield.' The work, importantly, doesn't ignore race or heritage. As they are interested in 'speaking to their own cultural identities as African diaspora,' it takes into account the diverse communities that exist within the city, how they came to be there and how they attempt to coexist. 
Resolve are doing important work. And if you consider them alongside other collectives such as Forensic Architecture, you can see how they are reconfiguring what a creative practice can be and what it can achieve beyond personal and career-minded motivations. Without having to adhere to the regulations of any specific field, they are able to move freely and occupy various spaces. The outcome of art projects that involve outreach community work can often feel too elementary in their attempts to draw in non-academic audiences, but Resolve's work, layered in facts, figures, research and historical accounts, proves that work of this nature can be unintimidating without having to be simplified. 
So what is next for the trio? 'A space where we can channel some of the temporary rifts we have caused and see if it can have a permanent impact on a space or area,' says Seth Scafe-Smith while discussing how they hope to transition from temporary exhibitions to long-term ventures. This future, where creative practitioners create longstanding work that implants itself within a particular place or community, is a future we should all keenly anticipate, and one Resolve seem capable of constructing.
RESOLVE Collective: Seth Scafe-Smith, Gameli Ladzekpo and Akil Scafe-Smith outside residency opening, Brixton, 2017. Courtesy: Vishnu Jay