Visiting Art Galleries Makes You Happy, New Study Finds
In further news: Greece in discussion with France about Parthenon frieze loan; ICA LA plan to become first solar powered museum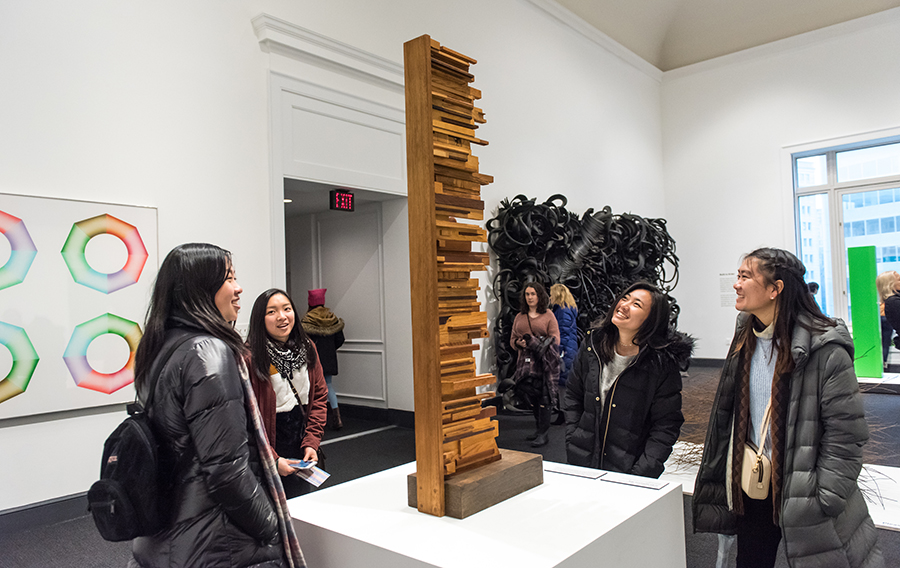 Visiting art galleries makes you happy, a new study has found. Research commissioned by Arts Council England has found that the presence of arts and culture has a positive effect on a person's sense of community, well-being and their overall satisfaction with their location. The 2019 study titled: 'The Value of Arts and Culture in Place-shaping' looked at six different sites across the country, including Birmingham, Halifax, Hastings, Redruth, Southampton and Stoke-on-Trent. The report draws on 1,756 responses to a survey conducted in the UK in 2017. It found that 65% of people think that arts and culture are good for wellbeing and 36% think arts and culture are 'essential to life'. The study also found that 44% of those who stayed in an area and 43% who moved, said that arts and culture were important contributing factors in their decision, an equivalent percentage to those citing schools as their reason to move to a particular place. 49% of people also believed that attending arts events helped them to feel part of a community.
France's president Emmanuel Macron is in talks with Greece regarding the loan of a marble frieze removed from the Parthenon. The fifth-century BC Athenian metope which depicts the battle between the centaurs and the Lapiths is currently housed at the Louvre in Paris. As reported by news agency ANA, Greek prime minister Kyriakos Mitsotakis hopes to obtain the loan for the country's bicentennial independence celebration in 2021. In return, the Louvre would receive a collection of bronze artefacts. A Greek government official told ANA: 'The details will be worked out by the respective culture ministries. This is a temporary exchange.' The move would add pressure on the British Museum in London to reconsider its own collection of sculptures from the Parthenon, the Art Newspaper reports.
The Institute of Contemporary Art in Los Angeles has shared plans to become the first solar powered art museum. According to a statement released by the institution, their goal is to install 206 solar panels, with USD$25,000 to be raised through a Kickstarter crowd-funding campaign. The project is expected to cost a total of USD$156,000 in total and is driven by Los Angeles's attempt to become carbon-neutral by 2050. According to ICA LA's deputy director of advancement Samuel Vasquez, 'our audience counts on us to uphold the wellbeing of our community, and once we looked at the numbers and saw that it was possible to go solar, we felt obligated to make the change. It will not be easy and there will be a large cost, but we feel it is our duty as a civic leader and advocate for social progress.'
In further news: Solveig Øvstebø has stepped down as executive director and chief curator of Chicago's Renaissance Society; Claire Richardson has been appointed the executive director of the Australian Center for Contemporary Art in Melbourne; artist Ragnar Kjartansson has won the 2019 Fennica Prize – Finland's biggest award for the visual arts; and Almine Rech now represents the Karel Appel Estate.