Celebrating Vivienne Westwood (1941–2022)
Michael Costiff, John Foley, Pam Hogg and Princess Julia pay tribute to the pioneering fashion designer and activist
Vivienne Westwood was one of the most significant cultural forces in post-war fashion. Beginning in the mid-1970s, as she told the BBC's Sue Lawley in a 1992 episode of Desert Island Discs, she and her partner Malcolm McLaren made 'a fantastic and heroic attempt to understand whether there was such a thing as an establishment, like a door that you could almost kick'. McLaren's savvy taste for spectacle married with Westwood's provocative clothing, which repurposed pornographic imagery and fetish attire in traditional materials, such as tartan and wool. Though she propagated the imagery and attitude that would come to be known as 'punk', she was also one of the first to depart from the movement. 
Transforming her namesake fashion house into a global brand, she would go on to be named British designer of the year in 1990 and '91, influencing countless artists and creators in outlook and output. In more recent years, her attention turned towards a matter that squarely implicates the fashion industry: the future of the planet. She was a relentless star whose innovation and irreverence taught generations how to dress and behave as though they belonged, without acquiescing to facile, conservative forces. Here, she is remembered by four prominent names from fashion – Michael Costiff, John Foley, Pam Hogg and Princess Julia.
– Sean Burns 
Princess Julia 
There has always been something about Westwood's work that spoke to me, ever since I first discovered her in 1976. The designs on sale in the shops she established with McLaren – SEX and, later, Seditionaries – caused a stir in the youthful 'punk' subculture of the day. In 1977, I was a hairdressing apprentice, saving up my tips to buy a pair of her bondage trousers, muslin tops or mohair spider knit jumpers. We were obsessed. I remember tentatively walking through the door of Seditionaries while the eyes of Jordan, the ultimate shop girl, surveyed the space. Talk about an immersive experience! Whatever was going on in there, it was like nothing I'd ever experienced before. Strangely, making the pilgrimage to the World's End today, situated exactly in the same spot, fills me with the same wonder as all those years ago. 
Westwood transcended the decades with her presence and commitment to pioneering craft, design, cut and concept. I have followed the various incarnations of Westwood over the years with admiration. She surely represented the subversive side of fashion in all its glory. In the 1980s, I dipped into the short-lived shop Nostalgia of Mud, wore her 'Witches' (1983) collection with pride and marveled at the direction 'Hypnos' (1984) took me on. I have continued to update my wardrobe with her pieces to the present day. 
Vivienne may have said, 'buy less', but it's been hard to resist collecting Westwood. What remains within the threads of Westwood's ethos is the courage to speak out and the daring to create different ways of dressing, an attitude that has really inspired generations of designers, artists and activists. For young people today, discovering her has the same impact it had on me back in 1976.
John Foley 
Fashion meant the most to me when I was younger, and I couldn't really afford it. I had to go through strenuous financial gymnastics to get certain pieces. The one designer we all wanted to wear was Westwood. It's been said her clothes were provocative and controversial. Indeed, this was true for those of us who wore them, walking around in public. Strangely, a pirate ensemble I wore in Dublin proved the most provocative. That outfit was downright dangerous to wear. I nearly got beaten up in broad daylight on crowded streets, and endured endless verbal abuse and aggression. Of course, this didn't stop me. Wearing Westwood's clothes was a commitment to rebellion and excitement. 
Pam Hogg  
Vivienne was the flame that ignited my desire to become a fashion designer. Previously, I had no interest in fashion, even though I'd been making my own clothes from age six. I felt fashion was a kind of fascism - people telling others what to wear - resulting in uninspiring trends set to make everyone look the same.
Then, in the early 1980s, I saw her first show – what a wakeup! I'd sneaked in with the help of my friend Alan MacDonald, who insisted it was something I had to see. I was wearing my first Westwood/McLaren purchase, my still-treasured black leather spiked Seditionaries boots.
An adrenaline rush from fear of being caught and thrown out heightened the joy radiating through the room when the glorious models, carefree and irreverent, danced up and down the catwalk, wearing clothes beyond anyone else's imagination but Vivienne's. At last, a collection of clothes that made me sit up and think. 
I'd always thought I'd be a painter; it was the only subject I excelled at in school other than sewing. When I arrived in London in the late 1970s, after a course in printed textiles at the Glasgow School of Art, the Blitz club was the first place I felt connected, even though I was an outsider. Steve Strange's strict door policy revived my interest in making clothes, but this Westwood show, and her subsequent work, gave me a reason to explore my imagination.
Vivienne will never be forgotten. She was like no other. A phenomenal individual, a completely unique and fearless forerunner, still challenging the system till her last breath.
Michael Costiff   
Gerlinde and I lived just down the road from 430 King's Road (I still do), so we passed Vivienne and Malcolm's shop almost daily. We had known Tommy Roberts when he had Mr Freedom on the premises, and Trevor Miles, who had Paradise Garage. 
We met Malcolm and Vivienne when they first moved into the back of the shop selling teddy boy gear, with Vivienne on her sewing machine and a vintage jukebox blaring out. Vivienne and Malcolm were a really fun couple, with lots of energy and crazy ideas. We liked them a lot. 
Vivienne and I both come from small villages in north Derbyshire, so, I suppose, we had that northern bond. It was fun to see the goings on in the shop, especially during punk times, and even better when the wonderful Jordan and a cast of unique shop staff joined the mix.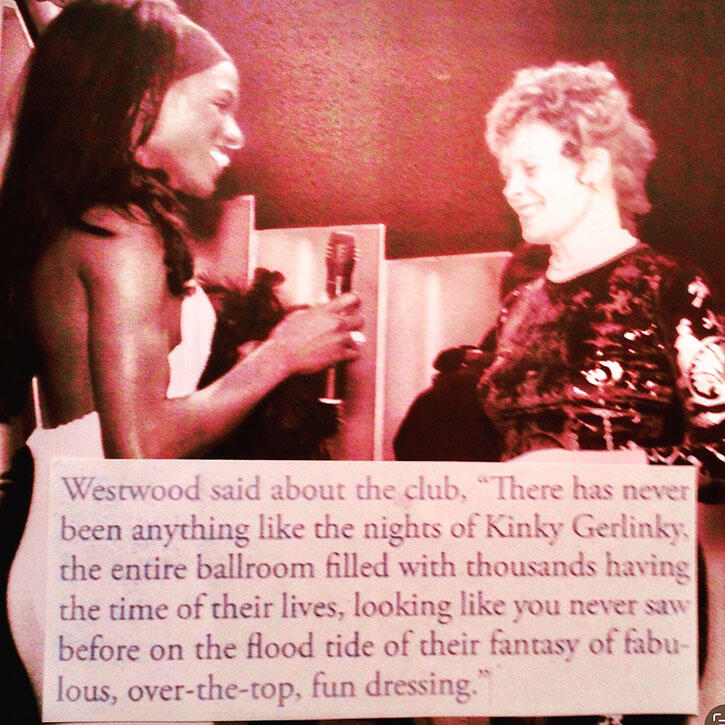 The shop created quite a buzz in that corner of the King's Road. Other punk places, such as Beaufort Market, opened, and the local pubs started putting on punk gigs. Malcolm always kept us informed of what The Sex Pistols were up to and invited us to all their early gigs, and of course, we loved all the clothes they were doing and bought lots. 
Malcolm and Vivienne often came home with us after gigs and kept us up all night laughing, drinking and talking. They were good times. 
The Pirate show at Olympia in 1981 was a sensation, and we went to nearly all the shows after that. (Vivienne very kindly dedicated her Paris show to Gerlinde in 1994 after her sudden death.)
When Vivienne was having financial difficulties and candles lit the shop, we lent her the money to keep it open, asking only to be repaid in clothes, and we were! (We never told anybody this, but Jordan knew and wrote about it in her book, Defying Gravity: Jordan's Story, 2019.) Vivienne would often make custom pieces for Gerlinde. 
Over the years, we have met often, always pleased to see each other and with plenty to talk about. Vivienne came to our club, Kinky Gerlinky, and received rapturous applause whenever she stepped on stage and had a ball.
After Gerlinde's death, I began sorting our clothes, only to discover that we had over 300 pieces from the shop! The Victoria & Albert Museum were very happy to acquire them, particularly because we had pieces from 25 consecutive years. The clothes now form The Costiff Collection in the museum's permanent collection; Vivienne was very happy about this. Vivienne was always a wonderful woman with a big presence in my life – thank you for everything, Vivienne. 
Main image: Vivienne Westwood backstage during the 1999-2000 Autumn-Winter ready-to-wear collections, Paris, 1999. Courtesy: Manoocher Deghati/AFP via Getty Images)