Zündkerze
At Matthew Bown Galerie, Berlin, works by three British artists is presented by the curator David Thorp as a cross-section of the post-YBA generation
If the YBAs were the 'me' generation, and current socially-engaged art represents the 'us' generation, Thorp argues that the artists of 'Zündkerze' (Sparkplug) are somewhere in between: analyzing social norms via the imagery and paraphernalia of popular culture.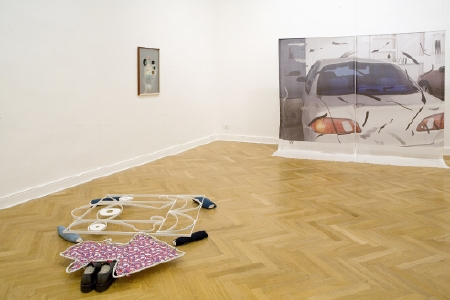 Helen Marten's logos like candy, type like bread (2010) is a highly pictorial floor-based sculpture, in which a concrete-filled shoe supports the silhouette of a man in a fedora made out of patterned fabric stretched on a steel frame, rather like a beach chair. This noir imagery is literally inserted into a second structure, made of powder-coated welded steel, which seems to reference the popular post-Picasso style of 1950s design. This second item could conceivably be a fragment of a garden gate, or a bedstead. There is a great density of reference here, not merely in the imagery but in the forms in which the imagery is cast. The whole work is supported on suede-covered cushions and hovers a few inches off the floor, parallel to it. Could the work's explicit pictoriality be yet another cultural reference – to the '60s obsession with the picture plane and painting's relationship to the wall?
Several works by S Mark Gubb take up the largest room in the gallery and comprise a kind of installation exploring the furniture of the street: illuminated signage, posters, bus-shelters. We've Been Waiting Now For Much Too Long (2010) is a light box that bears a Russian slogan from the 19th-century Russian nihilist, Dmitri Pisarev: 'What can be smashed, should be smashed'. You Suffer… (2008), a multi-sheet poster glued casually to the wall so that its surface is articulated by wrinkles, displays the enigmatic phrase, 'You suffer … but why?' It seems like a slogan from a proselytizing church, although in fact it derives from a rock song. Differences Instead of Sameness (2010) is a bus-shelter built from oriented strand board panels. These are the sheets usually used to replace panes of smashed glass: here the entire structure is built from them. All these familiar elements of the urban landscape are tweaked into the sphere of art, while still referencing vandalism and urban decay.
Damien Roach has filled a room with a variety of objects, including Untitled (2010), a large two-way Perspex mirror that hangs from the ceiling; Untitled open structure (2010), a bookcase from IKEA; Untitled (light refracting mirror strips) (2010), strips of rough-cut mirror propped against a wall; the projection Fig. 15 (2010); the sound recording In the air (2010); and Peppered moth (2007), the cut-out image of a moth. These works seemingly reference a multiplicity of spaces, from living rooms to public bathrooms, airport lounges to furniture stores. Each item retains a kind of autonomy while helping to create spatial perspectives that are fluid and seductive. What links Roach to the other two artists is not only an interest in the imagery and technology of popular and mass-produced culture; it is also a sort of belief in the inherent eloquence of objects: a belief that ordinary things in the multiplicity of their references, are as articulate as images. In this sense, the new generation proposed by Thorp probably traces its descent from Marcel Duchamp.
The curator's premise, that these three artists are emblematic of a new generation, is polemical and debatable; but the show on its visual merits is successful, particularly as installed here – in separate rooms interlinked by large doorways, which allows a conversation to emerge among the work of the three artists.