Featured in
Belkis Ayón's Feminist Ritual Practice
On occasion of the artist's posthumous retrospective at Ludwig Forum, Aachen, Aldeide Delgado unpacks the symbolism of La sentencia (1993) 
It has long been a creative strategy within feminist art practices to pay homage to women in history by generating visual metaphors and allegories that speak to their experiences. Judy Chicago's pioneering work The Dinner Party (1974–79), for instance, features a table set for 39 women who have been largely neglected in the history of Western civilization. In the Cuban context, this trope is evident in Tania Bruguera's Tribute to Ana Mendieta (1985–96), who many believe to have been tragically murdered by her husband, Carl Andre. But it is arguably Belkis Ayón's collagraphs centring Black female subjectivity that best exemplify the notion of homage as a feminist ritual practice.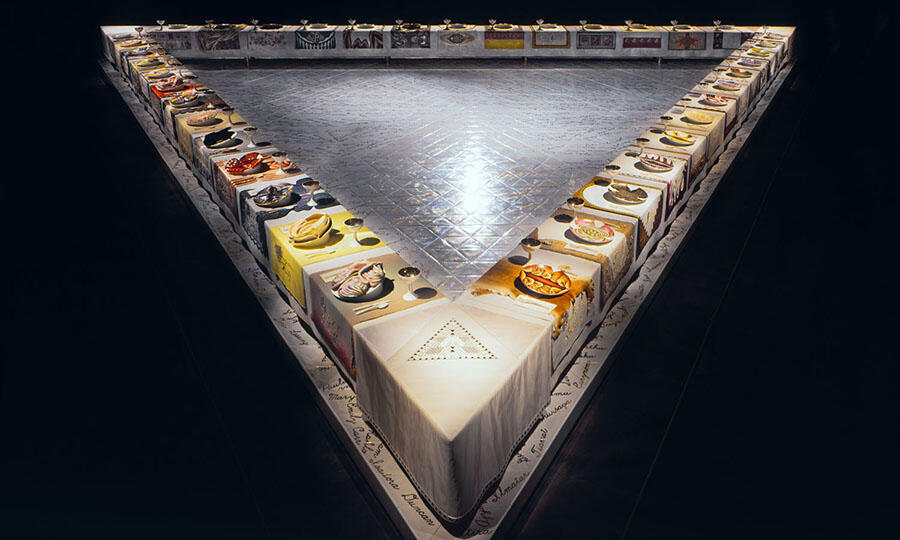 Born in Havana in 1967, Ayón graduated from the San Alejandro Academy of Fine Arts in 1986 and the Instituto Superior de Arte in 1991 at a time of severe economic and political crisis in Cuba. A central theme of her work was the marginalized Afro-Cuban fraternal society Abakuá – in particular, the role of Princess Sikán in the society's otherwise exclusively male creation myth. In the collagraph La sentencia (The Sentence, 1993), Ayón depicts the moment Sikán is condemned to death for revealing a powerful sacred secret, unknown to this day, which she learned from Tanze, a fish whose voice was a manifestation of the deified ancestor King Obón and of the almighty God Abasí. Sikán's fears and anguish are reinforced by the print's dramatic monochrome tones and the tense contrast between her expressive eyes and two intimidating snakes that envelop her.
In a 2020 lecture at the Institute of Contemporary Art, Miami, art historian Erica Moiah James, referencing the late American scholar Robert Farris Thompson, unpacks the influence of Nnimm culture on Ayón's work. Through this reading, the cluster of feathers in Sikán's hand can be seen as a symbol of silence and a means of designating the keeper of secrets in Nnimm – the secret sorority of the Ekoi people – of which Sikán was, presumably, a member. Although there are different interpretations of the Abakuá foundational myth, one prevailing theme is that women were initially in possession of the sacred secret. After traversing the Middle Passage, however, these enslaved women and their descendants were denied access to the new, exclusively fraternal Abakuá society, thus signifying a break in a societal order in which women served as religious leaders alongside men.
Ayón's collagraphs – which are now held in collections across the world, including Tate Modern and MoMA – marked a significant turning point in Latin American printmaking. They constituted a new symbolic visual archive generated from the syncretization of the sacred history of Abakuá while unveiling the subjectivity of a Black woman, Sikán – paralleling the artist herself – whose tribulations intertwined myth and reality in 1990s Cuba.
This article was first published in frieze issue 230 under the headline 'Secret Keepers'.
Belkis Ayón's 'Ya Estamos Aquí' is on view at Ludwig Forum, Aachen from 21 October until 26 February 2023.
Main image: Belkis Ayón, La sentencia (detail), 1993, collagraph. Courtesy: Belkis Ayón Estate, Havana; Photograph: Carl Brunn