Featured in
Billie Zangewa's Silk Tapestries of Everyday Feminism
At Lehmann Maupin, Seoul, the artist presents a suite of hand-sewn paintings affectionately depicting day-to-day domesticities and family life
In the traditional craft shops in the area around Lehmann Maupin's Seoul gallery that hosts 'Flesh and Blood', Billie Zangewa's first solo exhibition in the city, jogakbo – a Korean form of patchwork quilting – can be seen in abundance. Before Korean society began to modernize in the 19th century, women sought good fortune for their loved ones by sewing (primarily at home) geometrically shaped pieces of leftover fabric into wrapping cloths. The five silk collages by Zangewa that are on display at the gallery are strangely redolent of this ongoing practice. 
For over a decade, Zangewa has expressed personal experiences from different periods of her life through these hand-sewn paintings. The earlier works portray botanical scenes that reference her childhood in Botswana, while later works depict the experiences of young adulthood amid the urban landscapes of Johannesburg. However, since the birth of her son in 2013, the artist's work has focused on exploring everyday feminism, depicting domestic scenes.
For this show, Zangewa has produced a suite of images of family and friends, articulating the sense of connection she feels to her loved ones despite the unprecedented isolation we have all endured since the beginning of the COVID-19 pandemic. In The Pleasure of a Child (2021), people with Champagne glasses appear seated around a table, celebrating a child – Zangewa's son, Mika – who, sat in the middle, is unwrapping a gift. The work evokes universal feelings of belonging, stability and companionship; it is possible that the reason the curators elected to show this particular group of works in Seoul is because their subject matter is so relatable, regardless of location. (While this show is running in Seoul, works by Zangewa that depict more domestic interiors are being exhibited in 'Running Water', a show at Lehmann Maupin's space in London.)
The works in 'Flesh and Blood' began life as photographs but Zangewa's stitching process transforms the original scenes into something hazier and more ambiguous – a technique that perhaps embodies the incompleteness of our recollections. A very direct suggestion of fragmented memory appears in the torn, blank background of Family Ties (2021), or the abstracted walls and floors that exist only as blocks of colour in Sweetest Devotion (2021), in contrast to the work's two characters, which are far more elaborated.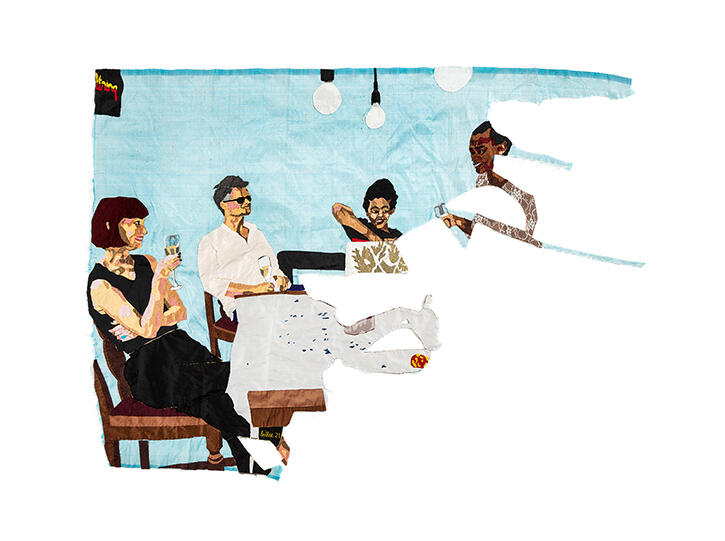 In Loving Eyes (2021), one of Zangewa's portraits of family and friends, the representation of the man's skin reveals the intricacy and precision of the artist's technique; the varying contours of patterned pieces of silk are used to both shape his face and express his warm personality. The sections, some the size of a fingernail, also point to the artist's patience. I am reminded of Sonia Gomes's sculpture – which combines everyday materials and secondhand textiles – or Louise Bourgeois's fabric drawings. Zangewa's hand-stitching unreservedly emphasizes a femininity that is closely associated with domesticity. She sews and embroiders at the kitchen table while watching the everyday activities of family life, such as her son playing in the next room. Her stitching process seems a natural choice to reflect the affectionate gaze of mothers, who undertake daily tasks for their loved ones. 
'Flesh and Blood' expresses beautiful, fleeting moments, conveying both the artist's affections and fading memories, which resonate with the viewer's own affections and memories. For me, Zangewa's works are very obviously imbued with the same warmth and care towards family and friends that Korean mothers continue to invest in the practice of jogakbo.
'Flesh and Blood' is at Lehmann Maupin, Seoul until 15 January 2022.
Main image: Billie Zangewa, 'Flesh and Blood', 2021, installation view. Courtesy: © the artist and Lehmann Maupin, New York, Hong Kong, Seoul, and London