Featured in
Nobody's Fool
Tom Morton examines the feints and swerves, coded allusions and insider intimacies in almost three decades of work by Michael Krebber
In the last few months, an exhibition of 152 works by Michael Krebber, most of them more or less recognizable as paintings and made between the late 1980s and 2012, was staged at CAPC musée d'art contemporain, Bordeaux. In the run up to the show, the museum published an interview with the German artist on its website, in which he speaks with an anonymous interlocutor, possibly CAPC's Chief Curator Alexis Vaillant, possibly himself. Here, Krebber explained that '"Les escargots ridiculisés" [The ridiculized snails], is the title for the entire exhibition. […] In my interpretation of the title, the snails, i.e. all my works on view in the exhibition and illustrated in the catalogue, are in fact already ridiculized. Nobody makes a fool of them'.1 Beneath this deadpan, often gnomic, fitfully enlightening Q&A, the museum provided a few brief paragraphs of information on the artist, glossing his biography and practice in the flat lingua franca of the contemporary art institution, and concluding with the words 'This is the first time that the work of Michael Krebber […] meets the general public'.2 Ordinarily, all a statement like this betokens is that its subject has reached a certain milestone in his or her career, but in this case the stakes were, if not exactly higher, then decidedly more complex. To any readers of CAPC's website familiar with Krebber's work, three questions immediately occurred: has he really agreed, of all things, to a survey show? What will he make of this situation? What will this situation make of him?
To leaf through the literature on Krebber is to see certain phrases repeated over and over: evasion, deflection, deferral and refusal; diffidence, apprehension, ambivalence and doubt. An (uncredited) digest of critical responses to his work might include the observation that it comprises 'essentially a rhetorical debate about the continuing relevance of painting', or that each of his irregular, small-scale, and contextually hyper-specific shows are as much about 'titles and arrangements, Krebber's approach to space, catalogue and documentation' as they are about the artworks these things frame, or else that his 'mutually affirming, complicating, and even negating chains of reference' are 'virtually impossible to decipher', and 'if you don't get [them] right away, you probably never will'. Given how deeply the artist's practice is embedded in both the history of (especially German) painting, and the much-mythologized Cologne art scene of the 1980s, '90s and beyond, many reviews and catalogue essays advisedly emphasize the biographical: his work as an assistant to Markus Lüpertz (a painter under whom he also studied), Georg Baselitz and Martin Kippenberger, his marriage to Cosima von Bonin, and his friendship with Kai Althoff. More recent accounts also flag-up Krebber's teaching activities at the Städelschule, Frankfurt, where he has lectured since 2002, and where his classes, according to his erstwhile colleague Daniel Birnbaum, consist of 'a peculiar mix of screenings, informal meetings, and inscrutable gatherings around carefully selected books, magazines, catalogues etc.'3 Mention is often made of his status as an emblematic 'artist's artist', and of his importance to a younger generation of international talent. Finally, it seems almost obligatory for commentators to wheel out the following statement, originally made by Krebber in 1994: 'I do not believe that I can invent something new in art or painting because whatever I would want to invent already exists. As a solution I have chosen therefore not to cease researching. I do not see a great difference between the terms 'composing' and interpreting'.4
How, then, to bring this delicate ecosystem of feints and swerves, of coded allusions and insider intimacies, before a broad audience, without the whole thing perishing in the (at least comparatively) un-rarified air of the large-scale public museum? For Krebber, the exhibition has always functioned as a material of sorts. Indeed, it's possible to argue that it is not just painting, but the occasion of showing painting, or even more broadly painting's 'social life', that is the motor of his work. My use here of what the artist has called 'The P-word'5 does not, or at least does not necessarily denote what is commonly understood by the term. In his 2003 exhibition Flaggs (Against Nature) at Greene Naftali, New York, Krebber presented a series of works untroubled by even the smallest speck of pigment, in which bolts of chequered fabric and fuzzy bedsheets printed with an image of a pale horse prancing across a moonlit plane were stretched on wooden stretchers, and hung on the gallery's wall in two orderly groups. If the abstract canvases recalled a mechanically knocked-off Anni Albers or late-period Piet Mondrian (there's surely some business here about European artists making a transatlantic leap), then the figurative canvases, in which a Caspar David Friedrich-like landscape is graced by the hoary animal energy of Albrecht Dürer, Franz Marc, and Joseph Beuys, nodded towards Teutonic Romanticism, while their use of crops, repetition, and negative imagery winked at Andy Warhol's Slovakian-American Pop. A reference to Georg Baselitz came into play in Krebber's inversion of one of the equine works, which nestled among its chequered cousins, as though inviting the viewer to ask whether these, too, were hung 'upside down' – an impossibility given the unremitting regularity of their pattern. Against this knowing and (considering the show's titular allusion to JK Huysmans' 1884 novel À rebours) decidedly dandyish overburdening of a few swatches of commercially manufactured textiles with a compressed history of Western painting, the artist set the fact that, in making these works, his hand never once strayed close to a palette knife or a brush. We might glimpse three more ghosts in attendance at this visual feast, or famine. One is the Victorian art critic John Ruskin, furiously enquiring of the Anglo-American painter James Abbott McNeill Whistler whether he really 'asked two hundred guineas' for the 'two days' it took him to paint his Nocturne in Black and Gold: The Falling Rocket (1877). A second is Whistler himself, smiling through his splendid whiskers as he replies: 'No, I ask it for the knowledge I have gained in the work of a lifetime'.6 A third is the protagonist of Herman Melville's 1853 short story Bartleby the Scrivener: A Story of Wall Street – a Manhattan clerk who when asked to proofread a copied document replies 'I would prefer not to'.
A few months later in 2003, and very much against the usual practice of commercial galleries, Greene Naftali staged another Krebber solo, this time entitled Here it is: The Painting Machine. At this show, the artist presented more found stretched fabrics, which this time provided the ground for a few tentative dabs of acrylic, applied like perfume to a warm wrist. Propped up against the gallery wall, and partially obscured by draped copies of the exhibition poster-cum-invite (an image of a rather queeny George W. Bush look-a-like with felt-tipped eyelashes, nose-ring and vampire fangs), these works were if anything even more unfriendly to critics and collectors expecting a show of Important European Painting than the unalloyed bedsheets that featured in Flaggs (Against Nature). What was being staged here was a repeat of Krebber's earlier refusal to capitalize, at least in any straightforward manner, on the 'land of opportunity', a move that became all the funnier, and all the more critically acute, the second time around. We might imagine some formidable Upper East Side Grande Dame remarking, pace the booming aristocrat Lady Bracknell in Oscar Wilde's 1895 play The Importance of Being Earnest, that 'to squander one New York show is a misfortune, to squander two looks like carelessness'. This, it seems, is exactly the kind of response that Krebber set out to court.
2007 saw Krebber show paintings from a single body of work across three linked exhibitions: London Condom at Maureen Paley, London, Respekt Frischlinge (Respect Fledglings) at Daniel Buchholz, Cologne, and Je suis la chaise (I Am the Chair) at Chantal Crousel, Paris. Taking as his departure point a lecture on painting that he originally delivered at the University of Cologne in 2003, the artist employed a sign painter to transcribe his notes on to ninety canvases in dense black pigment, over screen-prints of black and white panels from 1950s-style French comic books featuring cowboys, nurses, and young lovers. Looking at these works, we are reminded not only of Roy Lichtenstein's pulp fiction canvases, but also of John Baldessari's Commissioned Paintings (1969), and Kippenberger's series Lieber Maler, male mir… (Dear painter, paint for me…, 1981), made by a commercial artist according to his diktats. While much of the lecture's text sinks, like a repressed trauma, into the overprinted darkness of the cartoon imagery, now and then we can make out a word or phrase. We see the names of numerous artists, among them Gerhard Richter, Sigmar Polke, and Merlin Carpenter (another alumnus of Kippenberger's studio), and learn that in 'the eighties [German art historian Benjamin H.D.] Buchloh actually pronounced the verdict that painting is regressive, not that I have ever read that in black and white, but I do have my notes on how it struck me at the time'. Other visible extracts are more arcane: 'it was about an auratic person', '1968 thoughts', 'but it was part of the contract', 'something like the reinvention of painting, even though painting means nothing to me'. In the press release for the three shows, which employed the 1948 Western Red River as a framing device, the artist John Kelsey compared paintings to cattle that 'must be driven to market', and on one level we might read Krebber's decision to have his lecture transposed onto canvas as a corralling of the discursive into the commercial, although we should also note how the near-simultaneous tripartite dispersal of these works both met and then immediately thwarted two common gallerists' imperatives: that their artists produce 'signature pieces', and that they provide them with something credibly new and exclusive to sell. Perhaps, though, this project was really about staging an episode of mild artistic transvestitism. Whatever else it was, Krebber's adoption of the methods of 'conceptual painting' (a term that is often and somewhat inaccurately applied to his work) was an undoubtedly pragmatic response to the pressure of delivering three shows in close succession. To what degree it also constituted a critique of these methods, or even an obscure form of self-critique, remains teasingly ambiguous.
In his self-penned press release for his 2010 exhibition Miami City Ballet at Daniel Buchholz, Berlin, Krebber signed off with the words: 'it doesn't matter what I do, whether it is good or bad, or that it conforms however to whatever criteria – the fact that I call myself an artist is enough.' In addition to several works from 2008 made from segments of second-hand windsurfing boards sliced across their widths (which, while they recalled Donald Judd's immaculate 'shelf' sculptures, also bore the painter-like printed 'signatures' of the surfers sponsored by the boards' manufacturers, and were further tainted by particles of sand and yellowing smears of surf wax), Krebber presented two pieces that alluded to his youth and artistic maturation. An oil painting in the style of Jörg Immendorff featuring a mushroom cloud, a red flag, and what might be the Berlin Wall, Das Politische Bild (The Political Picture, 1968/2010) was painted by Krebber when he was 14, and then subsequently torn up. Reassembled for the Buchholz show, it appeared to signal a reawakening of political consciousness, or at any rate a phlegmatic adult's accommodation of the sanguine teenager he once was. Nearby, three neon signs, made in 2010, reading Die Hundejahre sind vorbei (The Dog Years Are Done) sat in their packing cases, a reference to Kippenberger's 1987 group show Broken Neon, in which Krebber participated, and to his emergence from the shadow of his former boss. It feels useful to read these works against the artist's 2011 show C-A-N-V-A-S, Uhutrust, Jerry Magoo, and guardian.co.uk Paintings at Greene Naftali. Here, he presented paintings of pages from three blogs offering anonymous criticism of art world figures (including Krebber) from an insider perspective, written in part by his former students at the Städelschule, and of a rowdy and largely ill-informed comment thread on the Guardian newspaper's website about a negative review of a show by the artist's former teaching colleague Mark Leckey, written by the populist critic and self-proclaimed 'art world outsider' Jonathan Jones. For all that we might interpret these works as a (mock) patrician call to order, a kingly attempt to discipline the castle's restless youth or to shoo the barbarians from the gates, their power resides in their awareness of their own self-interest and futility, even their own ridiculousness. Each painting in this series measures 140 × 107 cm – set that against the boundless extension of the web, and our species' appetite for patricide and faceless digital rage. Krebber's claim that 'It doesn't matter what I do' seems accurate, here. As to his addendum that 'the fact that I call myself an artist is enough', we might ask 'enough for whom?'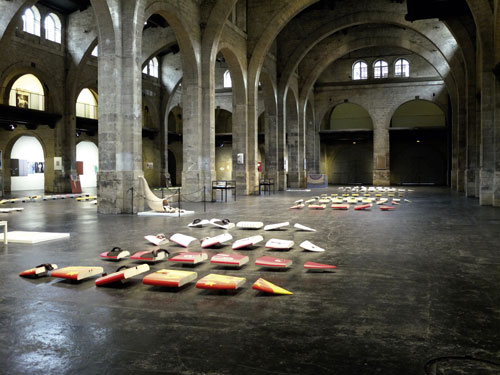 The CAPC show could have been an exhibition of exhibitions, but instead Krebber (and Vaillant) opted to install his work without a single gesture towards its chronology, or to the dense contextual information on which it characteristically relies. This, then, is how he chooses to 'meet the general public': as a painter whose paintings are immediate, in need of no special pleading, somehow universally sufficient. We might take this as an indication of a pitiless sophistication, but I'd rather think of it as another refusal in a long line of refusals. Invited to survey his own oeuvre, his escargatoire of 'already ridiculized' snails, Krebber preferred, in the end, not to recognize himself.
1 www.capc-bordeaux.fr/en/program/michael-krebber
2 Ibid.
3 Daniel Birnbaum, Secret Sharer, Artforum, October 2005, pp.221–2
4 See, for example, Michael Krebber: 'Apothekerman' (ex. cat.), Kunstverein Braunschweig / Städtische Galerie Wolfsburg, Verlag der Buchhandlung Walther König, Cologne, 2000/1, p.70
5 Michael Krebber, Puberty in Painting, Ausserirdische Zwitterwesen [Alien Hybrid Creatures], Verlag der Buchhandlung Walther König, Cologne, 2003, p.8
6 Testimony in Whistler vs. Ruskin libel trial, 1878