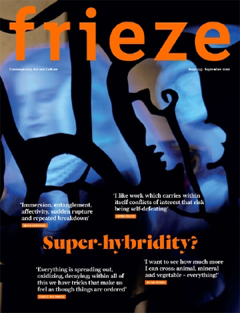 Featured in
Don't Show That!
Contemporary African artists respond to prejudice and homophobia
For every Joseph Beuys and Yves Klein there is a fascist doppelgänger who also believes in the transformative potential of paint on the human body. In 1999, shortly after trespassing onto a white farmer's property southeast of Johannesburg, Moses Nkosi, 21, was stripped, his naked body painted silver by the landowner and his black assistant. An anomalous brand of vigilantism, this was repeated again a year later when a 14-year-old girl accused of shoplifting underwear was similarly stripped and painted by a white store manager and her black assistant. Paint, however, is of course not a prerequisite for the enactment of prejudice.
In 1995, Zimbabwean president Robert Mugabe described homosexuals as 'worse than dogs and pigs'. Although strongly criticized, Mugabe's views enjoy widespread support in various parts of Africa. Last year, a Ugandan politician with ties to the US evangelical movement introduced a bill proposing the death penalty for 'aggravated homosexuality'. Earlier this year, a Malawian court convicted two men, Steven Monjeza and Tiwonge Chimbalanga, of gross indecency for performing a symbolic marriage ceremony – their 14-year prison term was later rescinded by presidential pardon following pressure from the United Nations. Gay sex is still illegal in 37 African states.
Intolerance is obviously not peculiar to Africa – the oil slick of homophobia, racism and xenophobia reaches everywhere. Neither does every creative act bounded by the continental lasso that is Africa necessarily concern itself with countering the tawdry facts of discrimination. Even amongst those artists who directly engage bigotry, approaches vary.
Athi-Patra Ruga and Zanele Muholi offer potent examples. Born in 1984 and trained as a fashion designer, in person Ruga is a disarming figure. Mostly it's his laugh, a spluttering combustion engine of enthusiasm – but he wasn't laughing when, in 2008, he read about Nwabisa Ngcukana, a lanky 25-year-old Johannesburg resident who was assaulted for wearing a miniskirt by taxi drivers and roadside hawkers at a busy taxi rank. 'I think they were trying to teach her a lesson,' a witness cheerfully told a journalist after Ngcukana's ordeal, which included being paraded naked and doused in alcohol. Ruga's response to the attack, which happened shortly before Mozambican national Ernesto Alfabeto Nhamuave was torched by a xenophobic South African mob sparking nationwide anti-immigrant violence, was an improvized performance that tempted the same fate as Ngcukana.
In the guise of his alter ego, Beiruth (picture a camp Star Trek alien with haute-couture sensibilities and hair issues) Ruga wandered around a Cape Town taxi rank at night. People mostly stared at his Leigh Bowery-like fantasy creation in red stilettos but the performance did have a purpose: Ruga wanted to take a taxi to Atlantis, a far-flung township named after a mythical nowhere. He also wanted to assert, as he put it afterwards, the right of 'the autonomous body against that of the sovereign state'. This expression is helpful in explaining Muholi's work. A self-described 'activist-photographer', Muholi's images of black lesbian culture are at once formal and restrained, participatory and autobiographical. Rotimi Fani-Kayodé, Catherine Opie and Jo Spence are all reliable markers of affinity; less explicitly, Youssef Nabil uses the camera to assert his gay identity in Egypt, where although legal, homosexuality is taboo.
Born in Durban, Muholi received her initial training at the Market Photo Workshop, a modest school of photography founded in 1989 by David Goldblatt. Her first photographs were of Johannesburg's annual Gay Pride Parade.
Muholi's practice, which is highlighted in a new book, Faces and Phases (2010), is interesting for the way it challenges South Africa's overly masculine definition of a socially motivated photography. The artist, whose matted braids are often bundled into a Rastafarian crown, was a founding member of the Forum for the Empowerment of Women (FEW), a Johannesburg-based support organization for black lesbians, bisexuals and transgender women. Her early black and white photography appeared in FEW's online magazine (mask.org.za) and unflinchingly documented lesbian self-harm, as well as the sadistic practice of 'curative rape' by males. While her photography has its doctrinaire moments, Muholi can also be tender and lyrical, without extinguishing the subversive heft of her project.
Nonetheless, and rehearsing an age-old power game, South Africa's minister of arts and culture, Lulama Xingwana, cried 'pornography' when she first encountered Muholi's photographs last year after being invited to open her exhibition – which she refused to do, a decision that occasioned national debate. (Rather disturbingly, in the lead up to the story breaking in March the minister dispatched four legal representatives to consult with experts and determine if the work was pornographic. Their findings are unknown.) Two edifying things emerged out of the Xingwana affair. The first satellites around a familiar thought: state power is dumb, always has been, will always continue to be. The second is no less complicated. Speaking at a Cape Town forum hosted in the aftermath of her most recent run-in with conservative African morality, Muholi stated: 'My audience is those people who look at two lesbian women in a photo and say that it is a shock: "Oh my God, don't show that!" That is my audience.'