Featured in
Eli Sudbrack: My Influences
Eli Sudbrack of assume vivid astro focus writes about the people, places and artists that have influences his collaborative multimedia practice
Art collective assume vivid astro focus produce sprawling, immersive installations which operate simultaneously as multimedia environments, political statements and night clubs. Taking their cue from the aids awareness strategies of 1980s groups such as General Idea and Gran Fury, as well as the more covert aesthetic approach of Félix González-Torres, assume vivid astro focus have developed a multifarious practice over the past decade that can manifest itself in forms as diverse as a straightforward exhibition (including a solo show at the Museum of Modern Art, New York, USA, 2009), merchandise (party balloons stating 'Sodomy is not a civil right', 2005), a collaboration with Lady Gaga (GAGA'S WORKSHOP at Barneys department store, New York, 2011) and the online project 'comboworks' (2012) for PBS's Art21 series. This year, assume vivid astro focus will have solo exhibitions at Casa Triângulo, São Paulo, Brazil, and at The Suzanne Geiss Company, New York, as well as the 15th anniversary exhibition at the Museum of Contemporary Art, North Miami, USA, which opens in March. assume vivid astro focus comprises Christophe Hamaide-Pierson, who lives and works in Paris, France, and Eli Sudbrack, who lives and works in São Paulo and New York. 
 1. My Parents
When I was born in Rio de Janeiro in 1968, my father was 60 years old and my mother was 28. I have no siblings, and my parents were not from Rio, so I had no family there but the two of them. My father was a hugely influential figure in my life until I was ten years old. He was a highly talented yet somehow contradictory man, being not only an army general and a dentist, but a poet and a literary critic too. From the age of four, I used to get a magazine called Disneyland, which my mother would read to me, but I'd become really frustrated once we'd finished it, since the next issue wouldn't come out for another month. My father then taught me how to cut images out of the magazine and mount them on board, so that I could create stand-up characters to play with. This was something I continued to do until I was about 12 years old. From Disneyland I progressed to Superman and the Marvel comics. For some reason, the Brazilian editions of comics were much smaller than the us versions, so I had to use tiny nail scissors to cut out the little figures, their power rays and the surrounding buildings to create my own stories.
As I got older, my father would help me with my studies and we would have long conversations about history, geography, the Portuguese language – everything. Those discussions influenced me enormously, both in the way I think and in the way I communicate knowledge. I still carry my father's influence with me.
When I turned ten, my father became very ill, and remained so until his death ten years later. Because of his illness he became very distant from both me and my mother. He kept writing and rewriting what would be his final book of poetry. Every day he would sit at his desk typing new words, cutting them out and pasting them on top of his original drafts. At that time, as a teenager, I repudiated his influence; I could not read his poems, and I was incapable of having an emotional relationship with him, maybe because I felt hurt that he had withdrawn from me and 'left' me with my mother. She was the opposite of my father: she was much more socially extroverted, although she had no real education. I can be very introverted like my father, but my mother taught me to reach out to people.  
2. Marvel Comics
In the late 1970s, between the ages of ten and 12, I really got into the x-Men comics, which were drawn at the time by John Byrne. I was especially fascinated by the female superheroes – their super-tight outfits, their big boobs and butts, and their amazing hair always depicted as flowing in the wind. It was around that time I started to make my own comics; it was also around that time that I was discovering my sexuality.
Gender and sexual identity have always been a big part of comics. In the past few years, my boyfriend, Nô Mello, has re-introduced me to Marvel comics from the late 1980s and early '90s, and illustrators like Bill Sienkiewicz, Marc Silvestri, Jim Lee and Rob Liefeld have inspired 'Cyclops Trannies' (2011), the most recent drawing series by assume vivid astro focus (avaf).
When I was 13, my mother took me to a shrink who started asking me questions like: 'Do you get a hard-on when you see a naked woman?' Somehow, I realized where he was heading and I started lying. At the end of the session, he called my mother into the room and told her in front of me: 'Oh, don't worry, everything's going to be fine. He's a normal guy. Just wait a few years.' When we left the building, she bought me a copy of Playboy magazine. I was super angry, but I started collecting Playboy after that and I covered a wall in my bedroom with pictures of naked women. Maybe I was trying to hide my sexuality from my mother, but I guess the Playboy images ultimately fed into my continuing fascination with transgender, hyper-feminine goddesses, as seen in my recent series 'Obama Ladies' (2012). 
3. Félix González-Torres
González-Torres was the first artist I discovered for myself; unlike Salvador Dalí, Pablo Picasso and the old masters, he wasn't introduced to me at school or through books. I became aware of González-Torres when an art school friend went abroad and brought back one of his posters; then another friend brought me back a candy, and I realized it was from a piece by the same artist. I loved the idea that if you bought one of González-Torres's works, you could actually reconfigure it. This concept had a profound influence on avaf's 'Decals' pieces (2003–ongoing): single elements from our wallpaper works are sold individually; you get a CD and a certificate of authenticity and, after that, you can do whatever you like with it: you can print 50 copies; you can change the colour. The collector ultimately decides how the piece will be manifested and, as such, becomes an avaf collaborator.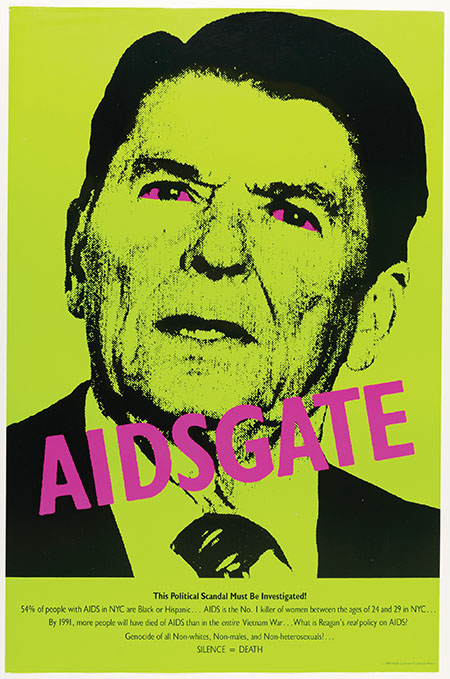 4. Gran Fury/ACT UP
In the late 1980s and early '90s, New York activist art groups like Gran Fury had a different approach to politics from artists such as Gonzáles-Torres. I identified with both sides: I loved the overtly political approach of Gran Fury, but I also understood that González-Torres wanted to contaminate people with ideas and experiences without them being immediately aware, for instance, that one of his untitled candy-stack installations was exactly the weight of his beloved partner Ross Laycock, who had died from an AIDS-related illness, and that you would somehow share in their love by eating a candy from the pile. Gran Fury inspired me in other ways – for example, although they operated within the context of the art world, they consciously resisted being subsumed by the art market. Likewise, avaf's position within the art world is highly contradictory, since objects are so rarely the main premise of our work; a lot of our installations just disappear after being exhibited.
 5. General Idea
 I was introduced to the work of General Idea in 1996, when a friend took me to group member aa Bronson's house in Toronto. I was particularly fascinated by their 'Imagevirus' series (1989–91), in which they appropriated Robert Indiana's work Love (1964) but substituted the word 'Love' with 'AIDS'. In 2007, avaf did a show inspired by this idea. It was George W. Bush's second presidential term, and I couldn't stand the fact that he was still in power. We wrapped the whole gallery in 3D wallpaper using four-letter words associated with the Bush administration: Condoleezza 'RICE', 'DICK' Cheney, '0911', 'IRAN', 'IRAQ', 'AXIS', 'EVIL'. 
6. Rubens Mano / Panoramas da Imagem
My first exposure to working in an artist collective came through Rubens Mano. I took his photography course at Oficina Três Rios in São Paulo and it blew my mind. From being his student, I went on to become his assistant and finally his collaborator on Panoramas da Imagem, for which we organized workshops, lectures and exhibitions. Although today it may sound outdated, in 1990s Brazil it was crucial to bring photography into a broader understanding of artistic practice. For our 'Novíssimos' exhibitions we would collaborate with young artists straight out of college, meeting with them to review their portfolios and suggest how they could improve their practices.
My work with Rubens and Panoramas da Imagem taught me to be a conceptualist, to develop ideas prior to the physical manifestation of a piece. This has been enhanced by the way I work with Christophe Hamaide-Pierson, my partner in avaf: we are always exchanging emails about our ideas – even in regard to aesthetic projects, we write them up first then we produce the work. It's a fascinating process, since a lot of the physical manifestations of the finished piece come as a surprise even to ourselves. There are numerous steps up to this point – conception, creation, production – but words are always at the very beginning. My sketchbook is basically a textbook: there are more words in it than drawings. 
7. Trannies / Voguing
When I arrived in New York in 1998, I asked people whether vogue balls still existed. After Madonna's video for 'Vogue' and the Paris is Burning documentary – both of which came out in 1990 – there was a buzz about them and then they just dropped off the radar. I found out through a dancer friend and collaborator, Trajal Harrell, however, that there was a place in East Harlem that hosted voguing balls, so I started going along. I loved the raw energy of those balls. The voguing style had changed: it had become much more aggressively athletic and acrobatic; people would just throw themselves on the floor. There was more of a hiphop influence, a lot of over-the-top soul diva styles à la Beyoncé, as well as a large number of transgender people who were also part of the scene. I was completely transfixed by the dancers' movements and by how they rooted for each other. The voguing scene made me realize that I wanted to create the same sort of communal energy with my work, and that was the driving force behind many of avaf's installations. Trannies also became a recurring symbol in our work, icons of hyper-femininity (much like Marvel's super-heroines), as well as representations of change and demolition – demolition of your body, your identity and the status quo.
8. 'Party'
The 'party' is a communal gathering of people generating 'energy'. In clubs you can achieve this cluster of energy through collective engagement and focus. The DJ, the music, the dance can all be used as tools for concentration. Alas, the Internet killed the disco star. People are too worried nowadays about taking pictures of themselves and uploading them onto Facebook. There is this constant obsession with documenting your life to share with those who aren't there with you. Sadly, this detracts from the original communal function of such spaces since you are never fully engaged in the moment. Our intent with our all-encompassing installations is to trigger this sensation of becoming one with the space through engagement, rapture and deliverance.
9. Music
For me, music is the perfect medium – mostly due to its unique capacity for communicating ideas to people. With our installations, we want to reach out to visitors in a similar way. Music is ethereal: it is not an object so can easily be transmitted and shared. Music is energy: it uses our bodies as instruments for its own manifestation. Laurie Anderson's The Handphone Table (1978) is an excellent example of this. I first experienced this work when I moved to New York, and I couldn't quite believe it: you put your elbows on the table and your hands on your ears and you can hear music. You have this incredible moment of realization that your body is functioning as a transmitter. An energy transmitter. We've always sought to replicate that kind of immersion in our installations. In that sense, Anderson's piece is the ideal representation of the influence that music has on me.
10. Landscape
My eulogy to landscape is very much related to being raised in Rio, where nature is so present in the city. It's about the overall sensorial aspects of being immersed in the landscape, especially the beach: the heat of the sun on your skin, the softness of the sand on your body, the refreshing water, the blueness of the sky, the different cloud formations hitting your eyes –the perfect Gesamtnaturwerk.
11. Internet
The possibilities for communication that the Internet offers have been fundamental to avaf's working prac­tice. Christophe and I can often spend months without seeing each other and, since for some reason neither of us like to Skype or talk over the phone, we email all the time. I guess because it encourages us to come up with more in-depth descriptions of our ideas, in a way that is more enduring than a phone call. The Internet is also our most important research tool and one from which we gather a lot of our inspiration. As one of avaf's statements declares: 'Freedom to share / spread / absorb / assume / contaminate / inseminate / devour.'