Fellows and Jury Announced for the Inaugural Deutsche Bank Frieze Los Angeles Film Award
Introducing the 10 shortlisted fellows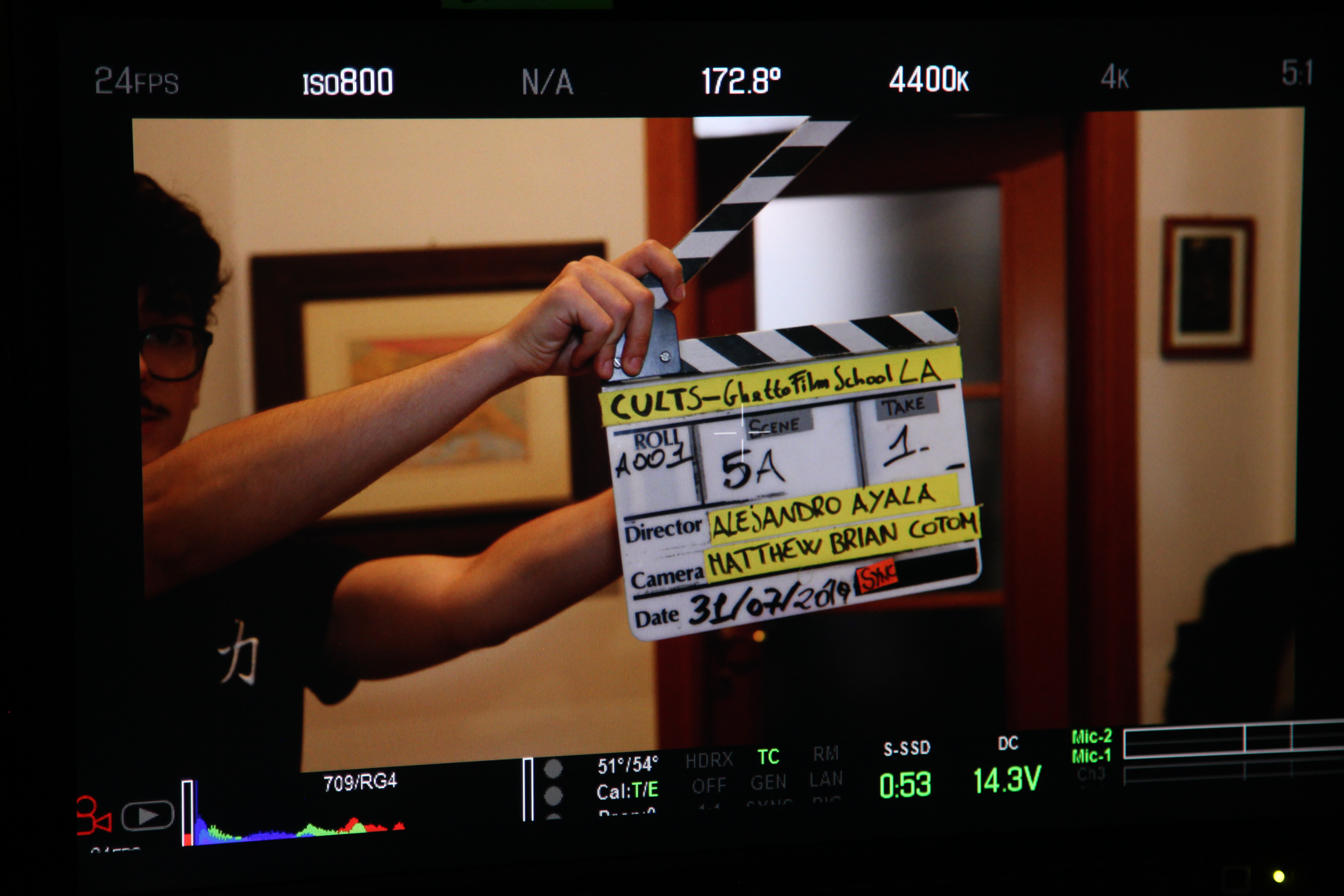 Presented in partnership with award-winning, non-profit film academy Ghetto Film School (GFS), the initiative offers a platform and development program for ten emerging, Los Angeles-based filmmakers aged 20-34 years old.
The ten shortlisted fellows are as follows: Danielle Boyd, Mya Dodson, Michelle Jihyon Kim, Nabeer Khan, Silvia Lara, Alima Lee, Timothy Offor, Toryn Seabrooks, Noah Sellman and Nicole L. Thompson. The recipient of the award, selected by a jury of leading art and entertainment figures including Doug Aitken, Shari Frilot, Jeremy Kagan, Sam Taylor Johnson and Hamza Walker will be announced at a ceremony on February 13 at Paramount Pictures Theatre and receive a $10,000 prize.
Selected from an open call throughout Los Angeles, the ten shortlisted fellows completed an intensive three-month program at GFS each producing a short film in response to Los Angeles' vibrant art, culture and social landscape. The resulting 10 short films will be screened at the Paramount Pictures Theatre throughout the fair, February 14-16, 2020.
Danielle Boyd is a writer/director based in LA. She has produced several short films including The Hooligans (2015). Her first music video Visions 20/20 screened at the Los Angeles Music Video Festival. Danielle's senior thesis film, The Princess and The Pea, was part of the Palm Springs International Short Film Market and screened at the 2018 Festival de Cannes Short Film Corner. More recently, her latest project Platinum Dream premiered on the Fader. Platinum Dream was an official selection of the Austin Music Video Festival. She is currently in Rwanda where her first feature is being shot.
Mya Dodson is a filmmaker hailing from Fayetteville, North Carolina, whose work aims to explore the nuanced emotional and spiritual intersections of the Black human experience. Dodson is a graduate of GFS (2018), where she acted as cinematographer on writer-director Luna Garcia's short, Charley Horse - shot on location in Tel Aviv, Israel and screened internationally including Geena Davis' Bentonville Film Festival. Presently, Mya is a Community Representative at non-profit, Free the Work, co-hosts Moongaze: The Kid Cudi Podcast, makes dance videos, and directs music videos.
Michelle Jihyon Kim is a filmmaker and painter who is currently studying Art at the University of California, Los Angeles. Kim has been able to create and work on several shorts through GFS including the program's Tel Aviv-based thesis film Charley Horse. Since completing the program, she has gone on to intern at Karga Seven Pictures and A24. Kim also co-directs the Hammer Museum's student publication GRAPHITE Journal. Lately, she's been working on writing her first feature and a series of paintings that investigate the uncanniness of West Los Angeles.
Nabeer Khan was born in Manhattan and raised in Arizona. While studying Psychology and Neuroscience at Princeton University, he also led a dance company, a role in which he choreographed, designed lighting and costumes, and curated each of the biannual shows while also writing, directing, and acting in comedic sketches for each show. Now living in Los Angeles, he uses his experience and identity as a Pakistani-American Muslim working in a predominantly uniform entertainment industry to inform his filmmaking and finds that he gravitates towards stories in which subjects are placed in unexpected settings. After moving to Los Angeles to work as an assistant to Kanye West, he's transitioned into working primarily as a producer and director on music videos, short films, branded campaigns, and other digital content across the United States, and occasionally abroad.
Silvia Lara is a filmmaker born in Chihuahua, Mexico and raised back and forth in both Mexico and Whittier, a city within Los Angeles county that borders Orange County. Narrative filmmaking is Lara's forte, in her work, she strives to visually map the ebbs and flows in emotion and tone provided by a story in order to depict as honest a portrayal of the human condition as possible. Her complete body of work includes narrative, music video, documentary, commercial and experimental projects in a variety of formats.
Alima Lee is a transdisciplinary artist from New York and is currently based in LA. Her work explores themes of identity and intersectionality. Currently co-host of a monthly show, Rave Reparations on NTS, her film work has been presented at the Tate Modern, MOCA, Art + Practice, Smithsonian African American Museum, Gavin Brown's Enterprise, and ICA Boston.
Timothy Offor is a filmmaker from Brooklyn, NY. His films have played at several film festivals, including, the Blackstar film festival, the Houston International film festival, the Gasparilla International film festival, the Queens World film festival, the Martha's Vineyard African American film festival, Cannes, and the Palm Springs ShortFest amongst several others. Offor earned BA in Media Studies and English from the Pennsylvania State University. He later earned his MFA in Film & Television Production from the University of Southern California's School of Cinematic Arts in the Fall of 2016. He recently completed a successful film festival run playing in over 20 festivals around the country with his thesis film, Cal & V, which he wrote and directed. 
Toryn Seabrooks is a director, screenwriter, producer, and the founder of the content creation company NovaRay Entertainment. Toryn received her BFA from NYU Tisch School of Film and Television and was the recipient of the Tisch Dean's Scholars Award. She was also chosen by Tisch to represent the Film & TV department during her 2017 Commencement Ceremony at Yankee Stadium. After graduating, Toryn became the Showrunner's Assistant of Freeform's Original series, Grownish and supported the Showrunner in the inception of the show. She is now the Field Logger on Keeping Up with the Kardashians and records the daily lives of the hit family around the world. Toryn has guest-spoken on podcasts, spearheaded fully funded Indiegogo campaigns, and has screened her films at high schools and festivals.
Noah Sellman is a Colorado born filmmaker, raised in the in the rural farming community of the San Luis Valley. After graduating high school, he left his rural town for Wesleyan University where he graduated with a BA in Film Studies with Honors. After graduating, Sellman flew to Shenzhen, China, as an artist-in-residence with UNI, a small local studio which focuses on a mix of commercial and artistic content. He has since moved to Los Angeles where he has been able to truly turn his focus to creating and sharing stories based in the rural myths and tales and express the unique world of his upbringing.
Nicole L. Thompson is a filmmaker from Newark, New Jersey. She received her BA from The College of New Jersey and has also studied filmmaking at Northumbria University, UK. She recently graduated from the University of Southern California with an MFA in Film & TV Production where she served as the president of the African American Cinema Society for two years. NBA All Star Kyrie Irving hired Thompson as his personal cinematographer. Thompson was selected out of hundreds of directing applicants to pitch a project to ABC Executives, as an Ideas United ABC Women's Initiative Top 10 Finalist. She is being mentored by award-winning filmmaker Nina Yang Bongiovi through her non-profit Metta Collective.