Editor's Picks: Letitia Wright's Disquieting Immigration Drama
Angel Lambo also highlights Brian Alfred's book of artist profiles and a new podcast bridging art and activism
Frieze Editor's Picks is a fortnightly column in which a frieze editor shares their recommendations for what to watch, read and listen to.
Aisha 
Even before Letitia Wright had entered the Marvel cinematic universe in 2018 or, two years later, led a group of Black rights activists to victory in Steve McQueen's Small Axe (2020) anthology, I had been eagerly watching the BAFTA-award-winning actor's rise to international renown. This month, Wright stars in Aisha (2022), a documentary-style drama that lays bare Ireland's dehumanizing asylum system. Lost in a bureaucratic maze, the film's titular character takes refuge in her friendship with a local Irishman played by The Crown's (2016–ongoing) Prince Charles, Josh O'Connor. But their relationship is threatened when Aisha's future in the country becomes uncertain. This is an essential watch for those interested in seeing the full extent of Wright's acting chops while she reprises her brilliant but technically limiting role as Shuri in Black Panther: Wakanda Forever (2022).
The Art Persists Podcast
Despite the proliferation of big media podcasts in recent years, independent shows such as The Art Persists are still pulling in audiences who yearn for the intimate, lo-fi productions of yore. The first series of this podcast was launched in June by Bosla Arts, a nascent collective of activists based in London. Each of the seven instalments of The Art Persists features an interview with politically engaged individuals who use their practices to confront oppression or decry human rights abuses in their respective regions. I recommend jumping straight into episode two, which features Jemimah Steinfeld, editor-in-chief of Index on Censorship magazine, who discusses the power of art in defending freedom of expression.
Why I Make Art: Contemporary Artists' Stories About Life & Work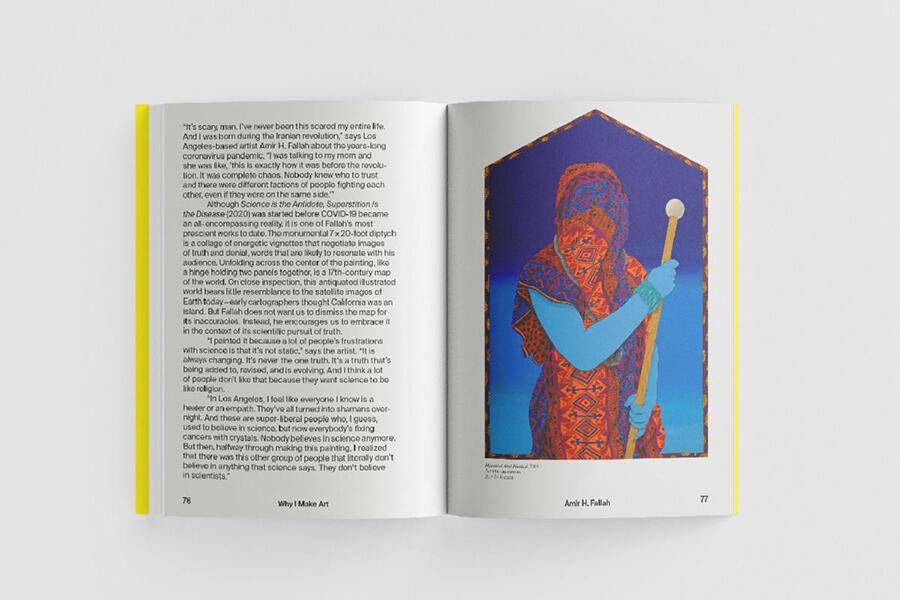 According to a statement attributed to 20th-century painter Francis Bacon, 'The job of the artist is always to deepen the mystery' – but what I really enjoyed about Why I Make Art (2022) is that it endeavours to do exactly the opposite. Featuring material from Brian Alfred's Sound & Vision podcast, this book turns 30 compelling – if at times digressive – conversations with contemporary artists into a compendium of profiles that gamely demystify the creative process. From indie rock and Herbie Hancock to the Iranian Revolution and a hurricane in Ireland, this book uncovers both the personal histories and influences of a list of artists that includes vanessa german, Loie Hollowell, Louis Fratino and Diana Al-Hadid.  
Why I Make Art: Contemporary Artists' Stories About Life & Work is published by Atelier Éditions and is available internationally
Main image and thumbnail: Aisha, 2022, film still. Courtesy: Sky Cinema