Frieze Teens Art Passport
The Frieze Education-produced guide asks questions to prompt younger visitors' critical engagement with artworks
Families and younger visitors to Frieze New York this week can explore the fair with the Art Passport. Specially designed and featuring beautiful original illustrations by Ana Popsecu, the Art Passport has been devised as an interactive guide, encouraging younger visitors to engage in new ways with the artworks on display, developing their own distinctive analysis. The guide is free and available to all young people at the fair.
The selection of significant, 'destination' artworks through the fair was made by the 2017-18 cohort of Frieze Teens, who also devised questions for each one. This is the product of the program's emphasis this year on writing, with the Frieze Teens encouraged to develop their skills in critical analysis and ask incisive questions.
Frieze Teens - which in addition this year focussed on exploring the role of art in responding to political issues, from gender and racial equity to environmental and immigration challenges – is a crucial component in the year-round Frieze Education program, supported by Deutsche Bank for the seventh consecutive year.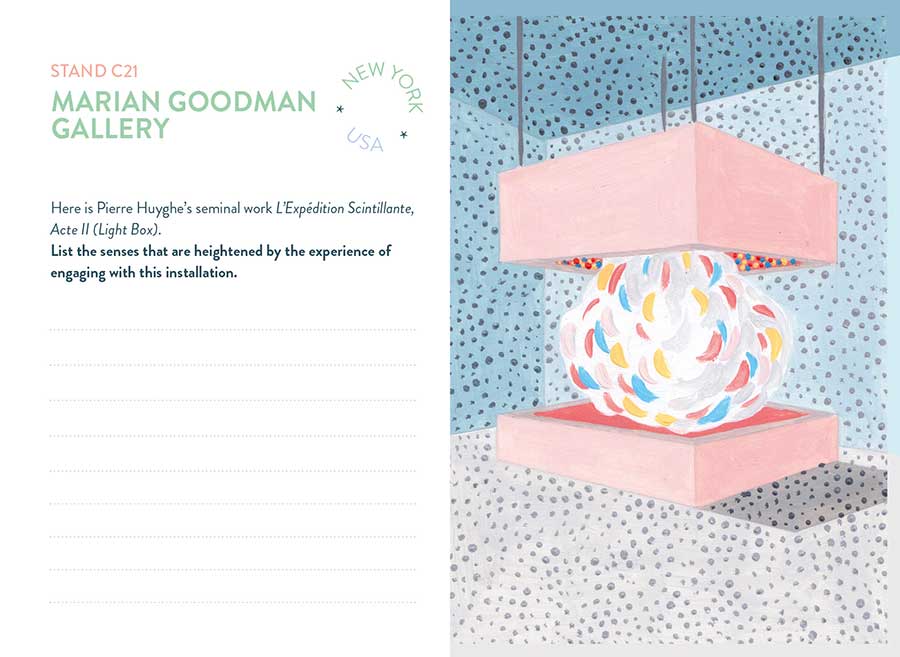 Exploring careers in the art world, participants take part in a combination of studio visits, writing workshops and professional seminars with some of New York's most significant artists and institutions, from diverse cultural backgrounds and generations.
This year's Frieze Teens program has included workshops with Bridget Donahue and Honey Ramka galleries, artists Matthew Day Jackson, Paul DeMuro, Maia Cruz Palileo and Antonia A Perez, designer Ellen Van Dusen and The Robert Blackburn Printmaking Workshop, among others.
At Frieze New York this week, Frieze Education hosts an expansive program for public school groups visiting the fair from local neighborhoods, with a focus on students from neighborhoods adjacent to Randall's Island including East Harlem and the South Bronx. The Frieze Teens lead the student group tours, using the Art Passport as they go.
Read our helpful tips for visiting the fair with young children here.
Frieze New York 2018 runs May 3-6.
Main image: detail of illustration by Ana Popescu