Ghassan Halwani's First Feature is a Filmic Memorial to Lebanon's Disappeared
Halwani has created his own emotionally powerful, visually arresting memorial: 'a small step on a daunting climb'
Is it possible for the disappeared to disappear twice? To be literally snatched from view and then erased from the collective memory? Beirut artist and filmmaker Ghassan Halwani addresses just that prospect in his debut feature, Erased,___ Ascent of the Invisible (2018), which receives its UK premiere at Glasgow Film Festival this month. As the film's title suggests, Halwani is determined in his desire to make visible the snubbing out of more than 17,000 lives in Lebanon, the majority during the 1975 to 1990 civil war. These people, mostly men, were kidnapped and killed by a variety of Christian and Muslim militias, their bodies never recovered, their final moments unknown – and consequently, in many cases, their deaths still not officially recorded. The Ta'if Agreement of 1989 brought an end to the war and created a new political order; former militia leaders became politicians and many fighters joined the security forces. The invisibility of the disappeared, however, has continued. 
While the context of these disappearances was chaotic and violent – the total death toll during the civil war has been estimated to be between 90,000–120,000 – the tone and pacing of Halwani's film is calmly forensic. Across its 76 minutes, this visual essay-cum-documentary combines pencil-drawn animation, original and archive film footage, and factual and polemical text interventions. For a six-minute section near the beginning, a single black and white photograph fills the screen as Halwani quizzes in Arabic (with English subtitles) the photojournalist who took it. The photograph has been doctored, the figures in it erased; all we see is a litter-strewn, dusty back street and, after staring at it for a while, a disembodied hat and perhaps a shoe. The photographer is shown the original image and asked to describe what he sees. We learn that it was 'shot in '85 or '86' and documents 'two men kidnapping a third man'. There is nervousness in his voice and long moments of silence. 'No one will see this photo?' he asks Halwani urgently. 'I refuse that anyone should see it.'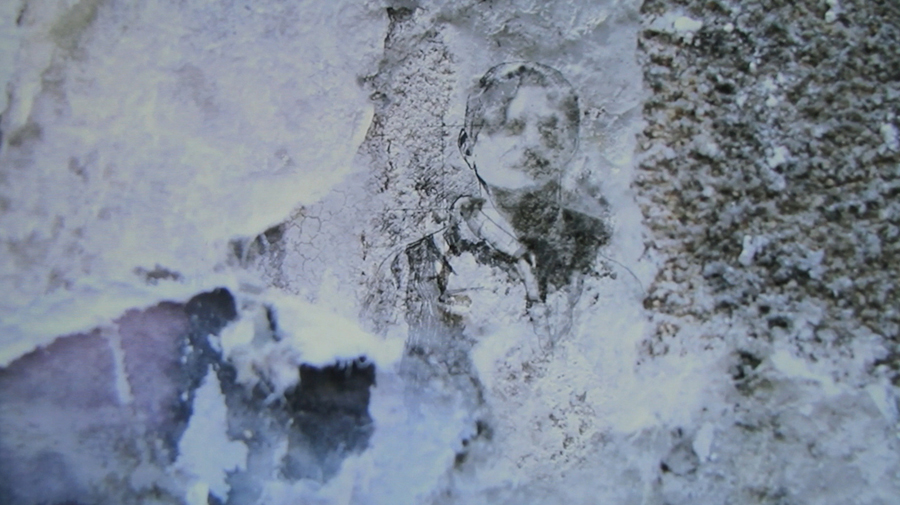 The idea for Erased began as far back as 2008 when, on a Beirut street, Halwani saw a poster for a photography exhibition about Lebanon's disappeared. He recognized some of the faces, and in particular one man whose kidnapping he'd witnessed 25 years earlier. The poster stayed with him, even as it too was obscured under yet more layers, pasted over with advertising bills and other notices. Five years on, he was compelled to revisit the poster site, armed with a craft knife, tweezers and watercolour brushes. Carefully and quietly – the only sound is traffic passing and the cutting, peeling and scraping of paper – we see him gradually reveal the passport-style photos of men whose deaths remain unrecorded and whose bodies were most likely dumped in the many mass graves which have since been further covered up by the city's redevelopment.
The footage of Halwani carefully cutting through the sheets of posters as cars drive by is a recurring presence in the film. The action is, on the one hand, entirely futile – it will not bring the missing to life or reveal the whereabouts of their remains. Yet the symbolism is profound, his gently meticulous actions a kind of therapeutic excavation. Gradually, the faces of the disappeared are exposed and their names and the circumstances of their disappearance are written next to each picture. The camera pans along the pockmarked landscape of the freshly disturbed posters, just as later an aerial photo of Beirut is tracked from above.
We see other glimpses of Halwani throughout the film, acting with calm precision and purpose. But it's a calmness underpinned by a quiet rage as time passes and the chance of the truth being uncovered, of the layers of obfuscation ever being peeled away, becomes increasingly distant. The reality of bodies and facts buried beneath Beirut's physical and political infrastructure is picked away at by a process that both mimics and challenges the stratified nature of memory across generations, as well as its presence in the bricks and mortar of a post-conflict city. The need to make the disappeared visible again, to properly and respectfully address their memory, is for Halwani an issue that cuts to the heart of modern Lebanon, and in particular its capital, now reinvented internationally as an edgily chic tourist destination. Interviewed by Lebanon's The Daily Star newspaper in 2013 – at the time anonymously – he commented: 'We go and dance in night clubs above them, we park our cars, we go jogging – we live above them and we know it, and I think we will be condemned by future generations for what we are doing.' With Erased,___ Ascent of the Invisible, Halwani has created his own emotionally powerful, visually arresting memorial – a small step on a daunting climb.
Glasgow Film Festival 2019 runs from 20 February to 3 March. Erased,___ Ascent of the Invisible, presented by Alchemy Film and Moving Image Festival, screens on Saturday 23 February.
Main image: Ghassan Halwani, Erased,___ Ascent of the Invisible, 2018, film still. Courtesy: the artist and MEC Films